A Closer Look at Fractal Torrent White TG »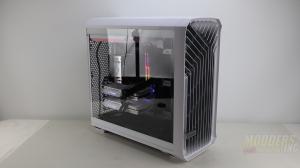 Just like any other PC enthusiast I love PC cases. Small cases, short cases, cases that are odd, and yes even ugly cases. Whenever there is a new case on the market I go into the details to see if this is something that would satisfy my needs. Sometimes I look for the case that I need just to get by but at times I look for cases that would make a good candidate for a mod.
There is a handful of companies out there that often have what I look for in the modding case and Fractal is one of them. Fractal is releasing their newest line of cases called Torrent. Torrent is a full E-ATX type of case that comes in a variety of colors such as Black with a light tint, Gray with a light tint, White with a clear tint, Black RGB with light ting, Black Solid, and Black Dark tint. My review model is White with Clear Tint and was provided by the Fractal team. Fractal Design has released a number of amazing cases in the past so I am very excited to see what Torrent has to offer.
Fractal Design Torrent Case Packaging
The packaging of Torrent is blended and consists of plain cardboard packaging with black and white lettering and images. You can see the basic outline of the case but you can't make out the color of it without actually reading the specifications.
The Torrent itself is securely packaged inside of the cardboard shipping box with an accessories box and a bracket for installing the radiator in the front of the case.
The bracket is made out of steel and the detailed instructions on how to mount it are found in the Torrent User Guide. Other additional accessories are found in the small box as well as the small cleaning cloth.
Technical Specifications of the Fractal Design Torrent Case
Dedicated 3.5" drive mounts
• 2
Dedicated 2.5″ drive mounts
• 4
5.25″ drive bays
• –
Expansion slots
• 7
Motherboard compatibility
• E-ATX / ATX / mATX / ITX / SSI-EEB / SSI-CEB
Power supply type
• ATX
Front interface
• 1 x USB 3.1 Gen 2 Type-C

• 2 x USB 3.0

• HD Audio

• Power/Reset buttons

Total fan mounts
• 7 x 120/140 mm or 4 x 180 mm
Front fan
• 3 x 120/140 mm or 2 x 180 mm (2 x 180 mm fan included)
Top fan
• –
Rear fan
• 1 x 120/140 mm
Bottom fan
• 3 x 120/140 mm or 2 x 180 mm (3 x 140 mm fan included)
Dust filters
• Front, Bottom
Front radiator
• Up to 360/420mm, including 360×180 mm
Top radiator
• –
Rear radiator
• Up to 120/140 mm
Bottom radiator
• Up to 360/420mm
PSU max length
• 230 mm
GPU max length
• 461 mm total • 423 mm with preinstalled front fan
CPU cooler max-height
• 188 mm
Cable routing space
• 32 mm
Cable routing grommets
• Yes
Fixed Velcro straps
• Yes
Tool-less push-to-lock
• Both side panels
Captive thumbscrews
• HDD brackets, SSD brackets, Top panel, Bottom fan bracket
Case Material
• Steel, Tempered Glass, Plastic
Left side panel
• Steel or Tempered glass (RGB version: Tempered glass only)
Right side panel
• Steel or Tempered glass (RGB version: Tempered glass only)
Case dimensions (LxWxH)
• 544 x 242 x 530 mm
Case dimensions w/o feet/protrusions/screws
• 525 x 242 x 495 mm
Net weight
• Solid: 10.4 kg

• Black/Gray TG: 11.1 kg

• White TG: 10.8 kg

Package dimensions (LxWxH)
• 640 x 343 x 674 mm
Gross weight
• Solid: 13.0 kg

• Black/Gray TG: 18.84 kg

• White TG: 13.4 kg
Included Prisma AL-18 ARGB Fan Specifications
| | |
| --- | --- |
| | |
| Size | • 180 x 180 x 38 mm |
| Screw hole pattern | • 165 x 165 mm |
| Power connector | • 4-pin |
| Bearing | • High-grade LLS (Long Life Sleeve) |
| Rotational speed | • 300 – 1200 RPM |
| Noise level | • 14.9 – 37.4 dBA |
| Max airflow | • 43.1 – 146.8 CFM |
| Static Pressure | • 0.44 – 2.50 mmH2O |
| Input power | • 4.2W at 12VDC |
| Max rated input current | • 0.35A |
| Nominal input voltage | • 12V |
| Minimum startup voltage | • 6V |
| LED rated voltage | • 5V |
| LED rated current | • 0.6A |
| LED Rated Input Power | • 3.0W |
| Service life | • 90,000 hours MTTF |
| Cable length | • 1000 mm |
| Cable type | • Black sleeved |