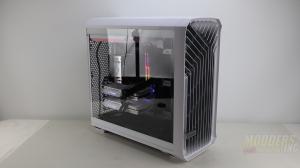 There is a handful of companies out there that often have what I look for in the modding case and Fractal is one of them. Fractal is releasing their newest line of cases called Torrent. The Fractal Design Torrent is a full E-ATX type of case that comes in a variety of colors such as Black with a light tint, Gray with a light tint, White with a clear tint, Black RGB with light ting, Black Solid, and Black Dark tint. My review model is White with Clear Tint and was provided by the Fractal team. Fractal Design has released a number of amazing cases in the past so I am very excited to see what Torrent has to offer.
Fractal Design Torrent Case Packaging
The packaging of Torrent is blended and consists of plain cardboard packaging with black and white lettering and images. You can see the basic outline of the case but you can't make out the color of it without actually reading the specifications.
The Torrent itself is securely packaged inside of the cardboard shipping box with an accessories box and a bracket for installing the radiator in the front of the case.
The bracket is made out of steel and the detailed instructions on how to mount it are found in the Torrent User Guide. Other additional accessories are found in the small box as well as the small cleaning cloth.
A Closer Look at Fractal Torrent White TG
The case is very white. I would even call it Pure White. It is white from every angle with an exception of the internal fans and cable routing grommets. The left panel features a 3mm tempered glass door and the right panel is made from rolled steel.
The front bezel of the case is made out of light plastic and is very impressive in design. The back of the case is made from the rolled steel sheet and is very well ventilated. Pretty much the entire back of the Torrent case has honeycomb holes in it. The power supply mounts, in this case, are on the top of the case vs the traditional bottom mounting. Will this be a trend of going back to the old PC case designs?
The bottom of the case is open as well and you can clearly see the filter and the internal fan bracket. The top bezel can be easily removed to gain access to the Power Supply storage space. The Bezel is made of the same plastic material as the front of the case.
The base of the Torrent is supported by two plastic feet that have glued rubber strips on them. The case is very stable on the flat surface so you should not worry about it tipping.
The left and right side panels have a matching white color. The left panel is a 3mm tempered glass panel that has a little bit of a tint to it. The right side panel is made from rolled sheet steel.
The panels lock in place via small tool-less locking pins. If I am not mistaken the pins are made from plastic but they feel pretty strong and should last a long time. To open the panel you can pull on the small tabs that will gently release the panel.
The top panel has IO connections and a power button. There are two HD Audio jacks, two USB 3.0 connectors, one USB 3.1 Gen 2 connector, and a reset button. The top bezel has a honeycomb texture on the inside, making the bezel very light but sturdy.
Torrent comes with five fans pre-installed, three Dynamic X2 GP-14 PWM, and two Dynamic X2 GP-18 PWM fans. The GP-14 fans are installed on the bottom of the case and the GP-18 fans are installed in the front of the case.
The front bezel is removable as well and the air filter could be easily removed so it can be cleaned. The filter is made from plastic and has a similar pattern as the bezel.
The top of the case is interestingly split into two sections. One section is where the PSU is being mounted and the other could be used for tubing for cooling or routing cables. There is no shortage of grommets here in fact there are so many that you will not be having any issues making this case look clean.
The motherboard CPU cutout window is large. This makes maintenance of the CPU and CPU cooler a breeze. There are seven PCI slots so you can fit pretty much anything here with ease.
The skeleton of Torrent is very strong. Corners of the case are reinforced by a single rivet. Cable management in this case could be managed by included Velcro strips and zip ties. Torrent has six spaces where you could mount four 2.5′ and two 3.5′ drives. If you are not going to be needing these cages, they could be easily removed to make this case a little bit lighter. The case itself weighs 26LB or 13KG so any weight you can shave off would be beneficial.
One of the features of the Torrent is the included fan hub, controller board. Since there are multiple fans in this case it makes sense to have a small hub here to help the management of the cables and fans. The RGB aspect of this case is the small LED strip that is mounted on the side of the case. This case supports ARGB connections on the motherboard.
If you not planning to have much cooling in the system then you can remove the bottom fan tray. You can also use this tray to install a radiator if you choose. The bottom air filter can be removed too when needed by removing the front bezel and pulling the filter out.
Included Fans with the Fractal Design Torrent Case
As I have mentioned earlier the Fractal Design Torrent comes with Dynamic X2 GP-14 and GP-18 fans. These fans are non-RGB but they do support the PWM function of the motherboard.
The fan blades have a ribbed design to minimize vibration and vertex at the center of the fan. There is no rubber mounting on these fans to help with the vibration of the case.
With the addition of Prisma AL-18 PWM fans to Fractals arsenal, I got a pair of fans that I will be using with Torrent. AL-18 is an ARGB type of fan that features twelve individual ARGB LEDs that are compatible with a variety of motherboards and corresponding software such as the Asus AURA, Gigabyte Fusion, MSI Mystic Light, and the ASRock Polychrome.
These fans could be easily daisy-chained to link the ARGB functions to one controller. The blades of AL-18 are completely white and do not have any ridges like GP-18.
AL-18 supports PWM functions and has a rotational speed between 300 and 1200 RPM max. And producing 43.1 – 146.8 CFM with 0.44 – 2.50 mmH2O static pressure respectively.
Hardware Installation and Clearance Compatibility of the Fractal Design Torrent Case
Internal length: 381mm.
Internal height: 381mm/438mm.
Internal depth: 209mm (to the glass).
Front-mounted:
Front :3×120/140mm or 2x180mm Fans. (2x 180mm fans included)
Radiator support up to 360/420 mm
Rear-mounted: 1×120/140mm fan
Radiator support for 120/140mm
Top-mounted:
Power Supply:
There is no removable plate for installing PSU.
241mm Clearance for Power Supply installation but recommended PSU up to 230mm in length.
Video Card clearance:
There is 482mm of clearance before reaching the front fan mounting area.(with removed front fans)
CPU Tower coolers:
CPU heat-sink height clearance is about 209mm. (to the glass). The recommended CPU cooler's max height is 188mm.
Large CPU backplate cutout.
The installation of the components was fairly simple in the Fractal Torrent. The case is spacious enough so that pretty much everything you can throw at it, will fit. In this build, I am using an ATX motherboard with two RTX 3060 video cards and a Cooler Master Hyper Evo 212 air cooler.
You can see that there is plenty of space on the right side of the case for me to convert this system into a liquid cooling rig with a reservoir. On the back of the case, I had no issues with cables. I've tried my best to keep everything in order with the Velcros and zip ties. The rubber cable management grommets come in handy when running cable to the top where the Power Supply is.
Overall customization and ease of use of the Fractal Torrent are very easy and impressive on how much space you have to work with.
Technical Specifications of the Fractal Design Torrent Case
Dedicated 3.5" drive mounts
• 2
Dedicated 2.5″ drive mounts
• 4
5.25″ drive bays
• –
Expansion slots
• 7
Motherboard compatibility
• E-ATX / ATX / mATX / ITX / SSI-EEB / SSI-CEB
Power supply type
• ATX
Front interface
• 1 x USB 3.1 Gen 2 Type-C

• 2 x USB 3.0

• HD Audio

• Power/Reset buttons

Total fan mounts
• 7 x 120/140 mm or 4 x 180 mm
Front fan
• 3 x 120/140 mm or 2 x 180 mm (2 x 180 mm fan included)
Top fan
• –
Rear fan
• 1 x 120/140 mm
Bottom fan
• 3 x 120/140 mm or 2 x 180 mm (3 x 140 mm fan included)
Dust filters
• Front, Bottom
Front radiator
• Up to 360/420mm, including 360×180 mm
Top radiator
• –
Rear radiator
• Up to 120/140 mm
Bottom radiator
• Up to 360/420mm
PSU max length
• 230 mm
GPU max length
• 461 mm total • 423 mm with preinstalled front fan
CPU cooler max-height
• 188 mm
Cable routing space
• 32 mm
Cable routing grommets
• Yes
Fixed Velcro straps
• Yes
Tool-less push-to-lock
• Both side panels
Captive thumbscrews
• HDD brackets, SSD brackets, Top panel, Bottom fan bracket
Case Material
• Steel, Tempered Glass, Plastic
Left side panel
• Steel or Tempered glass (RGB version: Tempered glass only)
Right side panel
• Steel or Tempered glass (RGB version: Tempered glass only)
Case dimensions (LxWxH)
• 544 x 242 x 530 mm
Case dimensions w/o feet/protrusions/screws
• 525 x 242 x 495 mm
Net weight
• Solid: 10.4 kg

• Black/Gray TG: 11.1 kg

• White TG: 10.8 kg

Package dimensions (LxWxH)
• 640 x 343 x 674 mm
Gross weight
• Solid: 13.0 kg

• Black/Gray TG: 18.84 kg

• White TG: 13.4 kg
Included Prisma AL-18 ARGB Fan Specifications
| | |
| --- | --- |
| | |
| Size | • 180 x 180 x 38 mm |
| Screw hole pattern | • 165 x 165 mm |
| Power connector | • 4-pin |
| Bearing | • High-grade LLS (Long Life Sleeve) |
| Rotational speed | • 300 – 1200 RPM |
| Noise level | • 14.9 – 37.4 dBA |
| Max airflow | • 43.1 – 146.8 CFM |
| Static Pressure | • 0.44 – 2.50 mmH2O |
| Input power | • 4.2W at 12VDC |
| Max rated input current | • 0.35A |
| Nominal input voltage | • 12V |
| Minimum startup voltage | • 6V |
| LED rated voltage | • 5V |
| LED rated current | • 0.6A |
| LED Rated Input Power | • 3.0W |
| Service life | • 90,000 hours MTTF |
| Cable length | • 1000 mm |
| Cable type | • Black sleeved |
Final Thoughts of the Fractal Design Torrent Case
The Fractal Design Torrent Case is an interesting case and I can see a lot of potentials as far as Modding goes. What I see here is a large case that has removable panels on each side with clear tempered glass on the side. The bottom front and top bezels of this case are all made from the same ABS plastic material. The finish of the plastic is not smooth but rather matte. Being white, everything that touches this case will leave a mark. So if you plan to use this case for Modding I would recommend painting it or at least clear coating the bezels. If you are extremely careful with the case then you would not have to worry about blemishes or marks.
There are a lot of features in this case and I think that is an important factor when picking the right case for Modding. You can basically rip everything out of this case and start from the bare minimum but yet have that stylish look from the outside. The front bezel is what makes this case the right one for me.
The ARGB factor of the case by itself would be nonexistent if not for the top left ARGB bar on the side of the tempered glass. If you going to pack this case with ARGB fans and power supply cables you can really make this case shine. But if you are going for that "Economical" look without ARGB then you can still achieve that nice clean-cut look with the Fractal Design Torrent Case.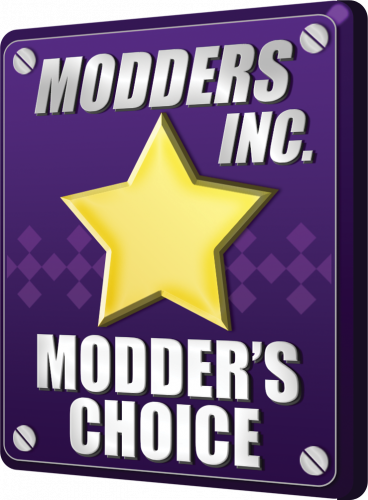 See more about Fractal Products we have reviewed