« Gaming Tests Continued
|
Conclusion and Final Thoughts »
Gigabyte Xtreme Engine & Thermal Imaging
For overclocking the Gigabyte GeForce GTX 1070 Xtreme Gaming graphics card, you can download Gigabyte's Xtreme Engine software. While not the only compatible software, this is their offering. The software allows the user to overclock both the GPU and memory of the video card as well as increase voltage, temperature and power limits.
Once the software has been downloaded and installed, you'll be presented with a screen to select the GPU upon start up.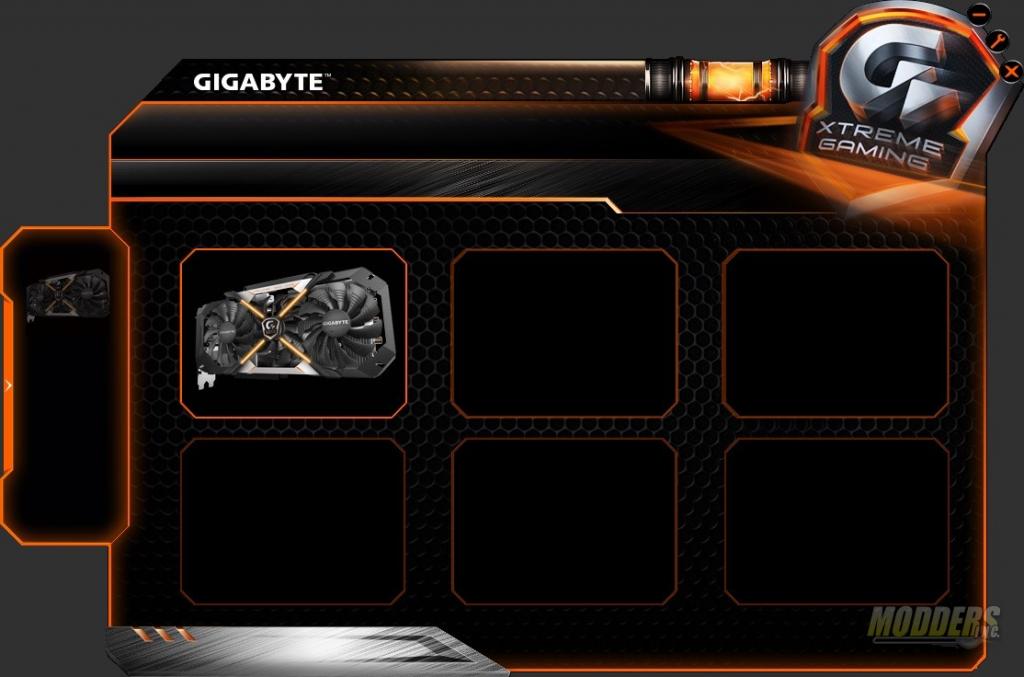 Once the GPU has been selected, you'll be presented with a dashboard of sorts. The dashboard is broken up into three parts; GPU/Memory speeds, GPU voltage, and Power and temperature. From here, you can immediately start increasing clock speeds on both the GPU and the memory as well as increase the voltage and power/temp limits.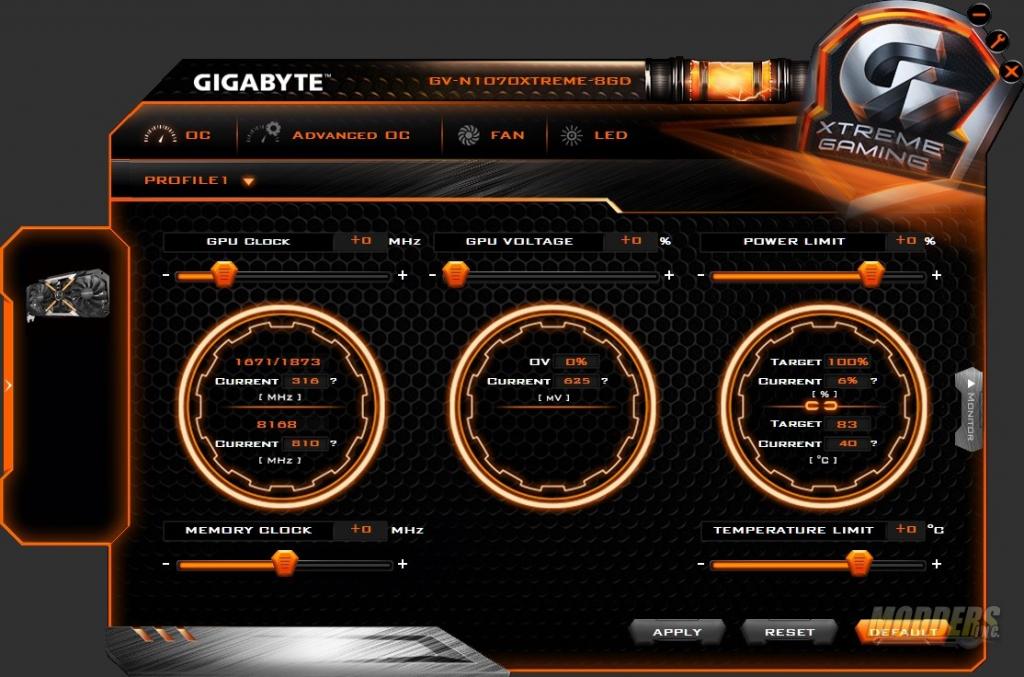 The Advanced OC tab at the top gives you finer control over the frequency of the GPU. You can choose from three presets in the easy setting or you can go full on manual in the advanced settings. In the manual mode you'll pick points on the graph for clock speed and voltage for said clock speed. You can also save your overclocks as profiles.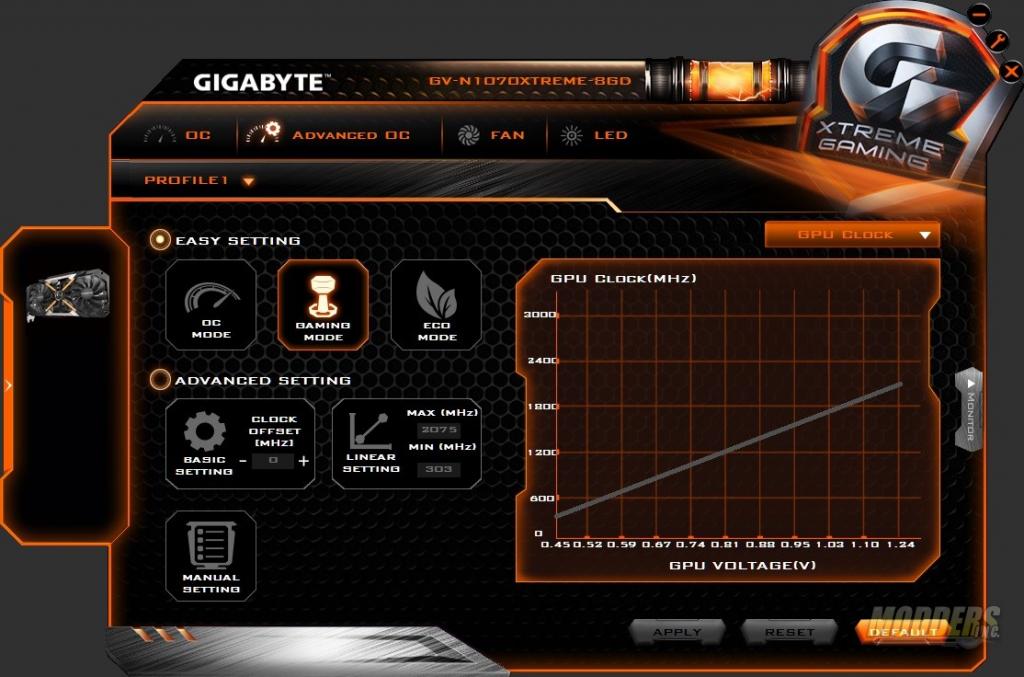 Fan speeds are adjustable in the next tap. Again, Gigabyte has included presets for Turbo, Auto, and silent as well as manual settings. The graph represents fan speed at temperature, a custom fan slope can be configured in manual setting.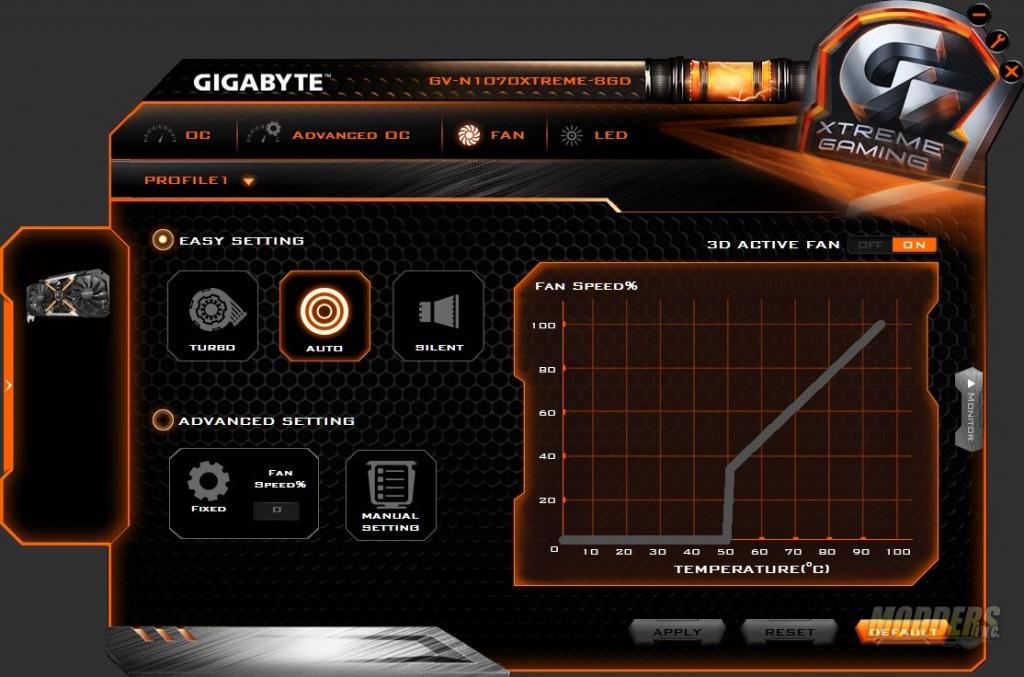 The LED tab is where you can set up the RGB LEDs on the GeForce GTX 1070 Xtreme. There are a few modes and options in each mode to choose from. You can also set up variable brightness to increase the brightness of the LEDs based on GPU utilization, Temperature, clock speed, etc. There is also breathing mode, flash, and dual flash modes.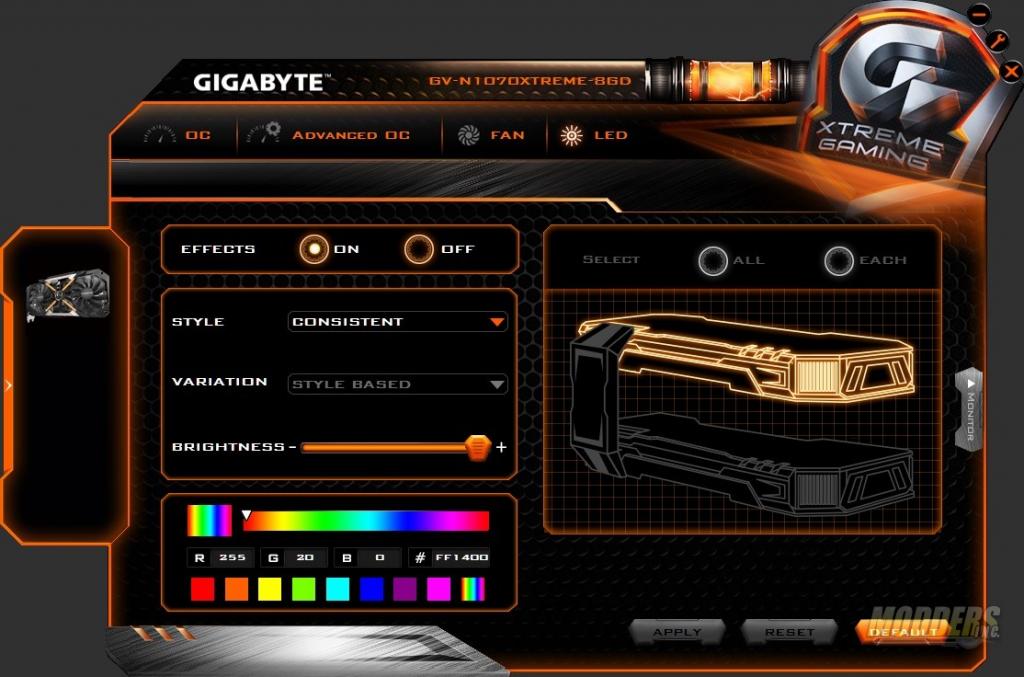 The maximum overclock that I could get on the Gigabyte GeForce GTX 1070 Xtreme was +50MHz on the GPU and +110 on the memory. Anything higher than that, and games would lock up or random screen corruption would occur. Granted, this isn't bad considering the card comes from Gigabyte with a 189MHz increase on the base clock and 215 MHz increase on the boost side and a 316MHz increase on the RAM in OC mode over the stock Nvidia specification.
During use, the fans worked silently. Even with an open test bench, I still did not hear them run. With the fans cranked up to 100% they were very noticeable but lacked the high pitch whine of GPUs in the past. One of the things that I did notice during use is the back plate got extremely warm. Not enough to burn you, but hot enough to notice it.