« Gigabyte Xtreme Engine & Thermal Imaging
Conclusion and Final Thoughts
Pascal is out and the board partners are having their way with it. Gigabyte cooling solution tucks three 100mm fans inside a 11 inch card. It's kind of odd watching the center fan run in the opposite direction of the other two. It seems to work. During testing, and with the fans set on auto, temperatures of the card never exceeded 65°C on the test bench nor could I hear the fans spin up. Fan speeds never exceeded 40% during any of the test.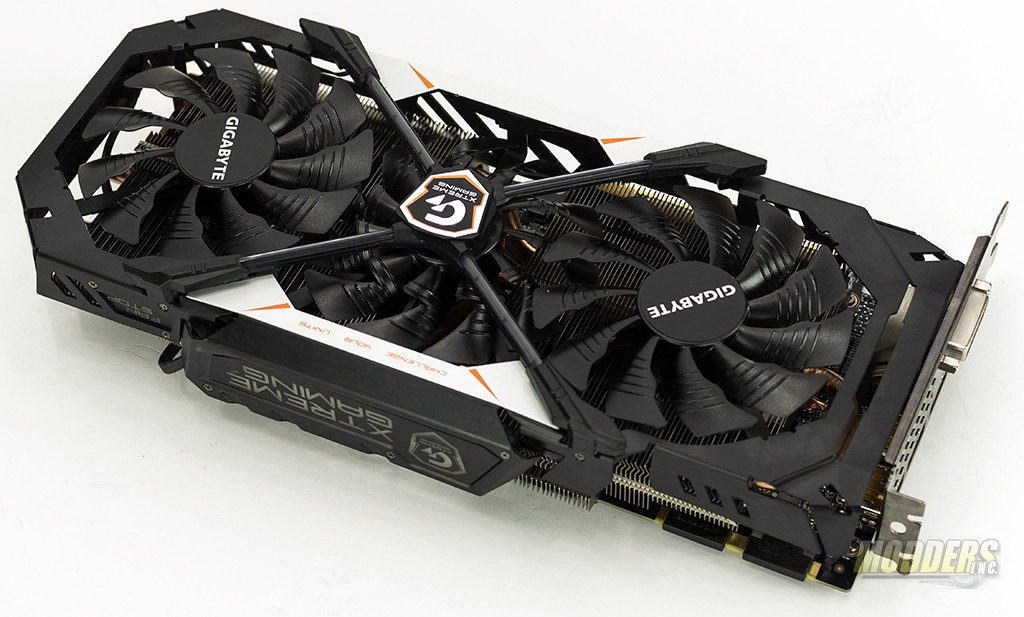 Performance of the card is exceptional. Everything I threw at it was devoured. With the exception of Crysis 3 and Metro Last Light, every game was fairly playable at 4K and ultra settings. For me, DOOM and Overwatch caught my attention at 4K. They just look fantastic and play very well. Older games such as Skyrim don't even make the card break a sweat. At 4k with Bethesda's high resolution texture pack installed the Gigabyte GeForce GTX 1070 Xtreme still pulled over 100 frames per second.
The Gigabyte GeForce GTX 1070 Xtreme Gaming is the at the top of the 1070 series in Gigabyte's line up. Currently the 1070 Xtreme Gaming graphics card is selling for $459.99 USD. Considering the extras features this card has such as, the WindForce Cooler, RGB LEDs, a PCB that is protected from environmental hazards, and a 4 year warranty, I'd say it is worth it. My only complaint with this card is the lack of a dual HDMI bracket. Gigabyte put two HDMI ports on the edge of the card that faces forward. So using those HDMI ports could be a challenge or you'd have to make your own bracket. The GPUs in the Xtreme line are what Gigabyte calles Gauntlet Sorting, which means these GPUs are selected and tend to be able to push a higher clock speed.  Overall, I am extremely impressed with Gigabyte's GTX 1070 addition to their Xtreme gaming line. I've reviewed a few of their Xtreme Gaming GPUs in the past and it is a pleasure to see the new generation still carrying the torch.