CPU Reviews
Intel Core i7 8700k CPU Review
Enthusiast Performance at Mainstream Pricing
« Overclocking, Temperatures and Power Consumption
Final Thoughts and Conclusion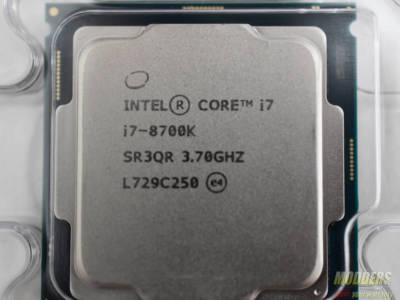 The 8700k not only met my expectations, but far surpassed what I ever thought the chip would do. The 8700k combines the multitasking of Intel's HEDT platform, with the single core and gaming performance of their very popular, consumer platform. With its boost clock of 4.7 GHz, the 8700k can boost higher than any of the Haswell-E or Broadwell-E 6 core chips I owned could even overclock to. With how hot the 7700k was known to run, I had my reservation about the 8700k. With the higher TDP and 2 additional cores, I expected it to run hotter than the 7700k. However, I was wrong. During the AIDA64 CPU Stability test, the 8700k maxed out at 62°c at 4.8 GHz, where the 7700k at 5.0 GHz hit 68°c.
The benchmarks speak for themselves. The i7 8700K killed every benchmark we threw at it, compared to the previous 2 generations. Intel had stated that the 8700k would be the fastest gaming CPU they've ever produced, and they were right. Paired with the MSI Lightning 1080 ti, the 8700k dominated every game we tested, even the newer titles like Assassins Creed Origins. But, an I7 paired with a 1080 ti should dominate games and that really wasn't a huge surprise. That came in the IGPU. Given, it was at 720p, but the IGPU gave us an average of 58 FPS in GTA V, given, at low settings. None the less, still very impressive.
Taking everything into consideration, I'd say the 8700k fully lived up to the hype of Intel's first consumer 6 core i7. That being said, availability at launch was garbage. Intel even ran out of engineering samples for reviewers. The processor used in this review was a retail sample, sent to me from Australia 5 or 6 weeks after launch. Just in the last week, Amazon has finally listed the i7 8700K for sale, stating it will be in stock as of December 1st, 2017. This is almost 2 full months after the products initial launch. Intel's ARK has the retail price listed at between $359.99-$370.00. This isn't too far off from the listed price of $414.99 on both Amazon and Newegg. If you're lucky to be near a Microcenter, they not only have them in stock finally, but they have lowered their launch price of $499.99 down to $399.99. Any of the three places you pick up this processor, its well worth the asking price on Newegg or Amazon. The 8700k is by far the best consumer processor I've personally ever tested. You can't go wrong with this chip!