CPU Reviews
Intel Core i7 8700k CPU Review
Enthusiast Performance at Mainstream Pricing
Specifications and Features »
Introduction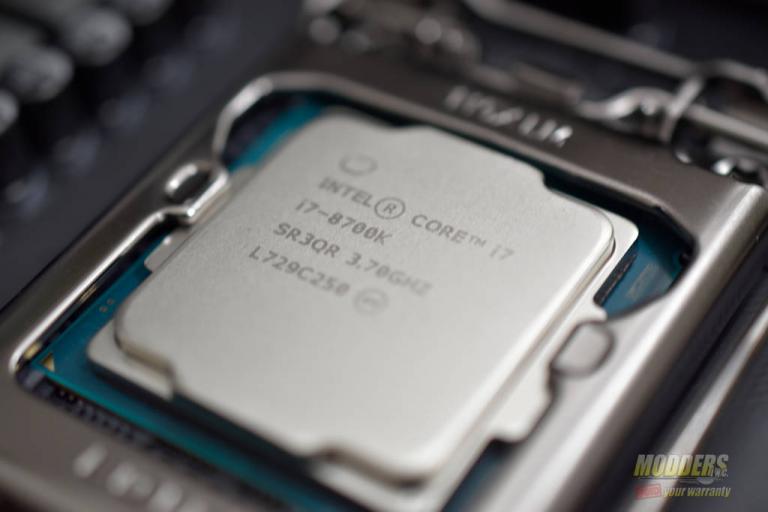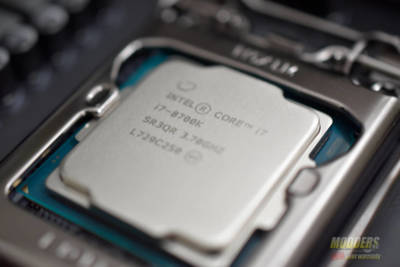 Since November of 2008, when Intel launched their first Core I7 processor, the i7 920, Intel's consumer platform has been topped out at 4 cores and 8 threads. In 2010, the enthusiast platform was given the luxury of their first hex, or 6 core processor, it came at a premium. Well, the day consumers have long been waiting for is finally over. On October 5th, 2017, Intel launched their 8th generation of Core processors, code named Coffee Lake. With the launch of the 8th generation and the 8700k, Intel has released their first ever consumer hex-core processor along side their Z370 chipset.  All 8th gen compatible motherboards have the same LGA 1151 socket as the previous two sockets, Z170 and Z270. However, 8th gen Core processors will only work with the new Z370 chipset.  So, if you plan to upgrade for the 6700k or 7700k, it will require a new motherboard. So, this brings up the same question that arises every time Intel launches a new generation. Is it worth upgrading, especially from the last generation? We took Intel's i7 8700k and put it through out suite of tests. So, let's see if the i7 8700K is worth the hype.
Packaging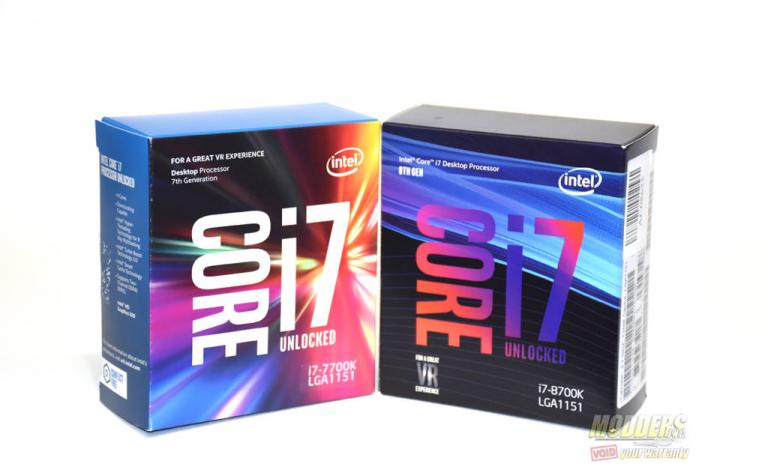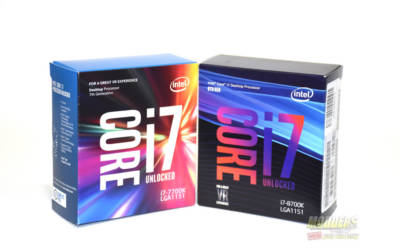 The outside of the 8th generation packaging is slightly different than previous generations. The box is still the same size as the last two generations, measuring 37.5mm x 37.5 mm . This is the standard size box Intel has used since they stopped packing stock coolers with unlocked processors. The main difference is in the color scheme and the background design. The "Core i7 Unlocked" printed across the front is no loner white lettering. Now, the lettering on the front has a few different colors in it. Its amazing to me that such a subtle change can make the packaging really stand out.
For the most part, the rest of the packaging hasn't changed much. The rear of the box lists the contents of the package. It also makes note of the three-year, limited warranty on the processor.  The left side of the box has a list of the key features of the 8700k. These include 6, overclockable cores with hyper-threading, Intel Turbo Boost 2.0, Smart Cache Technology, Intel's Optane support, Dual Channel DDR4 support and Intel's UHD Graphics 630. The box also notes that the 8th generation processors require a 300-series motherboard.
The right side of the box is where you'll find the technical information on the processor. This is where you find the product code, UPC code, batch number, model and serial numbers. The processor comes packed in a traditional clam sell package, which is set in cardboard for extra protection. The cardboard also keeps the chip in place. Lastly, there is the installation instructions, warranty information and my personal favorite accessory, a case badge.