A Closer Look »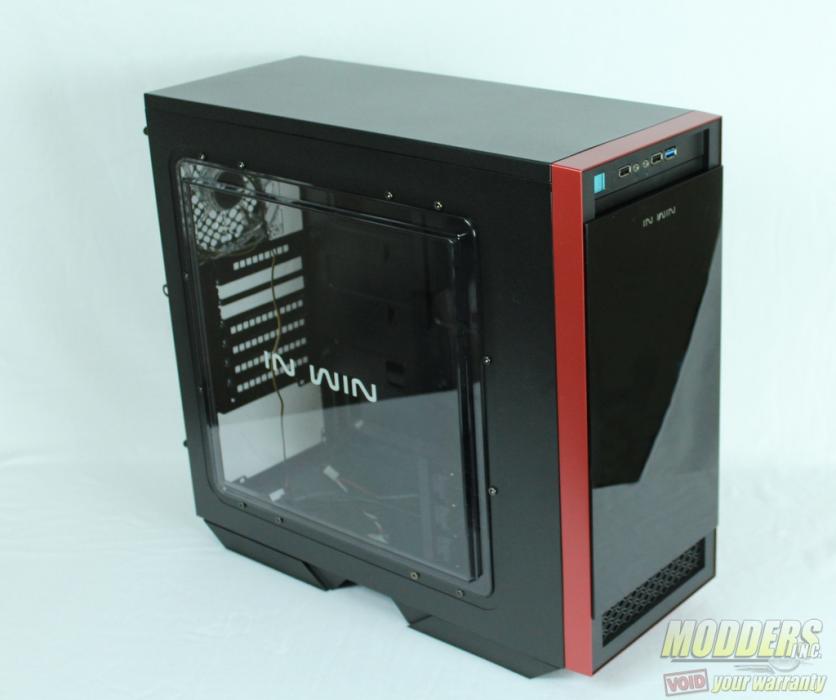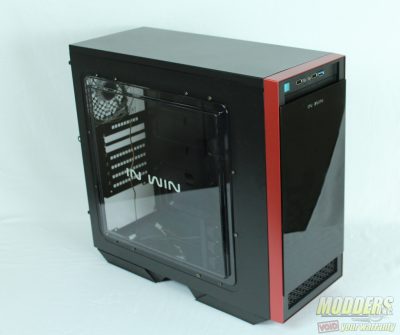 InWin is known for expensive cases that resemble abstract art exhibits, but they also have cost effective options for those who don't mind having cases in several pieces of SECC metal. Mid tower cases are ideal for system builders who want a case that occupies a moderate amount of space and will comfortably fit most components. Upon opening the box, I noticed the 503 was especially light when empty compared to other cases I've worked with. The design of InWin 503 does scream high end from a distance given the clever use of accents and the cleverly placed tempered glass front panel.
 [sc:sponsor sponsor="InWin" product_link="http://www.inwin-style.com/en/goods.php?act=view&id=503″ product_name="InWin 503″ ]
Packaging
The packaging for the InWin 503 doesn't have a lot of flair, but does have some orange accents to catch the eye of anyone at a computer parts retailer who happens to look down at the inventory below the display. I would like to note that InWin depicts this box as a vectorized image on their product page gallery.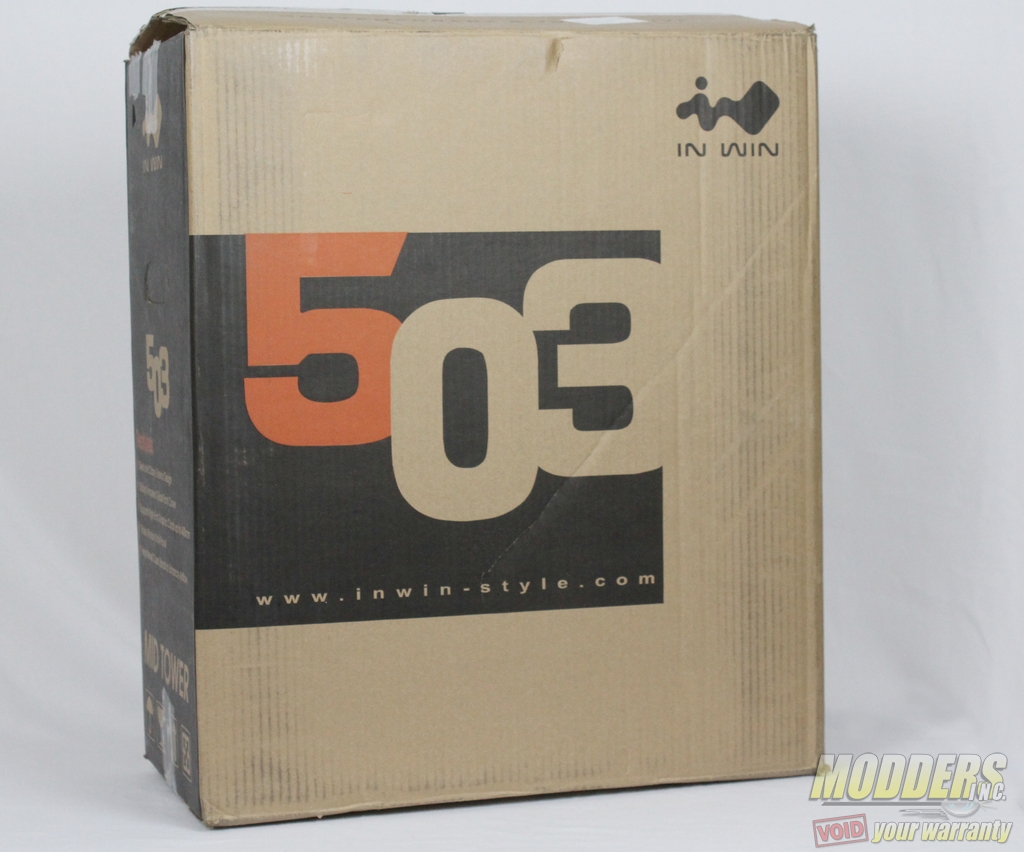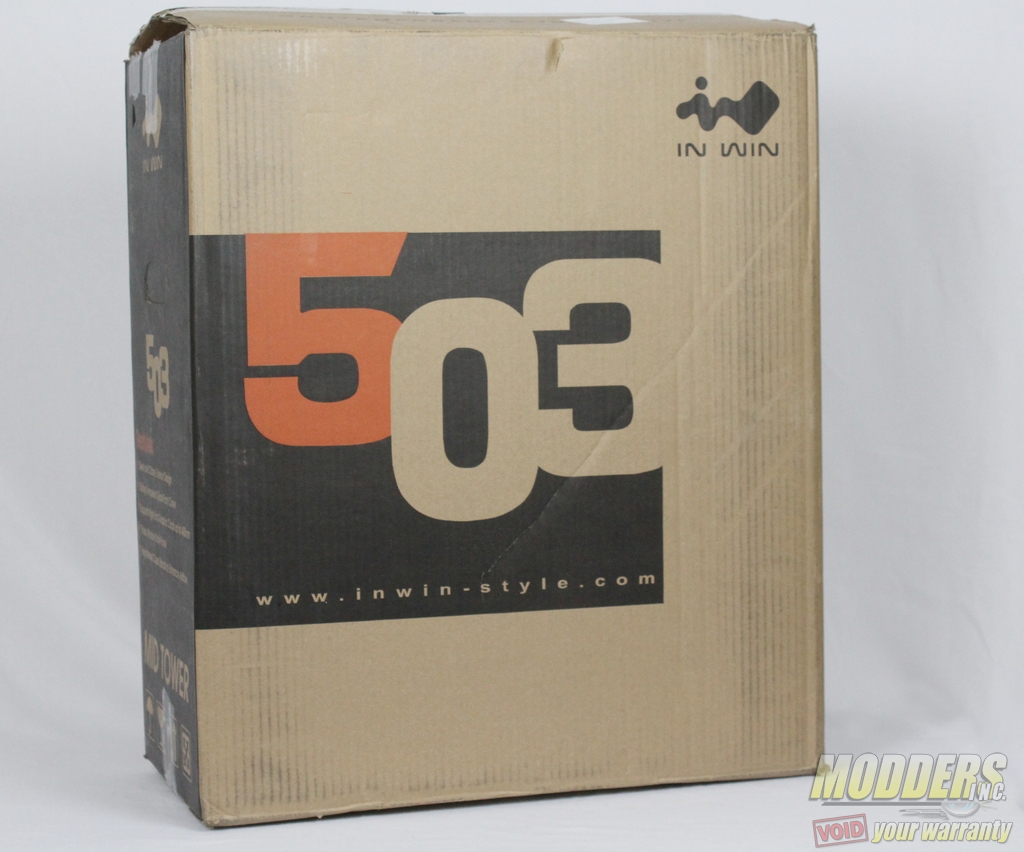 The InWin 503 is protected by a hard Styrofoam that seems to do a decent job protecting the case even though the majority of the case seems extremely sturdy. The only structural weak point I see on the case would be the side panel. Removal of the case proved difficult due to how tightly the box fit around the case. During the case removal process the Styrofoam protecting the top of the case broke.
Below are the included accessories for the InWin 503. The manual was cleverly packaged in what resembles a resealable sandwich bag. The 503 comes packaged with hard drive dampening, screws for optical drives and expansion cards, and motherboard speaker.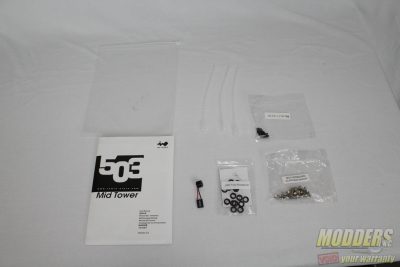 Specifications
Model
InWin 503
Form Factor
ATX
Motherboard Compatibility
ATX, m-ATX
Case Size
Mid Tower
External Drive Bay
5.25″ x 1
Internal Drive Bay
5.25″ x 2
3.25″ / 2.5″ x 4 (Supports SATA HDD EZ-Swap Module x 4)
Power Supply
ATX 12 V, PSII Size and EPS up to 220mm (170mm with Bottom Fan)
I/O Port
USB 3.0 x 1
USB 2.0 x 2
HD Audio
I/O Expansion Slot
PCI-E/PCI/AGP Slot x 7
Supports High-End Graphic Cards up to 408mm

Thermal Solution

Front – 120mm Fan x 2
Rear – 120mm LED Fan x 1
Bottom – 120mm Fan x 1
Maximum CPU Heatsink up to 160mm
Water-Cooling Hole Ready
Dimension (HxWxD)
440 x 210 x 472.5mm
17.3" x 8.3" x 18.6"
Net Weight
5.9 kg / 13 lbs
Gross Weight
7.0 kg / 15.43 lbs