« Hardware Installation
Conclusion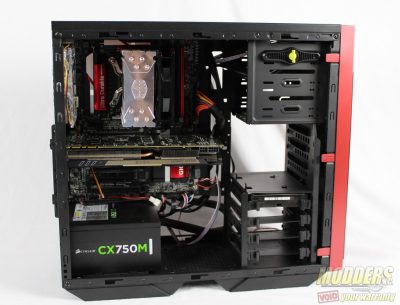 The InWin 503 meets many needs of the average consumer. The 503 has an aesthetically pleasing premium look wrapped in SECC metal. The transparent tinted side panel featured in the InWin 503 is NOT made of tempered glass. I felt this was a little misleading on InWin's part as a consumer. Technically, InWin did not lie, but as a consumer I do not appreciate this deceptive advertising.
The InWin 503 takes up only a moderate amount of space and offers ample room for all but world record breaking CPU heatsinks and graphics cards. The 503 even offers enough room for a 1 kilowatt or over power supply for that massive GPU and power hungry CPU.When it comes to components, the InWin 503 will have adequate space for 4 hard drives and an optical drive. Even fully loaded with the largest components you can find the InWin 503 fits components the way clown cars fit clowns.
The front panel of the InWin 503 is what can be described as an annoyance. It's reflective and attracts oil and dust like a magnet and it obstructs both the front fan or the optical drive depending on what position it is in. This like having a male/female supermodel in the hallway of a warehouse and having to ask that person to get to work moving this and that. No one knows why this person is here and he/she keeps complaining about getting dirty.
Overall the InWin 503 is a great case for the money and I cannot stress this enough. In a scenario where you have purchased both a $1000 processor and a GPU on par with the Titan X, there might be a little room in the budget for a high end case. Instead of saving for a better the InWin 503 has enough space for all of the components in your dream build until you have enough for a better case should you choose. The scabbard of your sword does not matter much, as long as it fits.
[sc:approved_award ]