« Page 5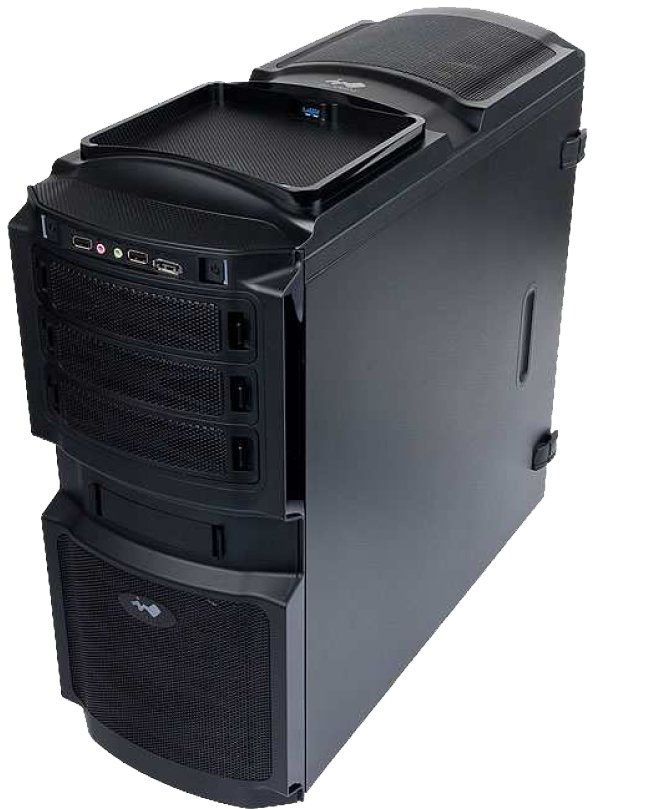 In summary this is an extraordinary case. First off, let's talk scratch. This thing only costs $99 bucks. I have not seen many cases priced in this range that have the ability to access hot swappable drives, through a supplied side door *and* a supplied hot swap SATA back plane. That is pretty amazing, in and of itself. Now, we look at the integrated options:  USB3, full sized water cooling grommets, a top tray for your electronic devices, mostly tool less internal configuration, an internal cable management race, drive trays compatible with both 3.5″ and 2.5″ drives, spots for 5 120mm fans to be installed, rear access to the CPU heatsink mounting under the motherboard, an installed side panel filter to reduce dust inside the case, as well as filters on the front fan and a removable one on the bottom of the case for the lower intake on the power supply.  
You hear that? That is the sound of an awesome value!
It is not perfect though. If you have a massive heatsink, or even a premium one, it may very well not fit *if* you populate the upper fan location on the side panel. Something I have not discussed yet is the back steel of the case is extremely flexible. It makes sense to me, since it s perforated as much as it id. The flex of the steel is a bit worrisome as I was pushing in the clamps down for the video card installation. It did not crease, but it did bow more than I was comfortable with.
There is a lot going on with this case… much more good than bad!
Pros

---

Cons

---

+ Good price
+ USB3 compatible
+ 3 externally accessible hot swappable drives
+ Nearly tool less design
+ Front, bottom and *side panel* are all sealed with dust filters.
+ Placement for 5 120mm fans
– Limited to shorter heatsinks if using fans on side panel.
– Back of case flexes too easily.