« Intro
|
Page 3 »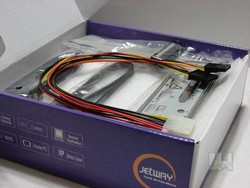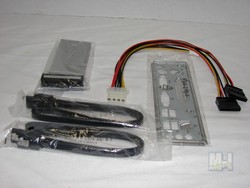 Once we open the box, we find all the goodies that will help get the NC96FL build started. Include items are as follows; 1 x flat IDE cable, 2 x SATA cables, 1 x 4 pin Molex to 2 SATA Power connectors, and 1 x I/O shield.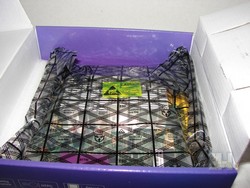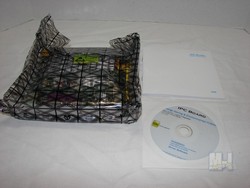 Upon opening the inside flap of the box, we find that the motherboard wrapped in a static bag and under that we have the driver / install CD and an operators manual.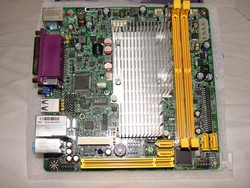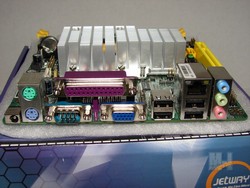 After removing the NC96FL from the static bag we get our first real look at the NC96FL. Wow, this thing is small, in fact my hand spread almost completely covers the board. The board again is only 17cm x 17cm, but until you actually open it and look at it you really just don't truly comprehend the small size. Even the I/O basically equals it's length, is that cool or what. 


  Speaking of the Input/Output area of the motherboard, it's make up consists of the following; (from left to right) 1 x 12V DC in connection, PS2 connection for the mouse and keyboard connection, 1 x 9-pin COM port for legacy devices, 1 x parallel port for printers, 1 x VGA port, 4 x USB 2.0/1.1 ports, 1 x RJ-45 LAN connection with signal indicator LEDs, and the audio input/outputs (line-in / mic / line-out). A pretty complete I/O setup.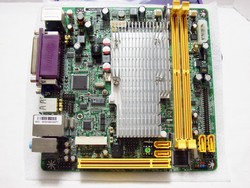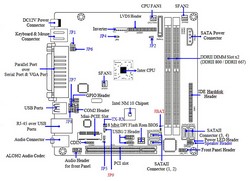 Looking at the NC96FL's layout, we have many connectors, pin-outs and jumpers. For more info on jumper locations and setups, consult the owners manual. As for the rest, it lists as follows; We have the INTEL ® Atom Processor D510 (45nm,FSB 667MHz, 1.66GHz,1024MB L2 Cache) for this particular board along with NM10 Express Chipset with a Front Side Bus of 667MHz. These are kept cool by a single decent sized aluminum heatsink, which covers both the CPU and Chipset. On board we also have 2 x 240-pin DIMM Sockets for un-buffered Single Channel DDR2 800/667 SDRAM up to 8 GB max, 1 x PCI expansion slot, 4 x Serial ATA2 3Gb/s connectors, 1 x IDE connector, 3 x USB 2.0 ports, 3 x NB / Chassis Fan connectors, 1 x 4-pin Power connector, 1 x 18 bits single channel LVDS header, 1 x AUDIO header /1 x CD IN /1 x GPIO x Realtek ALC662 6-Channel HD Audio CODEC, 1 x RS232/RS422/RS485 connector, and 1 x MINI PCI-E connector. Yes, the board is pretty much loaded with all you could need.