« Page 2
|
Page 4 »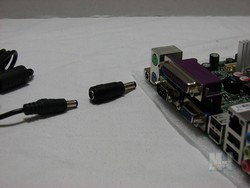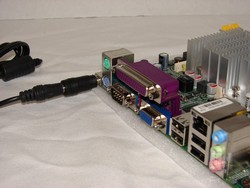 Now the one thing that you need to be aware of right off with the Jetway NC96FL mini ITX board, is that it requires an external power source. I failed to notice this (as I have read many have) before the board was shipped to me and subsequently had to buy an external 12V DC power adapter. As in anything the sky is the limit as far as what you might possibly pay for one of these notebook type adapters, but as for me I simply picked up a Logisys Universal AC/DC Digital Adapter (model PSAD90b). I chose a universal one because it came with several different adaptable connector barrels, as not all connectors are the same.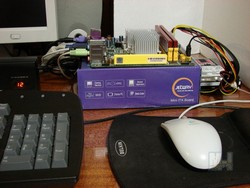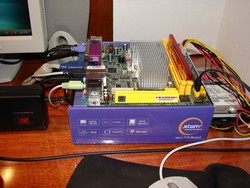 After setting the external power adapter to 12V, I plugged in all of the needed cables for my peripherals and installed 2GB of DDR2 800 memory. I wanted to make sure that the both memoryslots were working. After the initial start up, which went fine with all memory detected, I shut down the board to setup for my benchmarking. For the benchmarking I wanted the NC96FL to have the same amount of memory installed as the comparison boards, so only 1GB of DDR2 800 memory will be used. In this comparison I will be using the data from two previous Mini ITX boards thatModders-Inc reviewed from Jetway, the NC92-230-LF and the NF94-270-LF Mini ITX Boards. Both previous boards utilized 1.6ghz single core Intel Atom processors. The NC96FL-510 utilizes a dualcore 1.66 Intel Atom processor.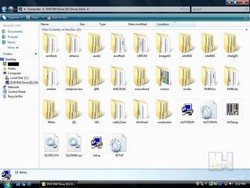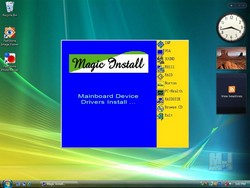 Next insert the installation disc and install the needed drivers for the NC96FL. If Autorun is disabled just open My Computer and find the CD Rom drive the disc is in and then right click and then you can click autorun or choose explore. Choosing explore will allow you to view all of the files on the disc, as the photo above shows, you may also click autorun or setup here as well. Once the install starts you will be greeted by the Magic Install screen. On the Magic Install screen simply click the drivers you wish to install and follow the on-screen directions. Now, let's see how the NC96FL-510 stacks up against the previous boards.