« Page 4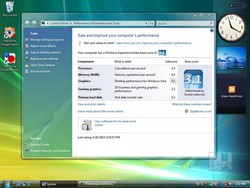 The last small benchmark I performed was the Windows Experience Index. Found bundled in the latest two Windows operating systems (Vista and Windows 7), The Windows Experience Index measures the capability of your computer's hardware and software configuration and expresses this measurement as a number called a base score. A higher base score generally means that your computer will perform better and faster than a computer with a lower base score, especially when performing more advanced and resource-intensive tasks. It's scores range from 1.0 – 5.9 as base scores, the higher/closer to 5.9 your computers score the better. The NC96FL scored a 3.1, which is just over the 50% mark, not too bad for a Mini ITX. The graphics and gaming power of the on-board graphics is what really hurt the boards score. Again, add a PCI TV/Video card that is suitable for this board and your case/setup and you will improve this board greatly.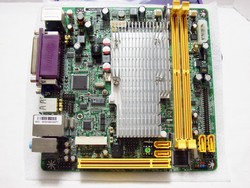 The only real issues I had with the NC96FL was it's lack of a DVI and HDMI connections. Both of these would come in very handy in a HTPC environment, not to mention the fact that almost all monitors and now even TVs are going to DVI/HDMI. Would make sense to me to use these over theVGA connector or at the very least add a DVI adapter to the included accessories. I also, although the NC96FL did not have any issues, prefer having a fan on my heatsinks. I suppose that is just me, but I am sure others may feel better if it came with a fan attached as well. There are several fan headers supplied on the board though, and that could be easily rectified.
  Overall I was very impressed by the NC96FL, it held up well under testing without the first BSOD and is still going strong. Though this board is geared toward the HTPC market, I think it would perform decently in a small everyday computer also. Maybe not a hardcore gaming rig or heavy resource hog application rig, but more for just a general computer that can be almost if not completely hidden from view, that one could get mail, pay bills, do Facebook, web surfing or even some office work on. In fact other than the small items I mentioned above … I think the Jetway NC96FL-510 Mini ITX flat out ROCKS!
Pros

---

Cons

---

Small size
Dual Core Atom Processor
Plenty of storage connections
Several fan connections


PCI slot

 to upgrade Video 
Hi Def Audio
Up to 8GB of DDR2 800 memory
Runs Vista Ultimate 64-bit fine

Lack of DVI/HDMI connections.