Page 2 »
 A few years back Logitech introduced the G15 Keyboard to the masses. No one had seen a keyboard that resembled the likes of it before. It took some of the features that people had been hacking into their own keyboards and made it mainstream. But that was a few years ago and now  Logitech has updated the looks of the G15 and has re-released it. Was it worth the trouble for Logitech to redesign one of its most popular keyboards?

Sponsor: Logitech
[hr]
   First impression are important and believe it or not it can make the difference between a sale or no sale. Logitech has always put a lot of planing into their boxes and the G15 Gaming Keyboard container is no exception. The G15 series of products have the same style of box with the Green, Black, and Orange colors.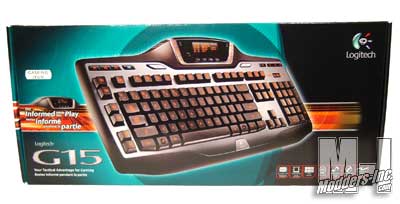 The rear of the box , like all Logitech products, has plenty of information about the item inside. Some buyers may pay no attention to what Logitech has to say about their product, which is too bad. There is always a great amount of knowledge that can be learned from reading the box. It is the only way to learn about a product unless you read a bunch of reviews, like this one..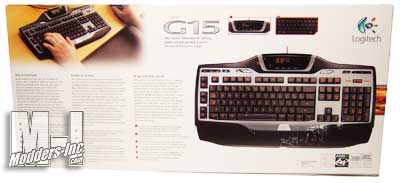 Opening the box for the first time we can see that it is well packaged and the layout has been well thought out to give the keyboard the most protection in a minimal space. What we see here is the USB cable, Manual, Software CD, and the wrist support attachment.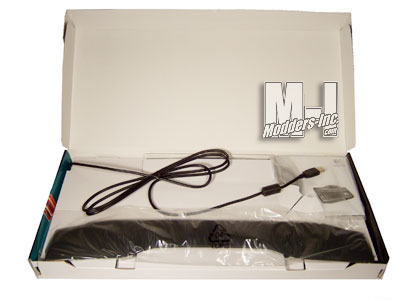 After removing the above items from the box and lifting the cardboard flap we get out first glimpse at the New Logitech G15 Gaming Keyboard which is safely wrapped in plastic.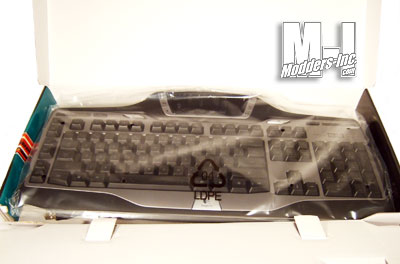 Logitech, please tell us about the Keyboard.
"Good intel and the proper gear are the keys to victory, even in gaming. The Logitech G15 keyboard keeps you informed and outfitted to win. 
With the Logitech-exclusive GamePanel LCD, you can easily find out what server your friends are using to play Battlefield 2142, or receive notification when your World of Warcraft battleground becomes available. You can even identify who's speaking in Ventrilo.  Create useful macros on the fly and play them back with a single press of a G-key. Illuminated characters allow you to play late into the night." 
The Logitech G15 gives you a winning advantage, and everyone knows it's more fun when you win.
Package Contents 
  – Logitech G15 Keyboard
  – Palm rest
  – Software CD
  – Installation Guide
  – 1-year limited hardware warranty
System Requirements 
  – Windows XP, Windows Vista
  – 256 MB RAM
  – 20 MB available hard disk space
  – USB port
  – CD-ROM drive
Note: GamePanel LCD requires software that supports Logitech GamePanel technology. Visit www.logitech.com/gamepanel for more information.