QuakeCon
Modders-Inc / Cooler Master QuakeCon 2014 BYOC Seat Giveaway
We have 3 winners for a seat at the Modders-Inc/Cooler Master BYOC Seat Giveaway. Congratulations Jacob Duran , James Blake, Joe Angel Mercado – Emails are on there way to you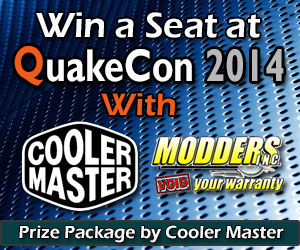 Modders-Inc and Cooler Master are helping you make it to the Largest LAN in the USA by given you get a seat into the BYOC. Three (3) seats will be given away, that alone is a $50 dollar value, but what there is more! Cooler Master has kicked it up a notch for the winners of the 3 seats. They will also be getting a HAF Stacker 915F case and a unreleased V4 GTS CPU cooler!  Man this even makes me want to enter the contest; I can't but you can. 
This is a USA only contest due to the fact that QuakeCon is in Dallas Texas. 
We like to make things easy around here for contest. All you have to do is follow these rules and you can when a seat at the BYOC.
Like Cooler Master and Modders-Inc on Facebook

 Cooler Master on Facebook

 Modders-Inc on Facebook
Fill out the form below
[contact-form-7 id="17068″ title="Cooler Master and Modders-Inc BYOC Seat Giveaway"]
And that is it.
To claim you seat and prizes you MUST present be at QuakeCon.
Any or all prizes along with the BYOC seat will be forfeited if you do not show up at the event to claim your seat.
All winners are responsible for their own shipping and travel of the prizes won.