« MSI GTX 970 Gaming 4G
|
Testing Methodology and Benchmarks »
Power Delivery & Twin Frozr V
GPU power control is handled by an ON-Semi conductor NCP81174 4-phase controller (located at the back PCB) operating in 3-phase interleaved mode with six dual-channel Sinopower SM7320 doubled with drivers at the back. The GPU power also uses 6×0.20uH "Super-Ferrite-core" chokes with 6x 820uF solid capacitors while memory is serviced with a Richtek RT8807 (or some variant of it) controller on a two-phase setup using two pairs of NIKO Semiconductor PK616BA and PK632BA MOSFETs with two 0.68uH Super-ferrite chokes. The 4GB memory modules are Samsung K4G41325FC-HC28 rated 1.5V at 0.28ns (7000Mbps). The BIOS flash memory is located near the GPU core and is a 2Mbit ChingisTek 8-pin SOIC chip.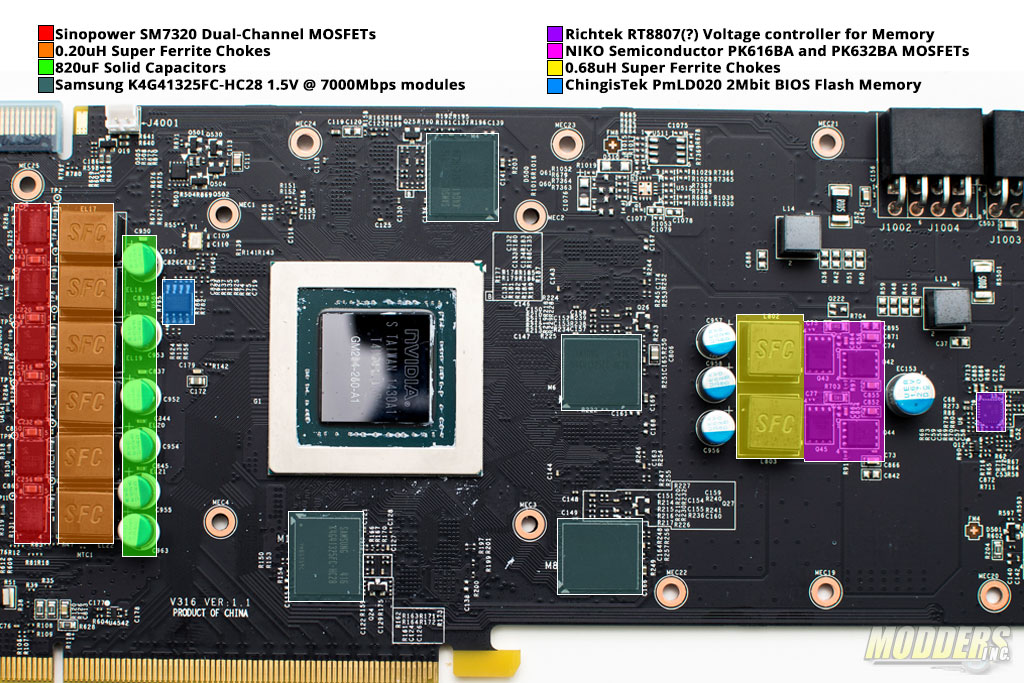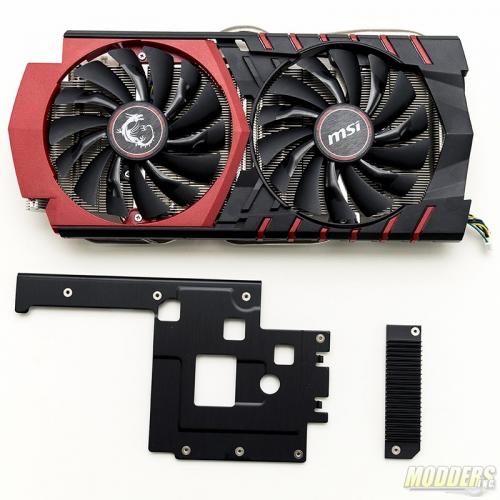 The cooler that ships with the MSI GTX 970 is the new revision in MSI's Twin Frozr line up. With this revision we increment to version V. The are three main parts to the cooler; the fan and heatsink combo, the memory heatsink, and the VRM heatsink.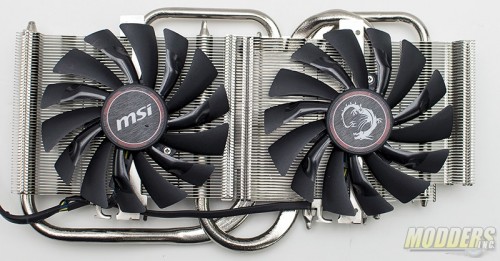 Four screws later the fan shroud comes off. The 10 cm fans cover roughly 90% of the heatsink. The more air flowing through the heatsink, the cooler the chip will run albeit, to a point.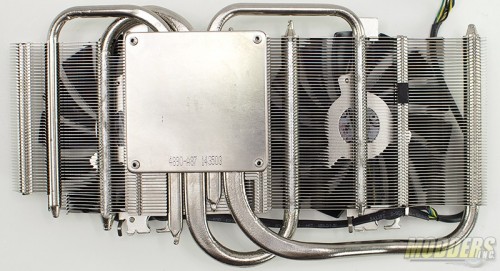 Flipping the heatsink over, we can see the fin spacing. It appears MSI has done a their homework and spaced the fins properly. All told, the Twin Frozr V did its job and kept the GPU cool during testing. There are four heatpipes that are designed to wick the heat away from the GPU.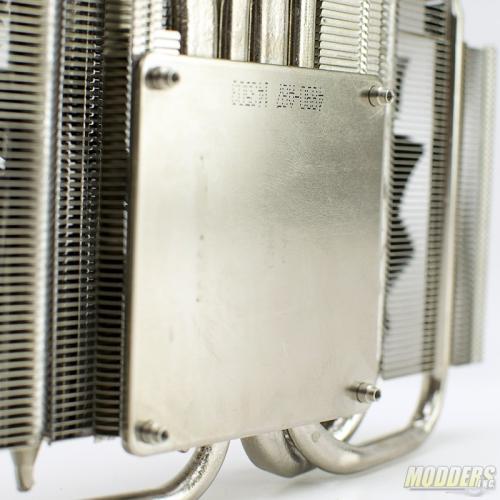 The heatsink base is flat and smooth. There are small machining marks and 1 fat finger print present in this photo.
For some reason I had it in my head that the Twin Frozr V was a direct touch heatsink, but after reading materials a little closer, it says the heat pipes are soldered to the plate, minor indications or the soldering process are visible just a the edge of the plate and the heat pipes.

To keep the MSI GTX 970 just under the two slot height, the Twin Frozr heatsink is very low profile. The fans rest on mounts directly on top of the heatsink.