« Page 5
|
Page 7 »
Testing Continued
Valley Benchmark is a GPU stress-testing tool from the developers of the very popular and highly acclaimed Heaven Benchmark. This non-synthetic benchmark powered by the state-of-the art UNIGINE Engine showcases a comprehensive set of cutting-edge graphics technologies with a dynamic environment and fully interactive modes available to the end user.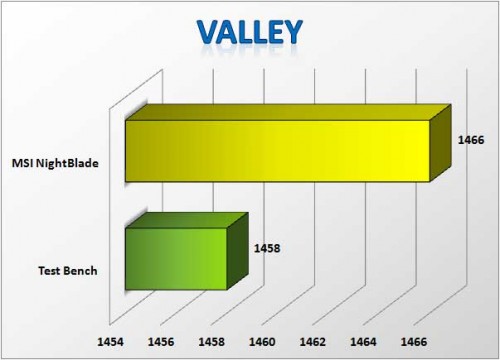 Heaven Benchmark with its current version 4.0 is a GPU-intensive benchmark that hammers graphics cards to the limits. This benchmark tool can be effectively used to determine the stability of a GPU under extremely stressful conditions, as well as check the cooling system's potential under maximum heat output.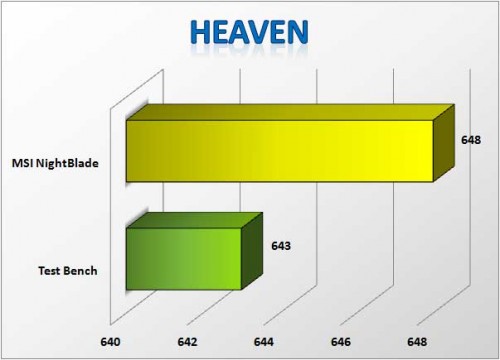 3DMark includes everything you need to benchmark your hardware. With three all new tests you can bench everything from smartphones and tablets, to notebooks and home PCs, to the latest high-end, multi-GPU gaming desktops.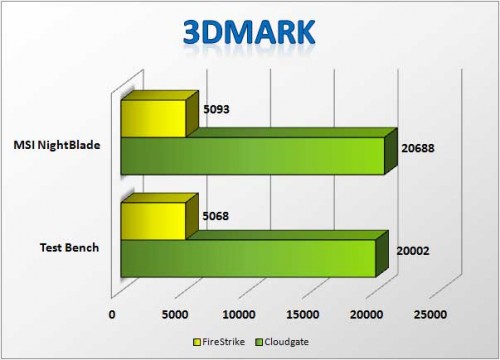 Adrenaline Benchmark Tools where used to get the numbers for the following games. This tools uses the built in benchmarking tool within the games.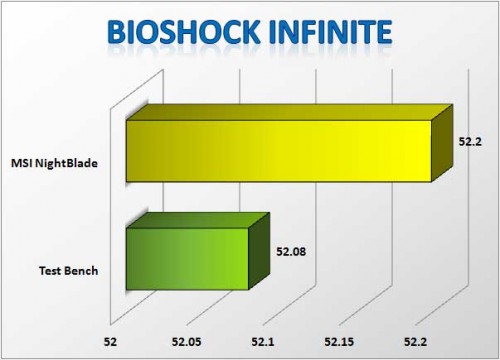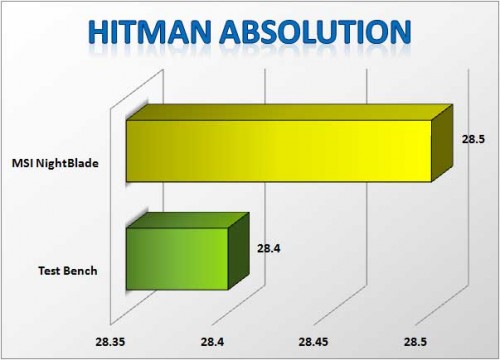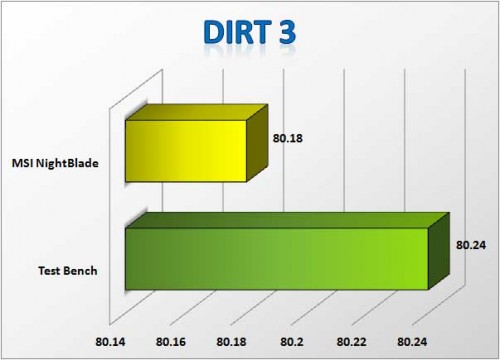 Below are some temperature readings while the system was at rest and while doing some benchmarking. The ambient temperature during the testing was at 25c. The noise level coming from the MSI Nightblade was less than I thought it would be. I figured that with the confined space the temperatures would be higher and the fans would be blowing like crazy. I would say that the noise was no more than what comes from my desktop system. Now when I manually cranked up the system fan to 100% it sounded like a hair dryer on medium to high.
| | | |
| --- | --- | --- |
| At Idle with the fan on Auto | | |
| Temperature | c | f |
| CPU | 33 | 91 |
| System | 40 | 104 |
| Fan Speed | rpm | |
| CPU | 1101 | |
| System | 126 | |
| At Idle with the fan on 100% | | |
| Temperature | c | f |
| CPU | 31 | |
| System | 37 | |
| Fan Speed | rpm | |
| CPU | 1090 | |
| System | 3600 | |
| | | |
| --- | --- | --- |
| FurMark Burn In Test | | |
| Temperature | c | f |
| CPU | 48 | 118 |
| System | 48 | 118 |
| Fan Speed | rpm | |
| CPU | 1145 | |
| System | 1386 | |
| | | |
| --- | --- | --- |
| OCCT CPU Stress Test | | |
| Temperature | c | f |
| CPU | 70 | 158 |
| System | 45 | 113 |
| Fan Speed | rpm | |
| CPU | 1403 | |
| System | 1906 | |