« Introduction and Specifications
|
Test System and Synthetic Benchmarks »
A Closer Look
MSI's 2080 Super Gaming X Trio sure is impressive in size and weight. Entire card dimensions are 328 x 140 x 56.5 mm and it weighs about 1500G. Entire fan mount is made from ABS plastic which looks great in my opinion. MSI is using TORX 2.0 fans which are specially designed to provide maximum airflow by having two different fin designs and keep quiet operation with double ball bearings. The backplate is made from aluminum and has a stylish brushed aluminum finish.
There are a few places like on the backplate and fans where MSI Dragon logos could be found. There is a total of seven heat pipes which run through the GPU block. The radiator is very well designed to be semi-exposed outside of the card. The far end of the card has an open slot design to help with cooling this card.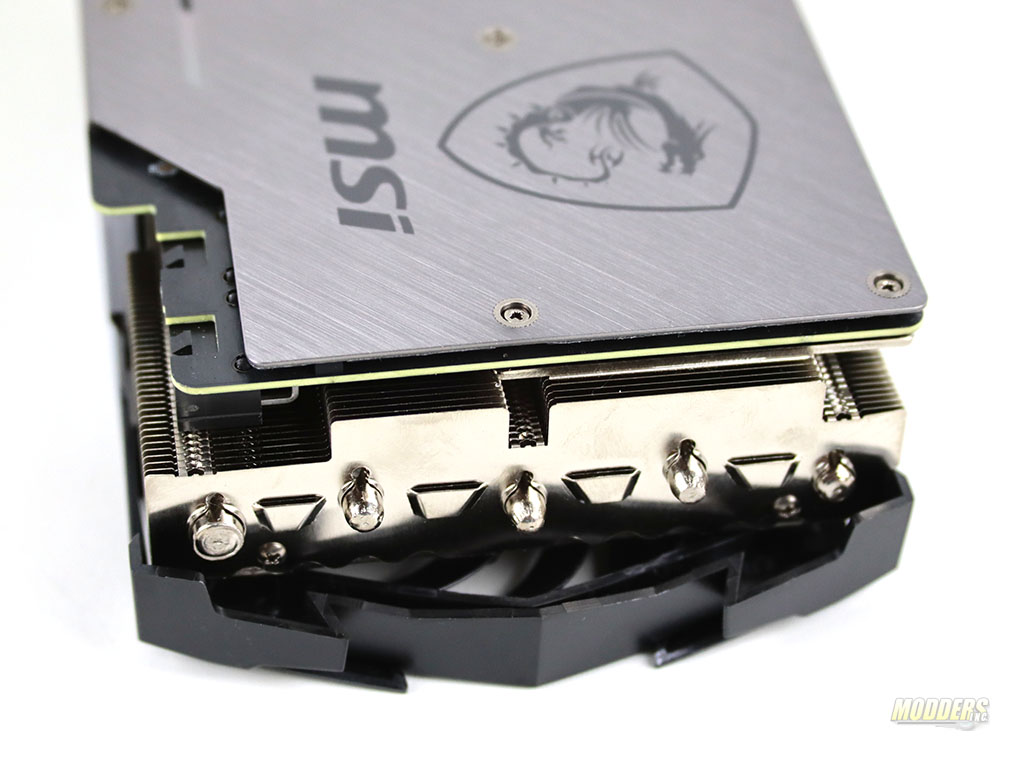 The card has two eight-pin connectors on the right as MSI suggests its power consumption of 250 watts. The minimum power supply recommendation to run with this card is 650 watts. Every manufacturer nowadays has some kind of RGB solution and MSI is part of that crowd. MSI RGB solution is called RGB Mystic Light. RGB LEDs which are mounted on top of the fan mount and are controlled by MSI Mystic Light 3 software.
Output connections on MSI's 2080 Super Gaming X Trio are 3 DisplayPort v1.4, 1 HDMI 2.0b a 1 Type C connector.
Most of the weight is contributed to this card is by the heat sink. Not only does it provide cooling to GPU but also the VRMs, chokes, controllers and other onboard chips. According to MSI, this board was completely redesigned to provide extended and stable power to the GPU.
GPU heat sink is made from nickel and the actual GPU block has a highly reflective surface for better contact with the GPU. The fins of the heat sink are made from nickel as well and so are the heat pipes. Components which are on the right side of the board like VRMs and chokes are being cooled by a nickel plate which is not attached to heat pipes.
Chips
GPU on this board is based on the TU104 (Turing) chip.  This chip has 3072 shader cores which is an increase from 2080 Gaming X Trio that has 2944.  MSI GeForce 2080 Super Gaming X Trio comes with a higher factory overclocked clock rate of 1845MHz.  Keep in mind that the base frequency for this card is 1640MHz.
MSI's 2080 Super Gaming X Trio uses 10+2 power phase design with Mouser FDMD3160 voltage regulators.
There are 8 x 1GB GDDR6 chips onboard which are produced by Samsung and the model number is K4Z80325BC-HC16. This particular RAM chip operates at 15.5 Gbps, in 2080 Super however actual manufactures specs reference 16.0 Gbps.