« Raytracing & DLSS Testing
|
Conclusion and Final Thoughts »
Overclocking, Noise, and Temperatures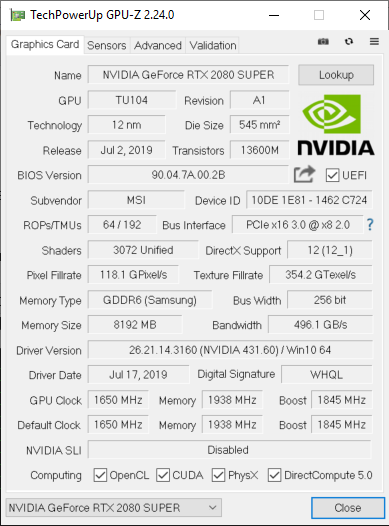 My choice for overclocking utility is MSI Afterburner. What I like about this utility is that you can push your hardware as much as you want without damaging it. The application layer of the software will freeze and disable overloaded values before they affect your hardware.
MSI Afterburner has an OC Scanner feature that scans your hardware and based on the configuration of the components adjusts power and clock. The OC Scan ran fine and adjusted the card settings.
MSI RTX 2080 SUPER Gaming X TRIO is already factory overclocked to 1845MHz from 1650MHz (reference card) so you are already getting an OC features right out of the box. With MSI Afterburner was I was able to hit 1955MHz and have a stable system.
To validate setting I have used FurkMark benchmark with 1440p resolution to perform a GPU Test.
Memory overclocking was done by MSI Afterburner as well. I was able to increase the memory clock by 80MHz and have a stable system. This brought Memory speed to 15.662 Gbps from 15.5 Gbps.
While benchmarking with FurMark the temperatures of the GPU stayed around 56 C and never reached 65C. Note (While in benchmarking mode, fans speed was set to 100%).
Noise testing were done by TDJ 834 (30-130dB) sound tester. The tester was mounted on the tripod and measurements were recorded in following conditions of the fans (Under 10%, 50%, and 100%)
Minimum sound level I got from the entire system was 47dB and maximum 66dB. The recording was done 20 cm away from the GPU.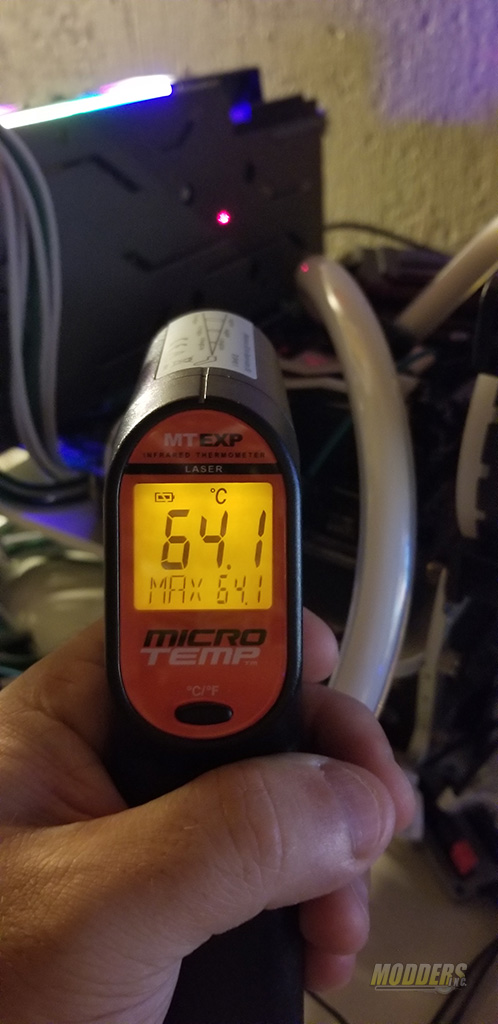 Running Furmark 4k benchmark outside temperature of the rear heatsink reached 64.1 C and actual GPU temperature was stable at 65 C.