« Introduction and Packaging
|
Bundled Software and UEFI Overview »
A Closer Look at the MSI  X299 Tomahawk Arctic Motherboard
The X299 platform is highly flexible supporting Kaby Lake-X and Skylake-X CPUs. For the first time, Intel's HEDT platform is open to more affordable quad-core CPUs with limited PCIe allocation. When a Skylake-X CPU is installed however, users can take advantage of the X299 Tomahawk's multiple options.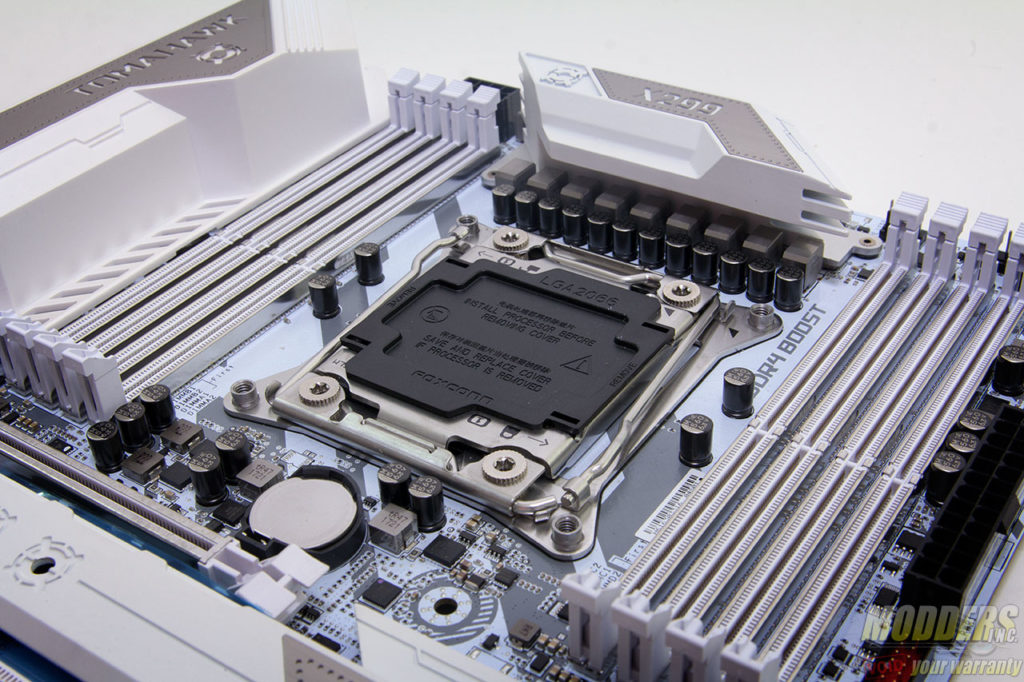 Clearance and Heatsinks
The VRM heatsink is a single piece that is not heatpiped. It consists of an aluminum metal baseplate that is attached to a larger solid chunk. Since there are MOSFETs mounted at the back of the VRM area, there is an aluminum baseplate as well for heat absorption. The VRM heatsink is quite heavy at 106 grams, but the aluminum plate at the rear of the VRM is only 11 grams.
The topmost M.2 slot has an integrated heatsink which comes with a 1mm thick thermal tape already pre-installed. Users can also opt to remove this cover entirely and just expose the M.2 to the open air. This piece is independent of the PCH cover. Although with the M.2 heatsink removed, the PCH heatsink underneath looks quite bare. The M.2 heatsink piece weighs 80 grams while the PCH heatsink itself weighs 44 grams by itself.
At the rear IO, there is also a two-piece cover that runs the length of the left hand side. The IO cover weighs 35 grams while the audio subsection cover weighs 10 grams. Both are made of plastic.
VRM Overview
MSI uses International Rectifier parts with their usual NIKOSemiconductor PK616BA and PK632BA MOSFETs front and back..  The main controller is an IR35201 with IR3598 drivers at the back.  That is 4-phases doubled for the CPU and and one for the VCCSA.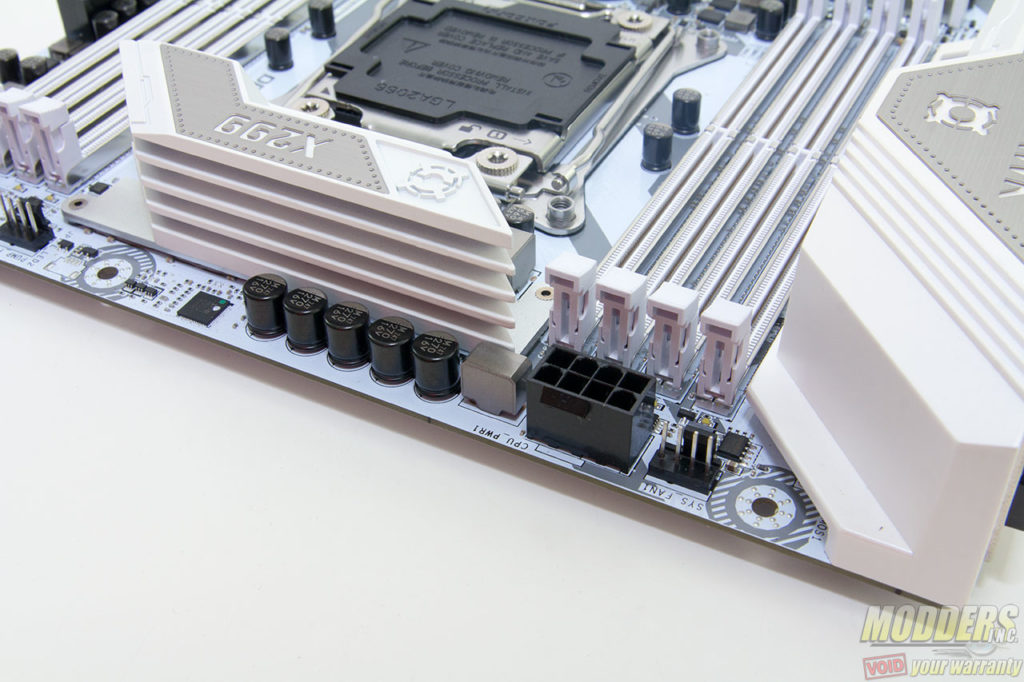 This is a far cry from the more efficient single package fully integrated power stages you would expect from HEDT boards. That and the fact that there is only one 8-pin power connector for the CPU should temper people's expectations of overclocking on this motherboard. The heatsink, although heavy is not heatpiped or conducive to airflow as well.
Fan Control Options
MSI has plenty of headers and provides comprehensive monitoring and controls via UEFI or under their Command Center desktop software. Users can use smart fan mode even on DC fans and can set fans to run in either PWM mode or DC voltage control mode.
Storage Options
Eight SATA ports are available, six are angled and two are at the bottom right corner facing upward. Two USB 3.1 Gen 1 headers are available on-board with a USB 3.1 Gen 2 available in between them as well.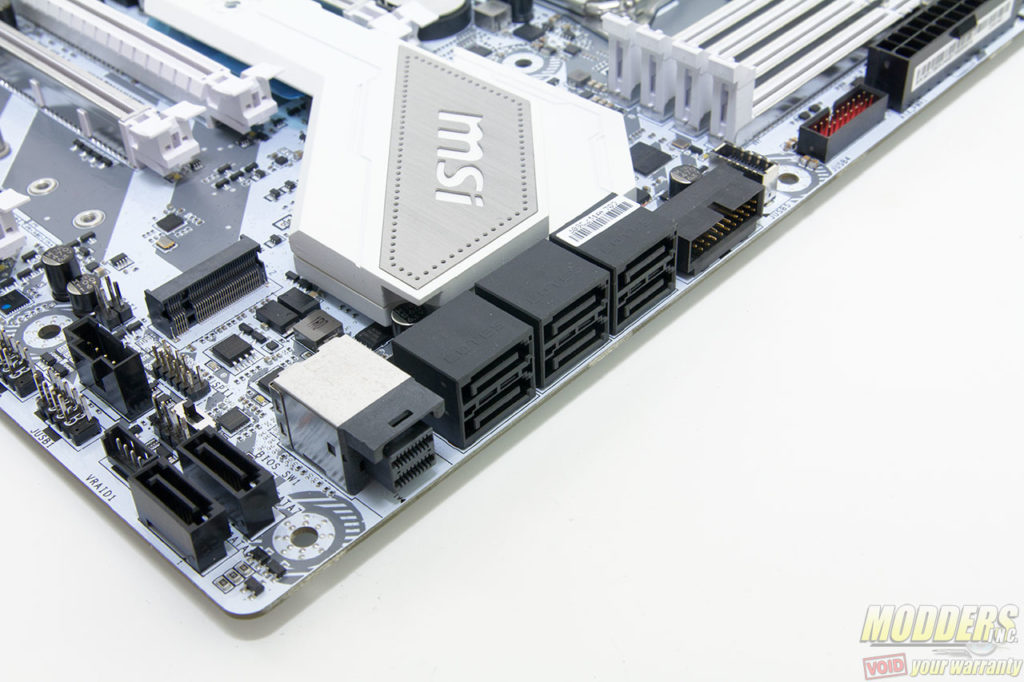 There is a U.2 port below the SATA ports as well, supporting PCIe 3.0 x4 NVMe devices. There are two M.2 slots available, and one of them has the optional integrated heatsink. The slot with the heatsink supports M.2 drives up to 80mm in length while the slot at the bottom supports drives up to 110mm in length. Both of these support PCIe 3.0 x4 NVMe devices and SATA M.2 drives.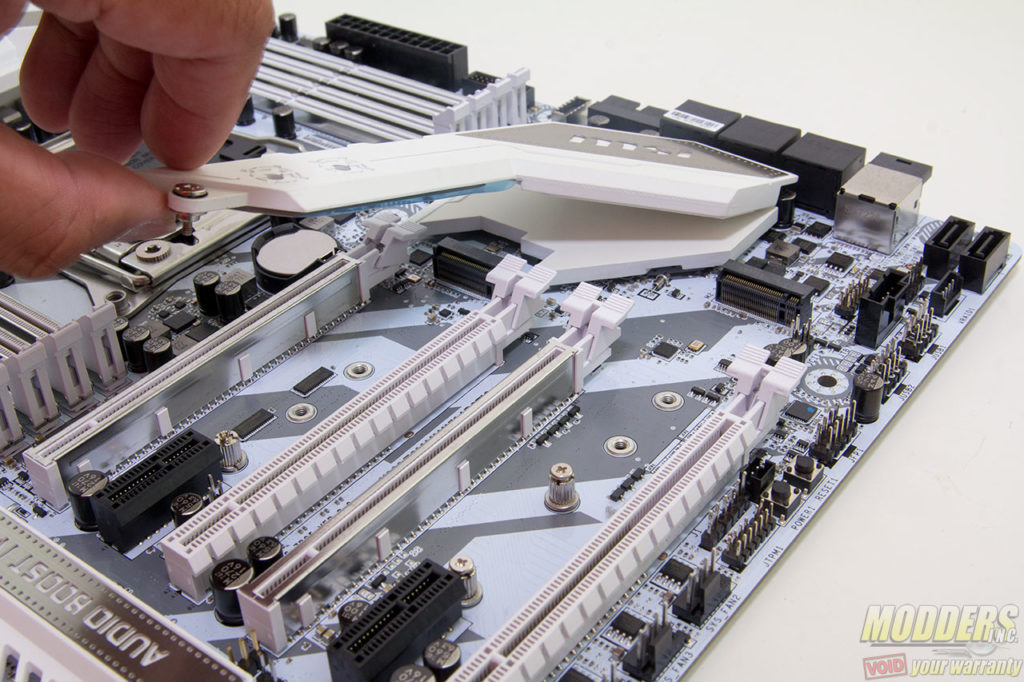 Hidden underneath the IO cover is an M.2 Key-E slo. This is used for expansion devices such as Wireless LAN cards that you can install upright.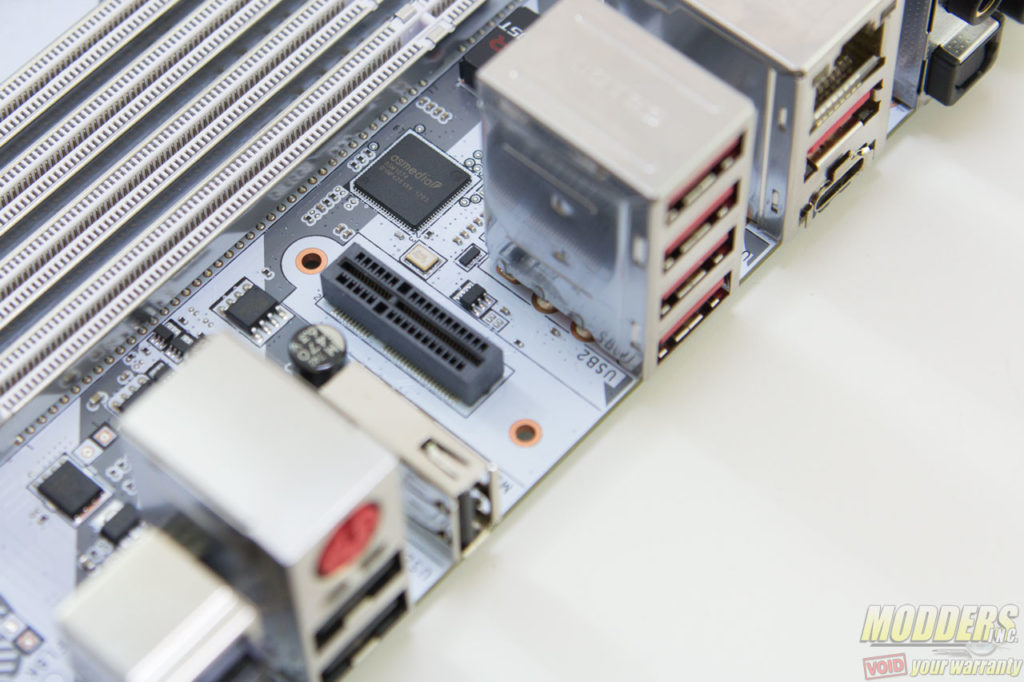 Other On-board Headers
Along the bottom edge, users have access to the Virtual RAID on CPU header, BIOS selector switch, Thunderbolt header, two USB 2.0 headers, front panel connector headers, power and reset buttons, trusted platform module header, and RGB LED header.
PCIe Lane Distribution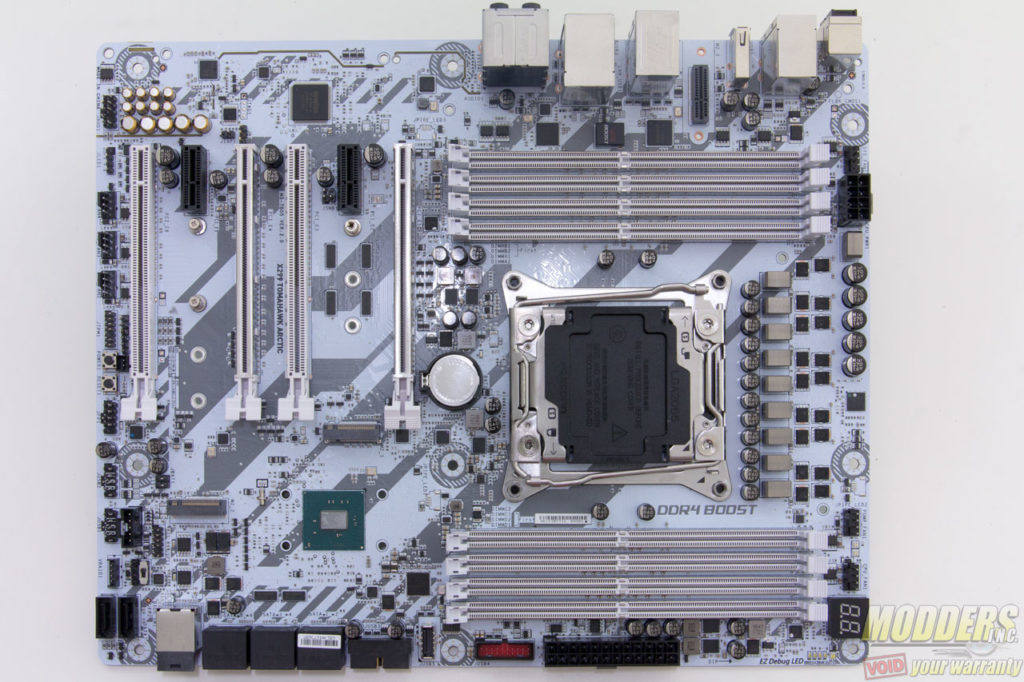 From top to bottom, the distribution is as follows (actual bandwidth, varies per 44-lane, 28-lane and 16-lane CPU).
PCIe 3.0 x16 (via CPU)
PCIe 3.0 x1 (via CPU)
PCIe 3.0 x4 (via PCH)
PCIe 3.0 x16 (via CPU)
PCIe 3.0 x1 (via PCH)
PCIe 3.0 x8 (via CPU)
Rear IO and Audio Subsystem
The audio subsystem is isolated from the rest of the board as is typical of most modern onboard audio designs. It uses a Realtek ALC1220 HD audio with Nippon Chemicon audio capacitors. There's five gold-plated audio jacks and one optical audio out in the rear IO.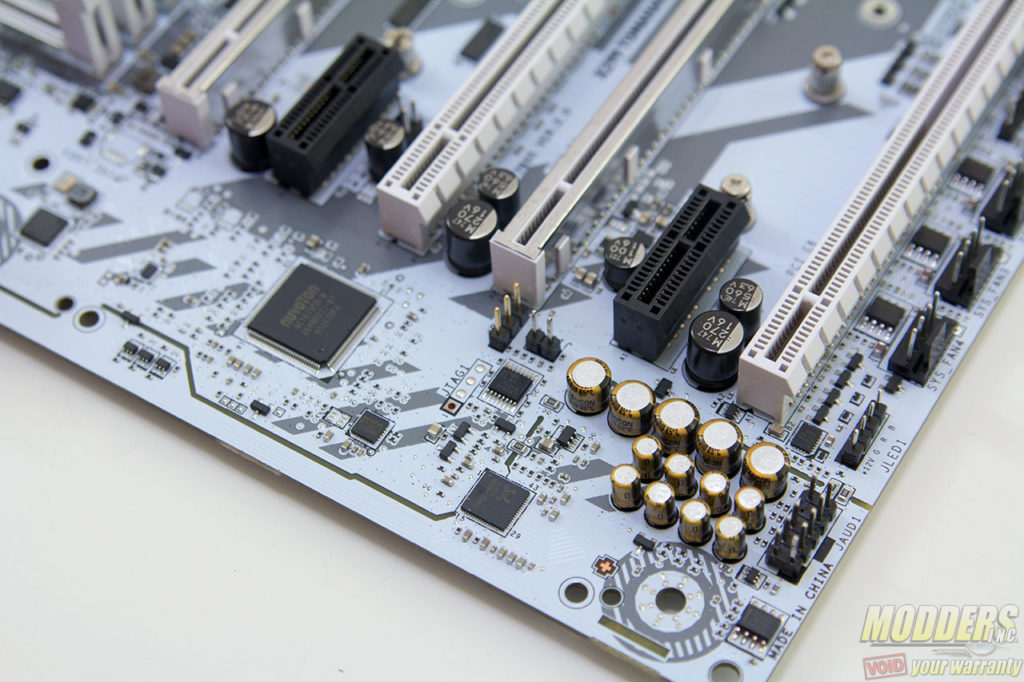 The rest of the rear IO includes a CMOS reset button and a BIOS flashback button. There is a legacy PS/2 connector as well as three USB 2.0 ports. The USB 2.0 port that is angled vertically is for the BIOS flashback function. The Gigabit Ethernet is from an Intel i-219V .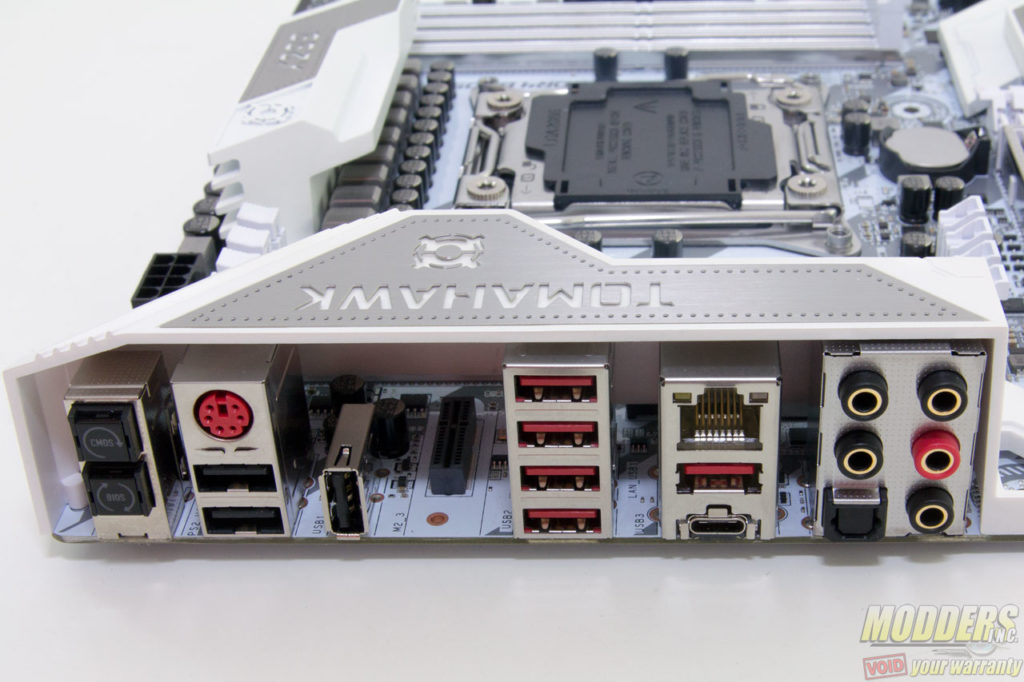 There is a USB Type-C header available below the Ethernet port as well as one Type-A connector. Both of these are USB 3.1 Gen 2 ports, while the stack of four beside it are all USB 3.1 Gen 1 ports.