Packaging »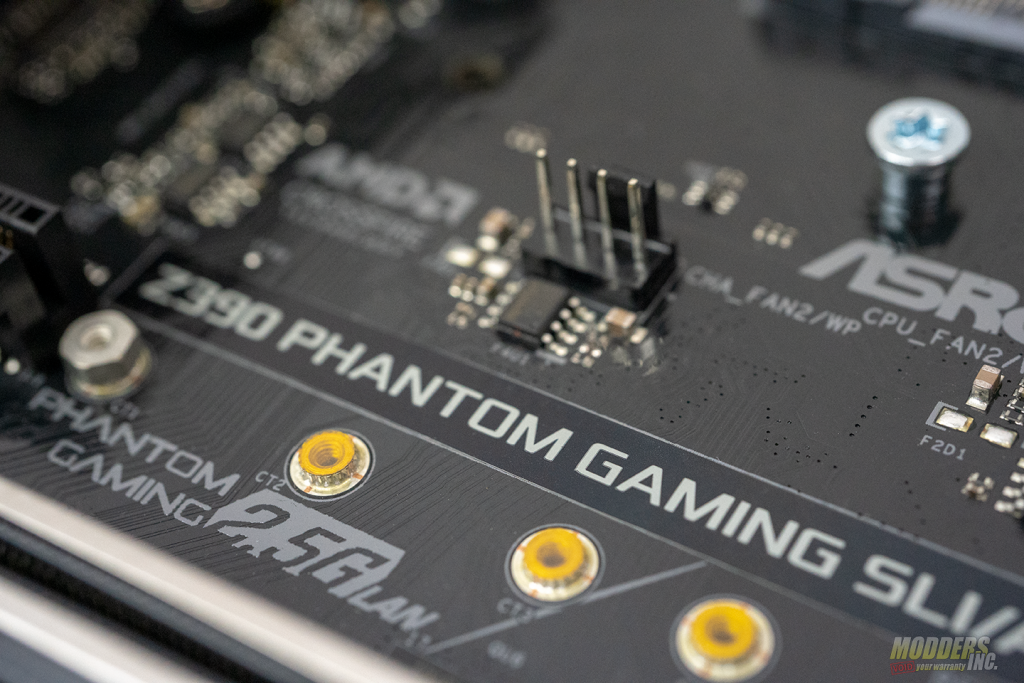 As technology progresses, features we once only saw on the highest of high-end hardware are not only becoming affordable but in some cases, standard. Remember the days when to obtain a motherboard with features such as WIFI, you'd have to spend as much as some people pay for rent? Well, those days a far gone and in the past. Over the last few generations, both Bluetooth and WiFi have started to pop up on even the most budget oriented motherboards. These days, you can get away with putting an I7 or even now an I9 on a less expensive motherboard and still get excellent performance and a slew of features. ASRock has proven this with their Z390 Phantom Gaming SLI/ac. The Phantom Gaming SLI/ac is a sub $200 motherboard with a feature set that may surprise you.
The Phantom Gaming SLI/ac has a pretty impressive feature set. The Phantom Gaming SLI/ac offers support for both 8th and 9th generation Intel Core Processors. It offers the user ASRocks Phantom Gaming 2.5 Gigabit Lan, digital PWM with 10 power phases and support for DDR4 4300 MHz. Given its name, the Phantom Gaming SLI/ac features Intel 802.11 ac WiFi as well as Bluetooth 4.2. The feature set for the Phantom Gaming SLI/ac sounds great, that's for sure. However, putting the features aside, how does it perform. That's the most important question when testing any hardware and the question we intend to answer with this review. So, we put the ASRock Phantom Gaming SLI/ac through our suite of benchmarks. So, how did it fair?
Review Sample Provided By: ASRock
Product Name and Website: Z390 Phantom Gaming SLI/ac
Product was given in exchange for work to produce review.
Specifications
Memory
– 15μ Gold Contact in DIMM Slots
VGA Card
– 15μ Gold Contact in VGA PCIe Slot (PCIE2)
Internet
– Phantom Gaming 2.5G LAN
Cooling
– XXL Aluminum Alloy Heatsink

Unique Feature

ASRock Super Alloy
– Premium 45A Power Choke
– Nichicon 12K Black Caps (100% Japan-made high-quality conductive polymer capacitors)
– I/O Armor
– Sapphire Black PCB
– High-Density Glass Fabric PCB
ASRock Phantom Gaming 2.5G LAN
Intel® 802.11ac WiFi
ASRock Intel® 4-Layer Memory POOL (Planes on Outer Layers) Technology
ASRock Steel Slots
ASRock Ultra M.2 (PCIe Gen3 x4 & SATA3)
ASRock Full Spike Protection (for all USB, Audio, LAN Ports)
ASRock Live Update & APP Shop

CPU

– Supports 9th and 8th Gen Intel® Core™ Processors (Socket 1151)
– Digi Power design
– 10 Power Phase design
– Supports Intel® Turbo Boost 2.0 Technology
– Supports Intel® K-Series unlocked CPUs
– Supports ASRock BCLK Full-range Overclocking

Chipset

– Intel® Z390

Memory

– Dual Channel DDR4 Memory Technology

– 4 x DDR4 DIMM Slots

– Supports DDR4 4300+(OC) / 4266(OC) / 4133(OC) / 4000(OC) / 3866(OC) / 3800(OC) / 3733(OC) / 3600(OC) / 3200(OC) / 2933(OC) / 2800(OC) / 2666/2400/2133 non-ECC, un-buffered memory

– Supports ECC UDIMM memory modules (operate in non-ECC mode)

– Max. capacity of system memory: 128GB*

– Supports Intel

®

 Extreme Memory Profile (XMP) 2.0

– 15μ Gold Contact in DIMM Slots

*Due to the operating system limitation, the actual memory size may be less than 4GB for the reservation for system usage under Windows® 32-bit OS. For Windows® 64-bit OS with 64-bit CPU, there is no such limitation.

BIOS

– 128Mb AMI UEFI Legal BIOS with multilingual GUI support
– ACPI 6.0 Compliant wake up events
– SMBIOS 2.7 Support
– CPU Vcore, DRAM, PCH 1.0V, VCCIO, VCCST, VCCSA Voltage Multi-adjustment

Graphics

– Supports Intel

®

 UHD Graphics Built-in Visuals : Intel

®

 Quick Sync Video with AVC, MVC (S3D) and MPEG-2 Full HW Encode1, Intel

®

 InTru™ 3D, Intel

®

 Clear Video HD Technology, Intel

®

 Insider™, Intel

®

 UHD Graphics

– DirectX 12

– HWA Encode/Decode: AVC/H.264, HEVC/H.265 8-bit, HEVC/H.265 10-bit, VP8, VP9 8-bit, VP9 10-bit (Decode only), MPEG2, MJPEG, VC-1

– Dual graphics output: Support DVI-D and HDMI ports by independent display controllers

– Supports HDMI 1.4 with max. resolution up to 4K x 2K (4096×2160) @ 30Hz

– Supports DVI-D with max. resolution up to 1920×1200 @ 60Hz

– Supports Auto Lip Sync, Deep Color (12bpc), xvYCC and HBR (High Bit Rate Audio) with HDMI 1.4 Port (Compliant HDMI monitor is required)

– Supports HDCP 2.2 with DVI-D and HDMI 1.4 Ports

– Supports 4K Ultra HD (UHD) playback with HDMI 1.4 Port

*Intel® UHD Graphics Built-in Visuals and the VGA outputs can be supported only with processors which are GPU integrated.

Audio

– 7.1 CH HD Audio with Content Protection (Realtek ALC892 Audio Codec)
– Premium Blu-ray Audio support
– Supports Surge Protection
– Nichicon Fine Gold Series Audio Caps

LAN

– 2.5 Gigabit LAN 10/100/1000/2500 Mb/s
– Dragon RTL8125AG
– Supports Phantom Gaming LAN Software
– Smart Auto Adjust Bandwidth Control
– Visual User-Friendly UI
– Visual Network Usage Statistics
– Optimized Default Setting for Game, Browser, and Streaming Modes
– User Customized Priority Control
– Supports Wake-On-LAN
– Supports Lightning/ESD Protection
– Supports Energy Efficient Ethernet 802.3az
– Supports PXE

Wireless LAN

– Intel® 802.11ac WiFi Module
– Supports IEEE 802.11a/b/g/n/ac
– Supports Dual-Band (2.4/5 GHz)
– Supports high-speed wireless connections up to 433Mbps
– Supports Bluetooth 4.2 / 3.0 + High-speed class II

Slots

– 2 x PCI Express 3.0 x16 Slots (PCIE2/PCIE4: single at x16 (PCIE2); dual at x8 (PCIE2) / x8 (PCIE4))*

– 4 x PCI Express 3.0 x1 Slots (Flexible PCIe)

– Supports AMD Quad CrossFireX™ and CrossFireX™

– Supports NVIDIA

®

 Quad SLI™ and SLI™

– Supports NVIDIA

®

 NVLink™ with dual NVIDIA

®

 GeForce RTX series graphics cards**

– 1 x Vertical M.2 Socket (Key E) with the bundled WiFi-802.11ac module (on the rear I/O)

– 15μ Gold Contact in VGA PCIe Slot (PCIE2)

*Supports NVMe SSD as boot disks

**NVIDIA® NVLink™ Bridge does not come with the package. Please purchase it from NVIDIA® if necessary.

Storage

– 6 x SATA3 6.0 Gb/s Connectors, support RAID (RAID 0, RAID 1, RAID 5, RAID 10, Intel

®

 Rapid Storage Technology 16), NCQ, AHCI and Hot Plug*

– 1 x Ultra M.2 Socket (M2_1), supports M Key type 2230/2242/2260/2280 M.2 SATA3 6.0 Gb/s module and M.2 PCI Express module up to Gen3 x4 (32 Gb/s)**

– 1 x Ultra M.2 Socket (M2_2), supports M Key type 2230/2242/2260/2280/22110 M.2 SATA3 6.0 Gb/s module and M.2 PCI Express module up to Gen3 x4 (32 Gb/s)**

*If M2_1 is occupied by a SATA-type M.2 device, SATA3_1 will be disabled.
If M2_2 is occupied by a SATA-type M.2 device, SATA3_5 will be disabled.**Supports Intel® Optane™ Technology
Supports NVMe SSD as boot disks
Supports ASRock U.2 Kit

Connector

– 1 x COM Port Header

– 1 x TPM Header

– 1 x Power LED and Speaker Header

– 2 x RGB LED Headers*

– 1 x Addressable LED Header**

– 1 x CPU Fan Connector (4-pin)***

– 1 x CPU/Water Pump Fan Connector (4-pin) (Smart Fan Speed Control)****

– 3 x Chassis/Water Pump Fan Connectors (4-pin) (Smart Fan Speed Control)*****

– 1 x 24 pin ATX Power Connector

– 1 x 8 pin 12V Power Connector

– 1 x Front Panel Audio Connector

– 1 x Thunderbolt™ AIC Connector (5-pin)

– 2 x USB 2.0 Headers (Supports 3 USB 2.0 ports) (Supports ESD Protection)

– 2 x USB 3.1 Gen1 Headers (Support 4 USB 3.1 Gen1 ports) (Supports ESD Protection)

– 1 x Performance Mode / Easy OC Header

*Support in total up to 12V/3A, 36W LED Strip

**Supports in total up to 5V/3A, 15W LED Strip

***The CPU Fan Connector supports the CPU fan of maximum 1A (12W) fan power.

****The CPU/Water Pump Fan supports the water cooler fan of maximum 2A (24W) fan power.

*****CHA_FAN2/WP supports the water cooler fan of maximum 2A (24W) fan power.
CHA_FAN1/WP and CHA_FAN3/WP support the water cooler fan of maximum 1A (12W) fan power.
CPU_FAN2/WP, CHA_FAN1/WP, CHA_FAN2/WP and CHA_FAN3/WP can auto detect if 3-pin or 4-pin fan is in use.

Rear Panel I/O

– 2 x Antenna Ports
– 1 x PS/2 Mouse/Keyboard Port
– 1 x DVI-D Port
– 1 x HDMI Port
– 1 x Optical SPDIF Out Port
– 1 x USB 3.1 Gen2 Type-A Port (ReDriver) (Supports ESD Protection)
– 1 x USB 3.1 Gen2 Type-C Port (ReDriver) (Supports ESD Protection)
– 4 x USB 3.1 Gen1 Ports (Intel® Z390) (Supports ESD Protection)
– 1 x RJ-45 LAN Port with LED (ACT/LINK LED and SPEED LED)
– HD Audio Jacks: Rear Speaker / Central / Bass / Line in / Front Speaker / Microphone

Software and UEFI

Software

– ASRock Phantom Gaming Tuning

– ASRock Phantom Gaming LAN Software

– ASRock Polychrome SYNC

– ASRock Key Master

UEFI

– ASRock EZ Mode

– ASRock Full HD UEFI

– ASRock My Favorites in UEFI

– ASRock Instant Flash

– ASRock Internet Flash

– ASRock Easy RAID Installer

*These utilities can be downloaded from ASRock Live Update & APP Shop.

Support CD

– Drivers, Utilities, AntiVirus Software (Trial Version), Google Chrome Browser and Toolbar

Accessories

– Quick Installation Guide, Support CD, I/O Shield
– 2 x SATA Data Cables
– 1 x ASRock SLI_HB_Bridge_2S Card
– 2 x ASRock WiFi 2.4/5 GHz Antennas
– 2 x Screws for M.2 Sockets

Hardware Monitor

– Temperature Sensing: CPU, CPU/Water Pump, Chassis/Water Pump Fans
– Fan Tachometer: CPU, CPU/Water Pump, Chassis/Water Pump Fans
– Quiet Fan (Auto adjust chassis fan speed by CPU temperature): CPU, CPU/Water Pump, Chassis/Water Pump Fans
– Fan Multi-Speed Control: CPU, CPU/Water Pump, Chassis/Water Pump Fans
– Voltage monitoring: +12V, +5V, +3.3V, CPU Vcore, DRAM, VPPM, PCH 1.0V, VCCSA, VCCST

Form Factor

– ATX Form Factor: 12.0-in x 8.8-in, 30.5 cm x 22.4 cm

OS

– Microsoft® Windows® 10 64-bit

Certifications

– FCC, CE
– ErP/EuP ready (ErP/EuP ready power supply is required)