PC Case Fan
Noctua Industrial PPC Fans Revisited: 24V Models and Chromax Colour Accessories
« Noctua Industrial PPC 24V and Chromax Accessories Overview
Testing Methodology and Benchmarks
| | |
| --- | --- |
| Processor: | Intel Core i7-4770K (Retail) |
| Motherboard: | ASRock Z97 Extreme 4 |
| Heatsink: | Noctua NH-U14S |
| Drive: | OCZ Agility 4 256GB (OS), 3x Seagate 1TB 7200 RPM HDD |
| Video Card: | Gigabyte GTX 770 Windforce OC |
| Thermal Compound: | Noctua NT-H1 (small center cross method application) |
| Case: | NZXT H440 |
Ambient temperature monitored at case intake and temperature Delta was used.
All case and heat sink fans were benchmarked with fan control settings disabled and running at 100% unless otherwise specified.
Intel integrated video is utilized to eliminate additional ambient heat source from discrete graphics cards for the CPU test.GPU test was conducted separately at a different time from the CPU load test to isolate results.
Noise test was conducted in a synthetic setting so that it is the only fan running with the fan blowing into a case intake and the SPL-8810 sound meter was placed 15 CM away at the side.
Temperatures are averaged (last minute) from individual core temperature results monitored by AIDA64 after 15 minutes.
Overclocked settings have Vcore voltage manually set to 1.28V at 4.5GHz with EIST disabled.
The pair of fans were mounted as intake and run plugged in to a constant +12V voltage source.
All tests were taken at least three times to get the final result.
Comparison Fans
Name
max RPM
Price per piece in USD
Bearing
Noctua NF-F12
1500
$24.99
SSO2
Scythe Gentle Typhoon AP-15
1850
$25-30
FDB
Cooler Master JetFlo 120
2000
$19.99
POM
Corsair SP120 Performance
2350
$19.99
Hydro
Noctua NF-A14 2000 PWM
2000
$26.90
SSO2
Noctua NF-P12 2000 PWM
2000
$29.90
SSO2
Noctua NF-A14 PWM 24V
1100
$34.90
SSO2
Noctua NF-P12 PWM 24V
1100
$34.90
SSO2
Noctua NF-A14 3000 PWM
3000
$34.90
SSO2
Noctua NF-P12 3000 PWM
3000
$34.90
SSO2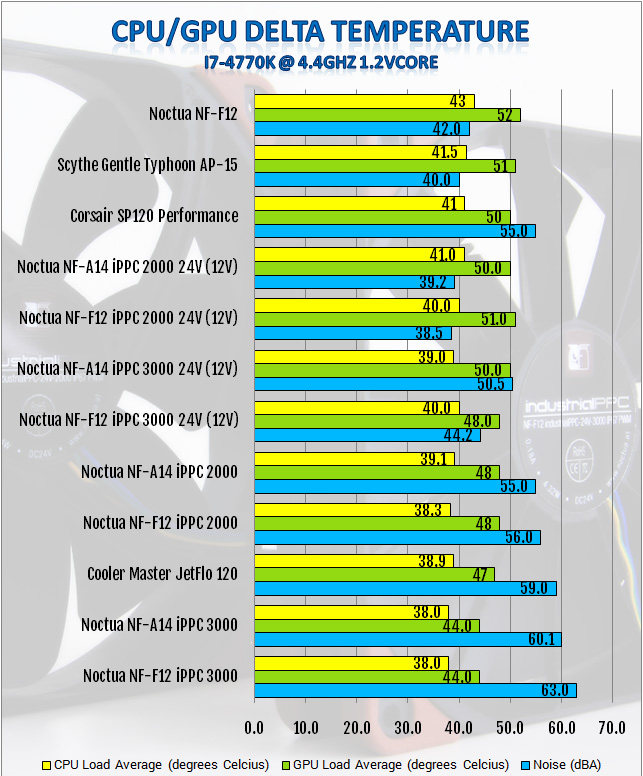 While the 24V models are primarily designed for industrial applications and requiring 24V to run at their full 2000 and 3000 high RPM ratings, they are not completely out of place inside a regular desktop system. At 12V, they operate as low-noise versions of the regular Industrial PPC and with added IP67 ruggedization of course. This protection is somewhat of an overkill on a regular desktop but it does ensure that it will operate much longer than any other fan without, living up to its warranty life.
The Chromax accessory additions are also an interesting way to add color to the mix, something many Noctua fans have been asking for. Maybe a future design can incorporate more swappable and customizable accessories. They are also quite functional as well, acting as vibration dampeners so the Chromax is more useful than just eye-candy.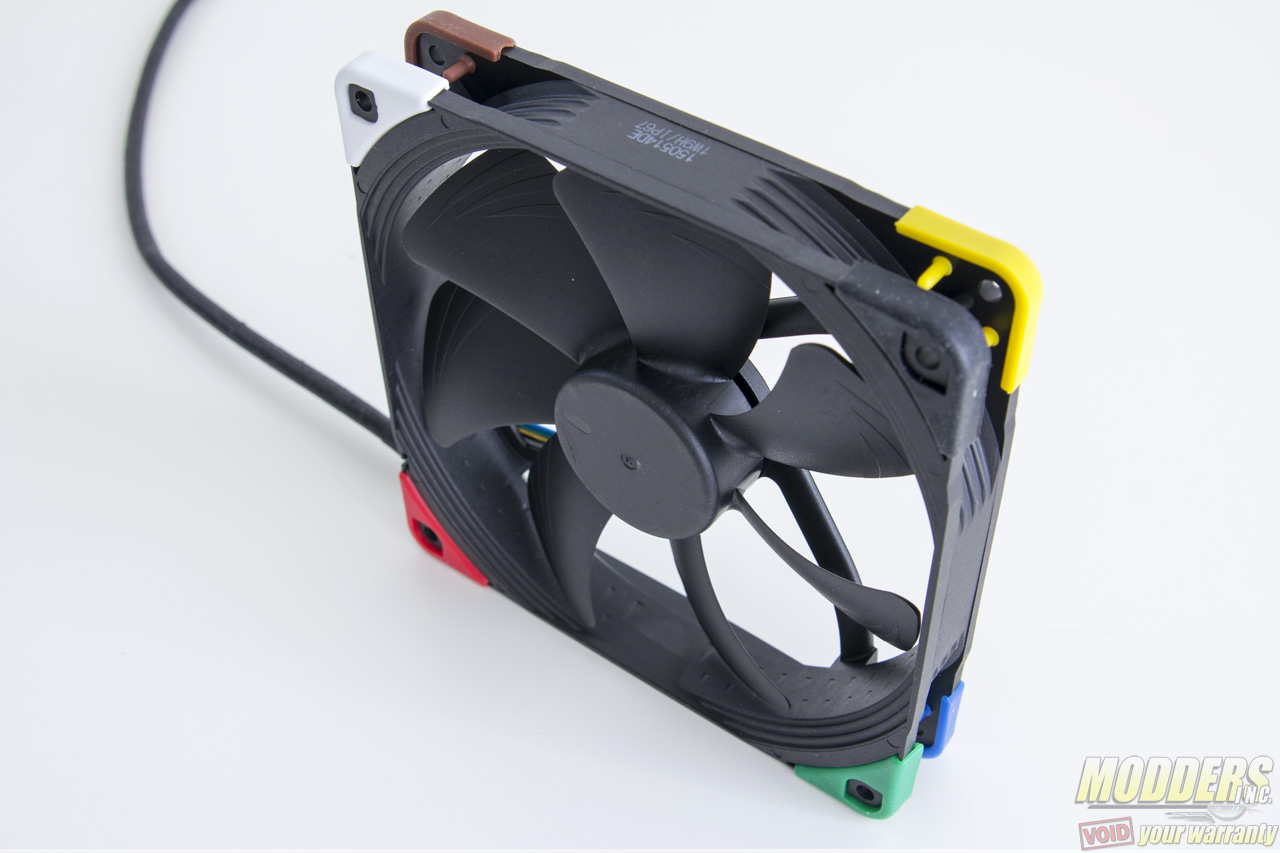 In terms of performance, the 24V Industrial PPC running at 12V show very good thermal management and reaching much lower noise levels than other fans.  These low noise levels are more in-line with what is typically expected of Noctua rather than the usual powerful Industrial PPC line. The larger AF-14 in particular has very good sound signature that is even across all levels.
Well-engineered and rugged with a propensity for silent performance plugged into a normal desktop system, the 24V Industrial PPC fans are just as impressive as the other Noctua fan offerings. The downside as usual is the very high price for these fans at $34.90 MSRP, mostly having to do with the IP67 protection. Although the 24V models are available for only $29.85 right now on Amazon which is around what the usual non-IP67 Industrial PPC models usually go for.
[sc:editors_choice_award ]