Page 2 »
Modders-Inc is going to be taking a look at a new fan from Noctua. Most users will remember Noctua due to their color choice on their fans. Noctua has stuck with the same color selection while producing another unique fan blade design. We will see how the NF-P12 compares to the original NF-S12 as well as a Coolink SWiF 1202.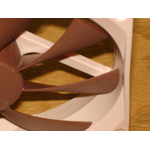 Sponsor: Noctua
[hr]
First Impression
Noctua
has come up with another uniquely designed fan, the
NF-P12
. Most will easily remember Noctua from their color choices for their fans. Although some might mistakenly think these are similar to their
NF-S12
fans due to the colors used. They are completely different in design.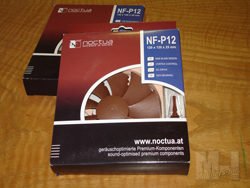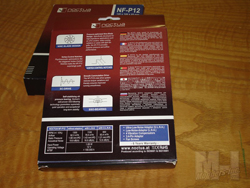 Above we have the standard packaging we have seen on Noctua products. Everything is neatly held in place inside the box. The main features are listed on the front of the package while the breaks things down a little further and lists the specifications for the fan.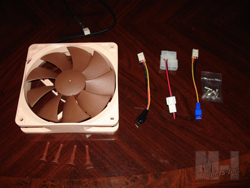 Pulling the Noctua NF-P12 out of the package you will find the NF-P12 fan, the 3-pin to 4-pin power adapter, a ULNA (Ultra Low Noise Adapter) adapter, a LNA (Low Noise Adapter) adapter, four mounting screws, and four rubber mounts to combat against vibrations.
Features:
Pressure-optimized Nine-Blade Design
Specifically developed for high-impedance applications such as CPU coolers, water-cooling radiators or cases with tight fan grills, the NF-P12 provides superior pressure and airflow performance.
Vortex-Control Notches
Psychoacoustic optimizations like the staggered Vortex-Control Notches make the NF-P12 surprisingly quiet.
Smooth Commutation Drive
The NF-P12's new drive system reduces torque variations and thereby ensures improved running smoothness.
Self-stabilizing oil-pressure bearing
Noctua's well proven SSO-Bearing technology guarantees supremely quiet operation and exceptional long-term stability.
Specifications:
Size
 
120x120x25 mm
Bearing
 
SSO-Bearing
Blade Geometry
 
Nine Blade Design with VCN
Rotational Speed (+/- 10%)
 
1300 RPM
Rotational Speed with L.N.A. (+/- 10%)
 
1100 RPM
Rotational Speed with U.L.N.A. (+/- 10%)
 
900 RPM
Airflow
 
92,3 m³/h
Airflow with L.N.A.
 
78,5 m³/h
Airflow with U.L.N.A.
 
63,4 m³/h
Acoustical Noise
 
19,8 dB(A)
Acoustical Noise with L.N.A.
 
16,9 dB(A)
Acoustical Noise with U.L.N.A.
 
12,6 dB(A)
Static Pressure
 
1,68 mm H2O
Static Pressure with L.N.A.
 
1,43 mm H2O
Static Pressure with U.L.N.A.
 
1,21 mm H2O
Input Power
 
1,08 W
Input Current
 
0,09 A
Voltage Range
 
12 V
MTBF
 
> 150.000 h
Scope of Delivery
 

Ultra-Low-Noise Adaptor (U.L.N.A.)
Low-Noise Adaptor (L.N.A.)
4 Vibration Compensators
3:4-Pin Adaptor
4 Fan Screws

Warranty
 
6 years