« Page 2
|
Page 4 »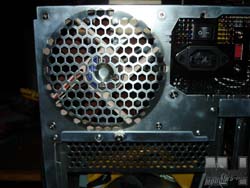 For installing the NF-P12 fan, Noctua has given you two options. The first is the standard four screw mounting which is the standard.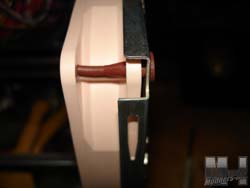 They also included their second mounting system. The vibration free solution uses four rubber mounts that hold the fan in place while keeping it isolated from the chassis.
The Test Rig:
XFX 8800GTS 320M Video Cards in SLi 
AMD Athlon 64 X2 5600+ Processor @ Stock speeds
Asus M2N32 SLI Deluze Wireless Edition Motherboard w/ bios revision 1201 
Ultra X3 600 Watt Power Supply 
OCZ 2 GB PC2-6400 DDR2 DIMM Dual Channel Memory Kit 
1 x WD Caviar SE16 250GB Hard Drives 
OCZ Technology OCZ Equalizer Laser Gaming Mouse 
Logitech G11 Gaming Keyboard 
Dell E228WFP 22″ Widescreen LCD Monitor 
Windows XP SP2 w/current updates
Ultra M998 Mid-Tower case
     For testing the Noctua NF-P12 fans I decided to put them up against a set of their older counter parts, the Noctua NF-S12 fans. To compare the fans, I simply mount them in a chassis that with the proper amount of fans (generally two). I then run the system through some gaming and benchmarking applications to heat up the SLi'd 8800GTS cards. I then record the temperatures of all the motherboard sensors and average out the results to see how the fans react to the heat generated.