CPU Cooler
Noctua NH-C14S CPU Cooler Review: Balance Through Asymmetry
« Test System and Benchmarks
Final Thoughts about the Noctua NH-C14S CPU Cooler

There is perhaps no stronger testament to efficiency than a Noctua CPU cooler (with the exception of a newer updated version) from its performance to every aspect of its build quality. Compared to the original NH-C14, the NH-C14S even improves the mounting mechanism to be simpler and require less steps and parts to install.
With a slight asymmetric lean, the NH-C14S also efficiently takes care of the clearance issues that were present in the original design, namely the PCI-E incompatibilities with mini-ITX and micro-ATX motherboards. Usually, a break in symmetry results in a less aesthetically appealing product but in this case, it is a total non-issue as the compatibility trade off is heavily favorable. The NH-C14S can be mounted without issue on mini-ITX motherboards without interfering with graphics cards on two of its orientation options and all four orientations allow for unblocked DIMM slot access up to 67mm tall (40mm with fan).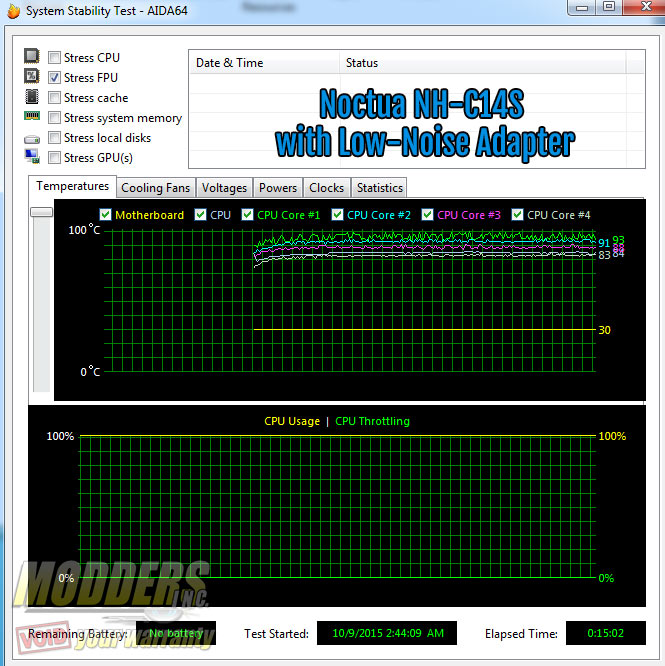 Finally and most importantly, the NH-C14S with only one fan is also leaner on the wallet at only $74.90 (MSRP) compared to the $99 NH-C14 which is now discontinued. The performance at this price is quite impressive, staying close to the NH-D15, although slightly louder at full bore acoustically due to the design. Even with the low-noise adapter attached however, performance did not waver and passed the overclocked FPU-only load test. For quality, performance, relative silence with the low-noise adapter, flexibility and ease of use, the Noctua NH-C14S earns the Modders-Inc Editor's Choice award.
[sc:editors_choice_award ]