CPU Cooler
Noctua NH-C14S CPU Cooler Review: Balance Through Asymmetry
Closer Look at the Noctua NH-C14S »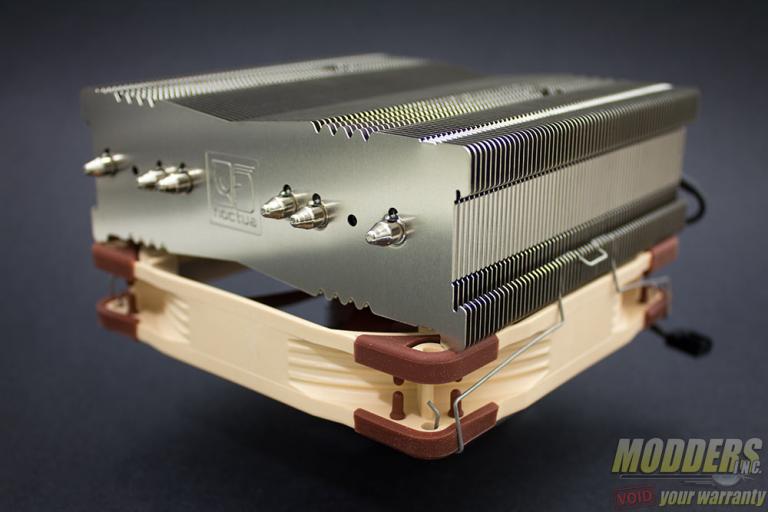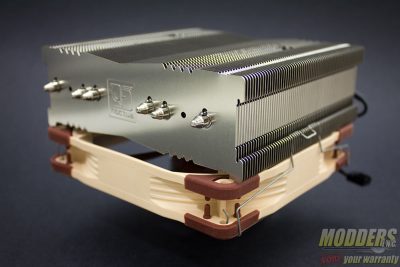 Not every big problem requires an equally big solution. Sometimes all the change required may seem miniscule but when executed correctly, can result in great gains and improvements. This is the approach Austrian CPU cooling expert Noctua has taken with their latest high-end C-type cooler offering: the NH-C14S.
Noctua's products are generally held in high regard but they also tend to cost much more compared to other coolers that they are beyond the budget range for many. With the NH-C14S, Noctua has updated the original NH-C14 to sport an asymmetrical layout to provide extra PCI-E clearance and they have also bundled a single fan instead of two, which allows for the MSRP to drop in the $75 range.
Measuring 115 x 140 x 163 mm (H x W x D), the Noctua NH-C14S is a 6-heatpipe C-type cooler paired with an NF-A14 PWM fan designed to blow upwards. This fan can also be positioned at the top to provide extra clearance for taller RAM modules up to 67mm tall or a second fan can be added for a push-pull configuration. As with all current Noctua CPU coolers, the NH-C14S is compatible with Intel LGA2011-0 & LGA2011-3 (Square ILM), LGA1156, LGA1155, LGA1151, LGA1150 & AMD AM2, AM2+, AM3, AM3+, FM1, FM2, FM2+ motherboards and carries a 6-year warranty that includes free mounting upgrade kits for future socket updates within its warranty period.
[sc:sponsor sponsor="Noctua" product_link="http://www.noctua.at/main.php?show=productview&products_id=111&lng=en" product_name="Noctua NH-C14S CPU Cooler" product_price_link="http://amzn.to/1L2HVbJ" product_price="$74.90 (MSRP)" ]
The packaging is glossy and quite large as is expected of Noctua products who have a uniformly high-end looking packaging for their entire CPU cooler line. Three sides of the box are filled with promotional information and detailed specifications.
Inside, each accessory pack is separated in their own box which are labeled with illustration of the content. On the bottom compartment below that is the heatsink body itself positioned upside down and protected on all four sides with thick cardboard folded for reinforcement.
The Intel mounting kit box contains a backplate with the posts built-in unlike previous SecuFirm2 backplates, four black plastic standoffs, a pair of mounting bars, four bolts for LGA2011 mounting and four thumbscrews for securing the mounting bars.In the AMD accessory box, there are four white plastic spacers, four long screws and a pair of AMD mounting bars. Three manuals are also included, one for LGA115x, LGA2011 and for AMD installation. The miscellaneous accessory box contains a full-sized tube of Noctua's NT-H1 thermal compound, a screw driver, a low noise adapter, a metal case badge and a pair of fan clip wires for installation of an extra 140mm fan.
Specifications:
Heatsink Specifications:

Socket compatibility:

Intel LGA2011 (Square ILM), LGA1156, LGA1155, LGA1150 & AMD AM2, AM2+, AM3, AM3+, FM1, FM2, FM2+ (backplate required)
Height (without fan):

115mm
Width (without fan):

140mm
Depth (without fan):

163mm
Height (with fan):

115/142mm
Width (with fan):

140mm
Depth (with fan):

163mm
Weight (without fan):

820g
Weight (with fan):

1015g
Material:

Copper (base and heat-pipes), aluminium (cooling fins), soldered joints & nickel plating
Fan compatibility:

140x140x25 (with square frame)
Scope of delivery:


1 x NF-A14 PWM premium fan
1 x Low-Noise Adaptor (L.N.A.)
NT-H1 high-grade thermal compound
Fan clips for second fan
SecuFirm2™ Mounting Kit
Noctua Metal Case-Badge

Warranty:

6 years
Fan Specifications:

Model:

Bundled Noctua NF-A14 PWM
Bearing:

SSO2*
Max. Rotational Speed (+/- 10%):

1500 RPM
Max. Rotational Speed with L.N.A. (+/- 10%):

1200 RPM
Min. Rotational Speed (PWM, +/-20%):

300 RPM
Max. Airflow:

140.2 m³/h
Max. Airflow with L.N.A.:

115.5 m³/h
Max. Acoustical Noise:

24.6 dB(A)
Max. Acoustical Noise with L.N.A.:

19.2 dB(A)
Input Power:

1.56W
Voltage Range:

12V
MTBF:

> 150.000 h
SSO2 = Noctua's 2nd Generation Self-stabilising oil-pressure bearing, a type of fluid dynamic bearing design with a magnet placed close to the rear of the rotor axis.