« Page 4
I installed a full ATX motherboard, a dual core Athlon with a decently large cooler, 8GB of DDR2 RAM, an overclocked AMD/ATI 5770, two hard drives and a 600 watt power supply in this case; there was never a point where I felt like I needed more room.  This case has plenty of length and airflow for a pair of the super long graphics cards that define the high-end graphics card segment. 
The lack of blank area on this case might make it a challenge to mod, but it still has plenty of potential. This case is great, and a steal for the prices being asked by online retailers. 
And here's a shot showing the lit up front of the case, in the dark.  You can see the red LED intake fan, the red and green power/hd-activity LED's, and the 3 temperature readings (in Celsius for this picture).  The blue/yellow lights behind the temperature display are from my fan controller (the NZXTSentry2) shining through the meshed door.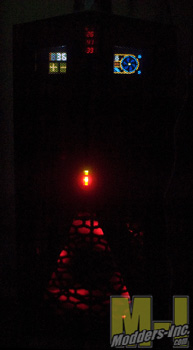 Pros

---

Cons

---

-Plenty of space
-Huge fans included (great airflow)
-Cable routing areas
-Fan controller/temp sensors
-PSU mounting options
-SSD ready
-Tool-less 5.25″ bays
-Water cooling ready
-Annoying to mount 3.5″ drives
-Impossible to find power switch
-Paint texture collects/shows dust
-Shipping damage to fan