« Page 2
|
Page 4 »
Installation of the unit took me about an hour… could have likely taken more if I wanted to get REEEALLY anal about my cable routing, but the case that I used (which you will read about in the coming days!) lent itself nicely to some "quick and dirty" cable management. You need 2 contiguous 5.25″ drive bays for proper installation (or a whole bunch of creativity, a good soldering gun and complete disregard for warranty coverage to "mod mount" it elsewhere!;)  ), so be sure to plan out where your optical drive will reside. Also, think about the location of the fans, and plan out how best to rout the 2 foot fan header wires for best use. Full height cases may be a bit of a challenge, but not impossible to the enterprising enthusiast.
Before: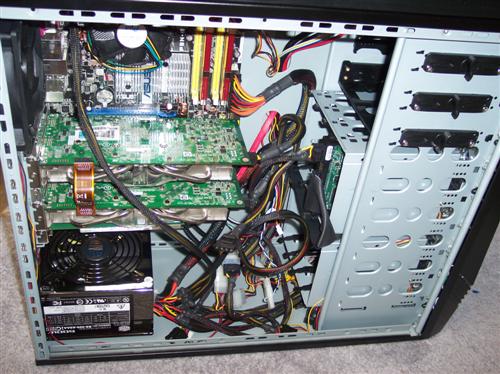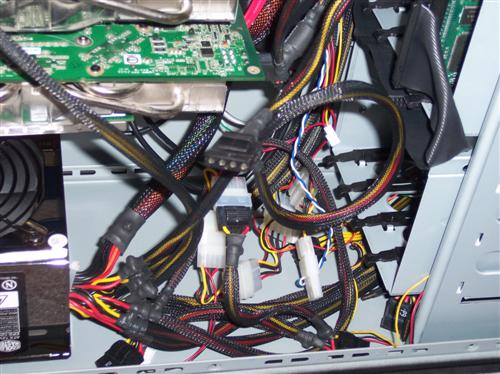 Mind you, the before shot was taken just after the build, and there was *minimal* thought made to how the cabling was connected and laid out. Looks like a pit… but when you have 5 fans with 5 of their own pass through molex setups… it's going to get ugly and crowded.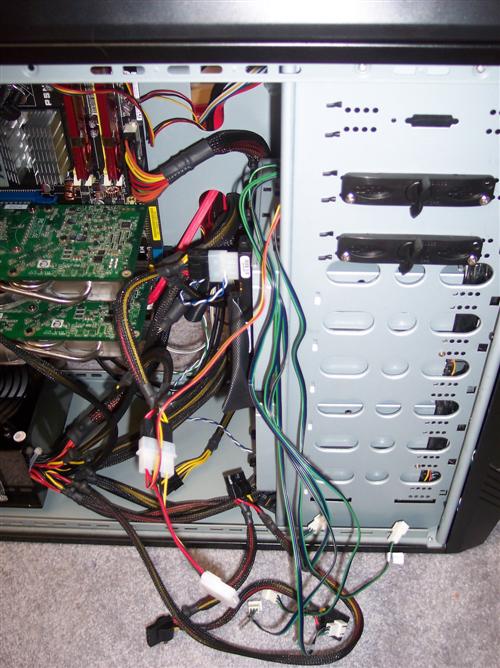 UNLESS… you do something about it! ;) Guess what? The Sentry LX can help this mess. And assuming that your case has a bit of space on the back side behind the motherboard… the 5 fan leads from the Sentry LX are much slimmer than the PSU molex and power cabling. Slimmer equates to less space and easier cable management in that tight area on the back side of the case. You run your thick power molex up to the power input on the Sentry LX, then you let the smaller gauge fan cables spread out the electrical luvin!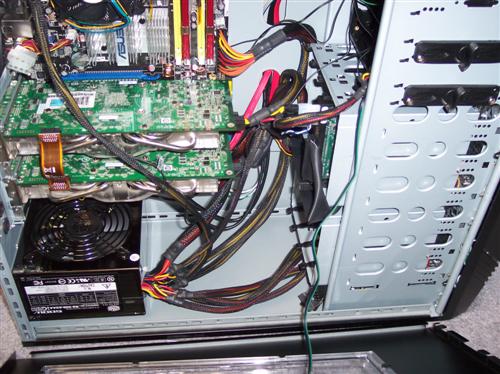 With slimmer cables routed behind the tray, cable management was easy peezy! And, oh… it looks a lot better too! ;)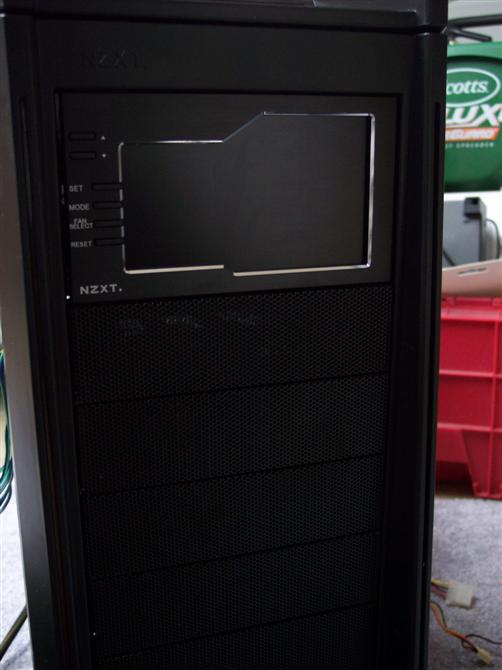 Powered off, it is unobtrusive and distinguished.
The black brushed aluminum faceplate with it's beveled edge on the screen is simple and classic. The buttons give stiff feedback with a distinct click at the connection. With the machine powered off, on a chassis with a black face area, the Sentry LX will look right at home without coming across as obtrusive or "forced". The straight lines of this model allow it to work well with the natural rectangular shape of most computer systems.