Closer Look at the Rosewill RNX-AC1200UB »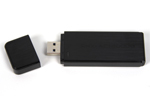 Sometimes you need gear that just works. I mean lets face it, who has the time now a days to fiddle with hardware to find out its not what you need. I have been in numerous scenarios where I needed a fast and reliable WiFi network connection but all I was stuck with is crappy embedded solutions in laptops. Its convenient to have a USB WiFi adapter that you could take anywhere with you. This brings me to a new device from Rosewill RNX-AC1200UB. This particular device is USB based WiFi adapter which supports both 2.4GHz and 5.0 GHz wireless data rates. Before even taking a look at this product, I did quick search on the web for it and found numerous positive reviews. In this review I would like to take a closer look at this device and see what exactly other users have been experiencing.
A little on Rosewill and their networking equipment. Rosewill does not offer enterprise level networking equipment so do not expect to see them competing with Netgear or Cisco. However they do a good job offering products for home office or small businesses at fraction of the price of enterprise equipment. Rosewill didn't start in networking but with every year they have been growing their product line with new easy and reliable gadgets.
Review Sample Provided by: Rosewill
Product Name: RNX-AC1200UB
Price at time of review: $ 35.09 USD
Product was given in exchange for work done to produce this review.
Technical Specifications
Model
| | |
| --- | --- |
| Brand | Rosewill |
| Model | RNX-AC1200UB |
Details
Standards
IEEE 802.11ac, IEEE 802.11a, IEEE 802.11n, IEEE 802.11g, IEEE 802.11b
Wireless Data Rates

2.4GHz Up to 300Mbps
5.0Ghz Up to 867Mbps

Security
Support 64/128 bit WEP, WPA-PSK/WPA2-PSK, IEEE 802.1x
Interface
USB 3.0
Frequency Band
2.4GHz/5GHz
Antenna
No
System Requirements
Windows 8.1 (32/64bits), Windows 8 (32/64bits), Windows 7 (32/64bits), Windows XP(32/64bits)
Feature
Features

Next Generation Standard 802.11AC, compatible with 11 a/b/g/nUp to 300Mbps at 2.4GHz

Up to 867Mbps at 5.0GHzDual Band connections for lag-free HD video streaming and gamingWireless Mode: Ad-Hoc / Infrastructure mode

Support WPS button for easy connection

USB 3.0 Interface Supported

Windows 8 Compatibility

Portable dongle type design

Equipped with a USB 3.0 1.0m Extension Cable for flexible deployment
Environmental
| | |
| --- | --- |
| Temperature | 0°C – 40°C (32°F – 104°F) |
| Humidity | 10% – 90% (Non-Condensing) |
Packaging
Package Contents

1* AC1200 Wireless USB Adapter
1* Resource CD
1* Quick Installation Guide
1* USB Extension Cable
RNX-AC1200UB doesn't have a friendly name. So don't look for a simple naming convention on the web for this unit. Packaging of RNX-AC1200UB is rather simple but very informative. On both sides of the box I found numerous features of the unit inside.
As I have mentioned earlier, the Rosewill AC1200UB supports both 5GHz and 2.4 GHz Data Rate. So if your WiFi router is able to serve 5GHz signals you can benefit from using AC1200UB. Most of the new laptops offer 5GHz connectivity however if your laptop is a little out of date or if you using a desktop and need a WiFi connection, this unit might be what you need.
AC1200UB supports following encryptions 64/128 bit WEP, WPA-PSK/WPA2-PSK and IEEE 802.1x with ability to run in Ad-Hoc or Infrastructure modes. What I found strange is the lack of support for Linux machines. AC1200UB is only supported on Windows machines. Digging deeper I found out that this unit is compatible with 802.11AC and 11 a/b/g/n standards.