« Page 4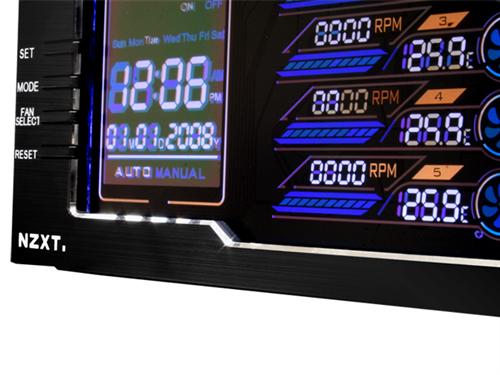 The Sentry LX fan controller unit does a lot of things that I like. 2 foot fan header lengths and 5 temperature probes. It offers "at a glance" validation that your fans are operating as expected. It offers a slick, digital display interface with an appealing color set that is clear and readable. Audible alarms in the event of an overheat (although they are too short in duration and self clearing), blinking fan RPM alerts in the event that there is a disconnect or failure, a design that will add a slick "futuristic" look to any case, and a nice brushed aluminum front panel with a beveled edge framing the display.
My concerns revolve around the apparent spec that this unit is 4 watts per channel. To me, if this stated fact is true, then you are going to possibly burn this controller up using almost any series of medium to high flow fan, *or* you will simply not see the full potential of the fan if it needs more than 4 watts to reach it's peak RPM, and this unit cannot supply that needed power. Seeing as my low flow fans were 3.8 watt, there just does not seem to be very much headroom on each channel. I have not sat down with this controller with higher wattage fans yet, so I do not know how it will perform (All of my fan stock here is low flow, quiet stock…), but a note of caution must be exercised before you incorporate it. Check your fan specifications to make sure you are not going to overwhelm this controller. Also, viewing angles can be a bit difficult if you are too high above the central axis on the viewing plane, so keep that in mind also. If this will be on the floor and you are up in a chair, the readout will be difficult to read. If you have this up on a desktop, then you are golden.
If you are using the proper wattage fans and you are looking for some simple information relay for your environment, this device is perfect for you. It is clean, simple and provides a clear layout. 
Pros

---

Cons

---

2 foot fan headers
Brushed Aluminum front bezel
Beveled edge on the display frame
Clear color choices for the display
Attractive and well organized display

4 watts per channel appears weak for a large population of fan users.
Overheat alarm "self clears"
Poor viewing angles