« Motherboard and accessories
|
Conclusion »
The Origin PC Genesis comes with a remote that controls the lighting of the case. You can change the colors, brightness, and pattern with the remote as well as shut the lighting off.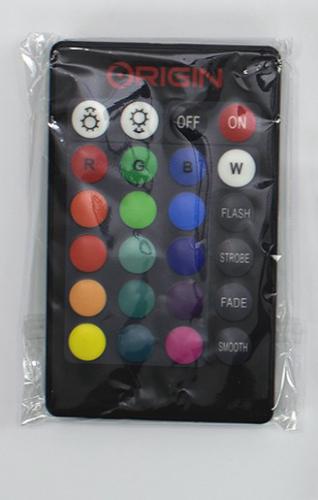 The following photos will show off the case as it is lit with the Red, Green, Blue, and White options on the remote.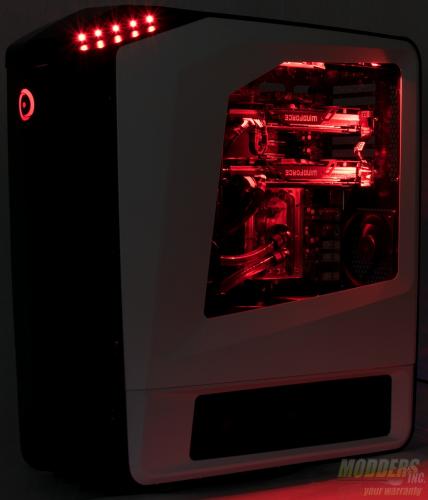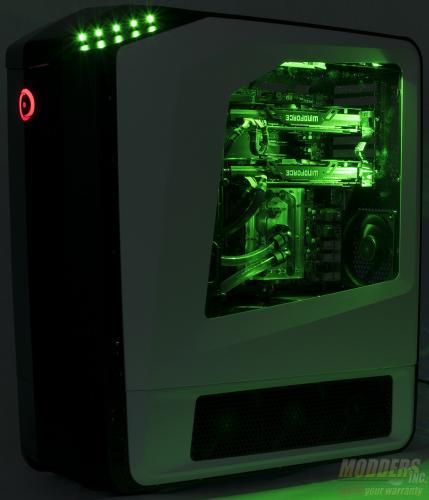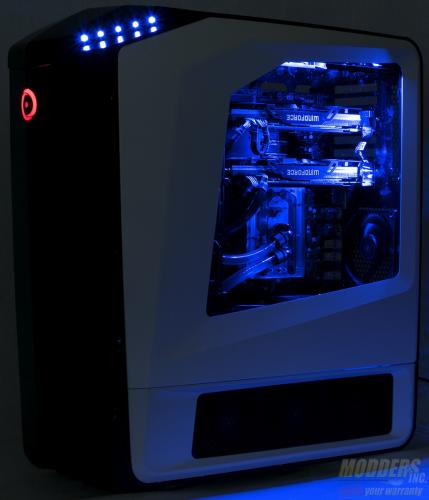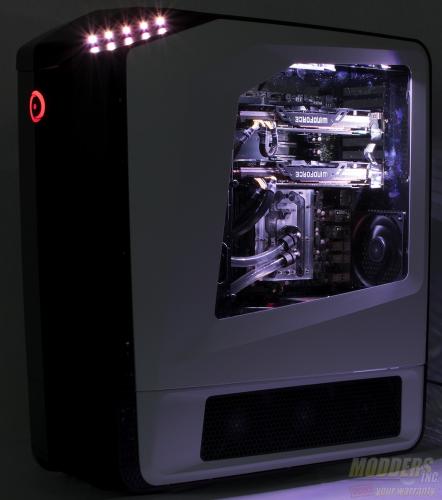 System Specifications:
Test System and Testing Procedures
| | |
| --- | --- |
| Processor | Intel Core i7-5960x (Retail) |
| CPU Cooler | Bitspower Thor EIX99 Full cover Water Block |
| Radiator | (2x, 1 in use) Alphacool NexXxos ST30 |
| Reservoir | XSPC dual bay dual D5 |
| Power Supply | Cougar CMX v3 850 Watt Power Supply |
| Memory | Kingston Hyper X Fury DDR4 2400MHz CL 15 |
| Storage | Samsung EVO 840, 4x Seagate 4 TB Desktop Hard drives |
| Graphics | (2x)Gigabyte GeForce GTX 980 Gaming G1 |
| Drivers | Intel Chipset Driver 10.0.3, NVIDIA 335.23 WHQL drivers. |
| Motherboard(s) |  EVGA X99 Classified |
| Operating System | Windows 8.1 Professional, fully patched. |
To measure internal case temperatures, I used a Klein Tools MM1000 multimeter with the included thermocouple. The probe was inserted into the back of the case and secured with alligator clips near the GPUs for the top section, and between the radiators in the bottom section and was set in place for 30 minutes for each test. The outside ambient air temperature was kept at a constant 23° C.. I will discuss the performance results in the conclusion.