DDR Memory Reviews
Patriot Viper Elite 3200MHz CL16 PVE48G320C6KGY 2x8GB DDR4 Review: Overclocking for All
« Overview and Specifications
|
Final Thoughts »
Test Setup and Benchmarks
| | |
| --- | --- |
| Component | Name |
| CPU | Intel Core i7-6700K (ES) |
| Motherboard | EVGA Z170 FTW (1.07 BIOS) |
| CPU Cooler | Noctua NH-U14S |
| Graphics | Gigabyte GTX 960 Windforce 3X OC |
| Storage | Silicon Power S80 SSD |
| Case | DimasTech Mini V1 |
| Power Supply | Corsair HX850 |
| Operating System | Windows 10 LTSB Enterprise |
Special thanks to Corsair for providing the Corsair HX850 power supply for this test bench
The rest of the components tested were from previous reviews; the articles are linked below:
DDR4 Memory Module Kits tested (Default):
| | | | | | |
| --- | --- | --- | --- | --- | --- |
| Manufacturer | Name | Memory IC | Capacity (per module) | Clock Speed (XMP) | Timings (XMP) |
| HyperX (Kingston) | Fury | Dual-sided SK Hynix H5AN4G8NMFR | 8GB | 2666 | 15-17-17-35 2T 1.2V |
| Patriot | Viper Elite | Single-rank Samsung  K4A8G085WB | 8GB | 3200 | 16-16-16-36 2T 1.35V |
The RAM modules were clocked to match for apples-to-apples direct comparison in 2133 MHz (SPD) and 2666MHz. The test kit's XMP profile as well as HyperPi stable overclocked result was also benchmarked.
CPU multiplier clock locked at 40, BCLK locked at 100 and cache frequency locked at 4GHz. Turbo boost disabled. The goal here to is to observe behaviour and get consistent result, not to shoot for high benchmark numbers for the sake of shooting for higher benchmark numbers.
Latest working BIOS and drivers were used at the time of the review. Each test was conducted at least three times for accuracy.
Each kits were run on HCIMemtest and AIDA64 stability prior to testing to ensure that they are in working order.
Benchmark Programs:
AIDA64 Engineer Edition 5.50.3600
Passmark Performance Test 8.0 (build 1051)
SiSoft Sandra Lite 2015 SP3 (21.47)
RoG RealBench 2.41
7-Zip 9.20
Overclocking:
As requested by readers who wanted to see more "real world" overclocking results for 24/7 use using default XMP 1.35 voltages, the 2x8GB 3200MHz CL16 Viper Elite kit tested sports single-sided Samsung K4A8G085WB ICs and overclocked remarkably well comfortable up to 3690MHz while retaining CL16 timings. Relaxed to 3600MHz at the same voltage, timings could be tightened to CL15 as well. Both of these HyperPi and 7-zip stable, passing the rest of the entire benchmark suite as well.
Benchmarks
AIDA64 is a very versatile program that we use here at Modders-Inc for our CPU cooler, storage as well as CPU reviews but it also has a built-in synthetic memory benchmark that measures the Copy, Read, and Write speeds of the DRAM installed in Megabytes-per-second (higher is better). It also measures total latency in nano-second (lower is better).
Like AIDA64, Passmark's Performance Test 8.0 suite is also a very versatile program with a different set of benchmarks per component and has a suite of memory tests of its own. The read, read uncached and write speeds are used (measured in synthetic scores, higher is better) as well as the built-in memory latency test in nano-seconds (lower is better).
Sandra LITE is a free version of SiSoft's Sandra testing suite. Similar to AIDA64 and PassMark Performance Test, Sandra Lite is a synthetic benchmark program that has its own set of system memory specific benchmarks. Aggregated scores of the Memory bandwidth performance in Gigabyte-per-second and Memory Transactional Throughput in total throughput-per-second are measured (higher is better). Memory latency is also measured in nano-second (lower is better).
ASUS Republic of Gamers' RealBench is a semi-synthetic testing suite that collects four different programs and can perform controlled runs of each related to image editing (GIMP), video encoding (Handbrake H.264),  OpenCL (Luxmark) and Heavy Multitasking (Combination of all three at the same time). Only the image editing part is used as GIMP uses up to SSE4.2 CPU extensions and focuses on single threaded CPU and memory performance that is frequency and timing sensitive. The controlled aspect of this otherwise "real-world" test makes it semi-synthetic.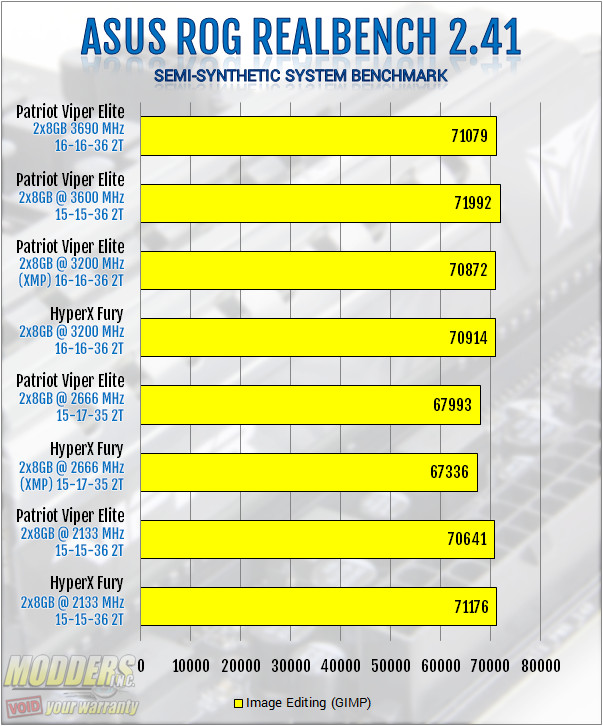 For compression, 7-zip is used which is an open source (GNU) compression program utilizing LZMA method as the default. This is a real-world program with a built-in benchmark measuring compression, decompression and total speed in million instruction per second (MIPS).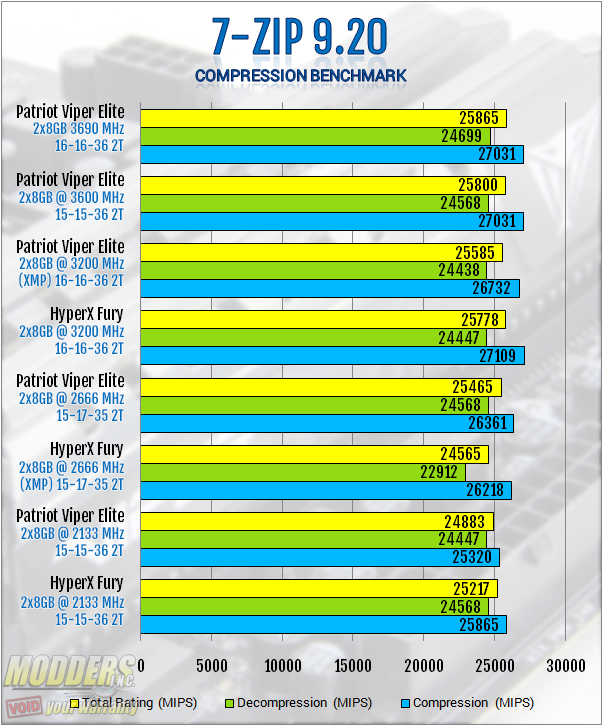 Futuremark's 3DMark is a semi-synthetic gaming benchmark that calculates both graphics and CPU-bound physics in a controlled series of tests and provides scores that can be compared with other gaming platforms. The physics benchmark of the Skydiver suite for mainstream gaming PCs is used.