« Packaging
|
Test System, Benchmarks and Overclocking »
A Close Look at the Patriot Viper LED Series Memory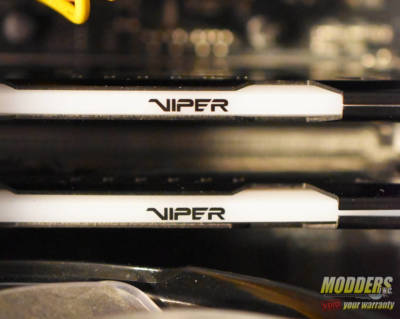 Patriot has always produced ram that looks great. The Viper LED Series is no exception. The heat spreader has the distinctive Viper head logo centered, on either side of the module. The heat spreader is predominantly black, with silver accents. Across the top of each module is a white bar to highlight the LED's on the module. The kit that was provided for this review has red LED's on each module. Patriot also offers the Viper LED series with White LED's. On one side, there is a sticker with the model and the serial number of each module printed on it.
With the heat spreader removed, we can take a closer look at not only the memory chips but also the LEDs. I like the double-sided thermal tape Patriot used to secure the heat spreader to the PCB. Every time we review memory, we remove the heat spreader to get a close look at the module. Far too often, the stock tape must be replaced due to the heat spreader not going back on. Even on some of the higher end kits. Not only was it difficult to remove the heat spreader on the Viper LED modules, but the tape was still sticky enough to be reused, and still be as tight as it was when I started. This may not be a huge deal for most, but its well worth making note of.
Each module has four LEDs across the top of the PCB. The white bar that rests across the top of the PCB does a good job of reflecting the red LEDs on the PCB. The VIPER the RAM looks great installed in my NZXT S340 Elite. However, in some low-light settings, you can clearly see the LEDs. This could just be me, but I noticed it, so I feel I must mention it. A few more LED's would fix the issue as well.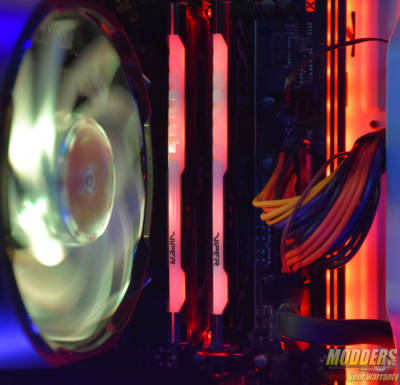 The actual memory chips on the PCB were produced by Samsung. I've personally had good luck, especially with overclocking, when it comes to Samsung memory chips. With any luck, that will be the case with the Patriot Viper LED Series as well.