DDR Memory Reviews
Patriot Viper RGB DDR4 3000MHz Memory Review
Gaming RGB DDR4 You Can Control
« A Closer Look at the Patriot Viper RGB
|
Conclusion »
Software, Test System, Benchmarks, and Overclocking
Software
If you have an older motherboard that doesn't have LED controls, Patriot provides a small piece of software. The software allows you to choose the individual colors of all 5 zones on the Viper RGB RAM kit as well as the style of lighting. The available options include Rainbow, Breathing, Viper, etc. All said there are 10 different effects to choose from.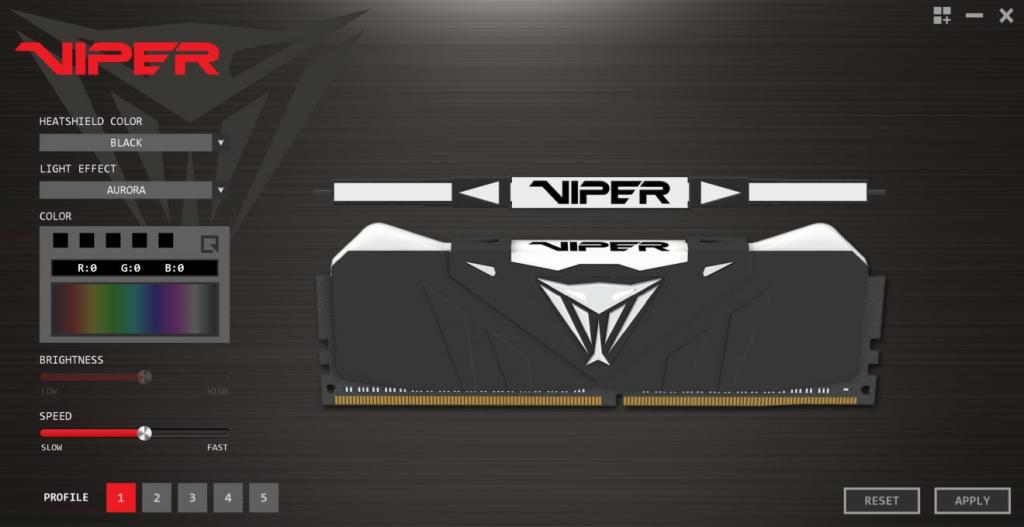 In this review, I am using an Aorus Z370 Gaming 7 motherboard. This motherboard does have LED controls on the motherboard; the Viper RGB RAM kit is compatible with the Aorus software called RGB Fusion. With Fusion, you can choose one color for all the compatible components such as motherboard, RAM, and SLI bridge. You can also drill down to each individual component and set the colors for each zone on the motherboard and a different  (or same if you choose) color on the RAM.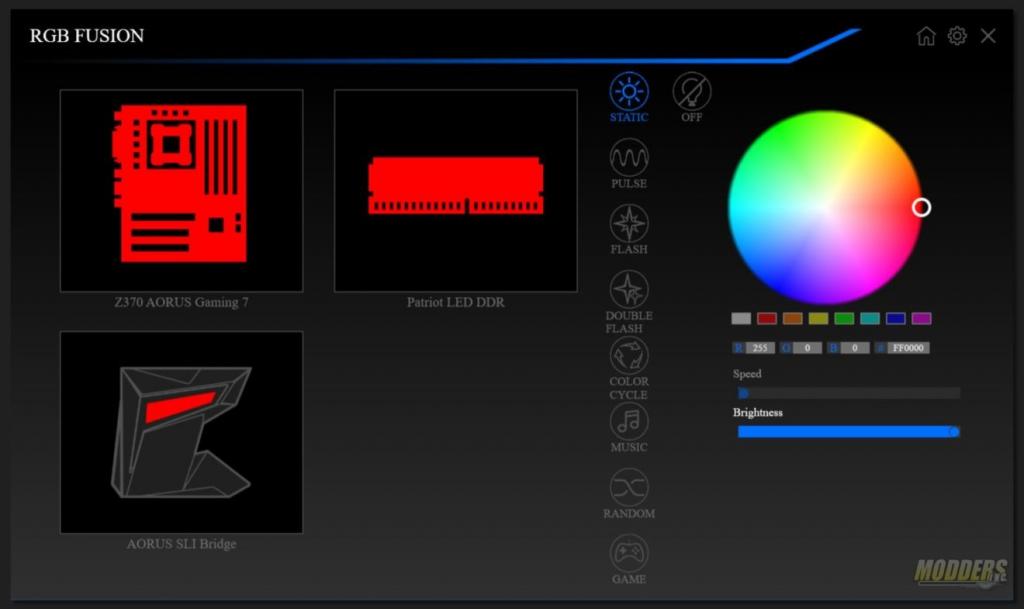 Test System
Core I7 8700k
Gigabyte Z370X Gaming 7
Nividia RTX 2080 Founders Edition
16 GB XPG SPECTRIX D40 DDR4 3000MHz.
EKWB Predator 240
Dimastech Easy XL
Corsair RM850 80+Gold PSU
HyperX Predator
Benchmarks
AIDA64 Engineer
Passmark Performance Test 9.0
ROG Realbench
SiSoft Sandra Lite
7-Zip
3DMARK Time Spy
Utilities
CPU-Z
Our testing methods are always the same, no matter what the review.  The room is kept as close to 20°c as possible. The 8700k used in this review was left at stock Intel speeds. The BIOS for the motherboard was updated if needed.  Most benchmarks were run three times and averaged to get the result.
For overclocking, I wanted to limit factors outside the memory kit for performance gains. I left the CPU and GPU at their stock factory shipped configurations. I was able to reach 3400 MHz at 17-20-20-40 timings with a voltage of 1.38. I ran the AIDA64 torture test for about 4 hours after overclocking to test stability. After 4 hours, the PC was up and running just fine.
AIDA64 ENGINEER
AIDA64 implements a set of 64-bit benchmarks to measure how fast the computer performs various data processing tasks and mathematical calculations. Multi-threaded memory and cache benchmarks are available to analyze system RAM bandwidth and latency. Benchmark pages of AIDA64 Extreme provide several methods to measure system performance. These benchmarks are synthetic, so their results show only the theoretical maximum performance of the system. The AIDA64 suite has various benchmarks for CPU, FPU, GPU, storage and memory testing.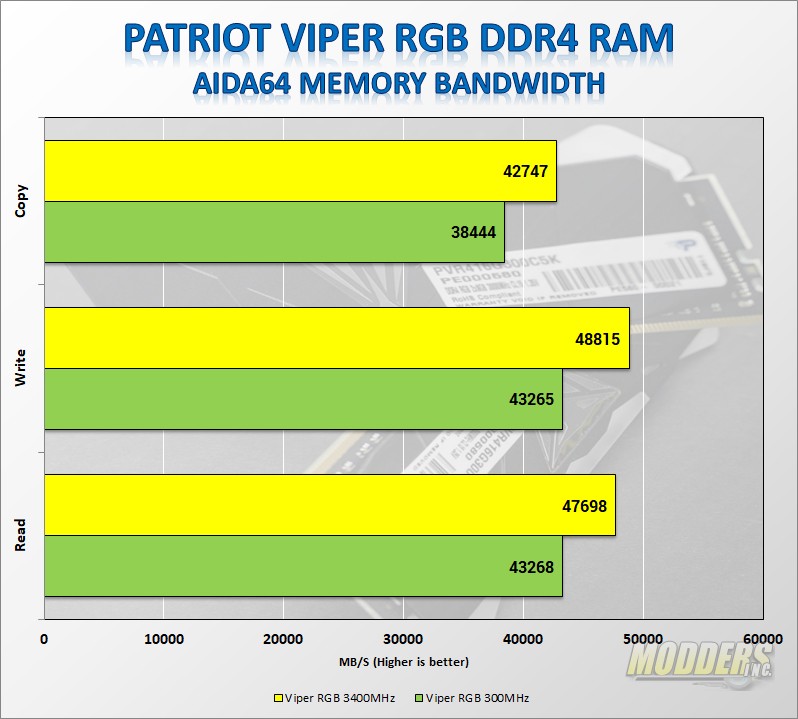 7-Zip
The 7-zip benchmark shows a rating of MIPS (million instructions per second). The rating value is calculated from the measured speed, and it is normalized with results of Intel Core 2 CPU with multi-threading option switched off. So, if you have modern CPU from Intel or AMD, rating values in single-thread mode must be close to real CPU frequency. There are two tests, compression with LZMA method and decompression with LZMA method. Once the total passes reach 100, the score is taken.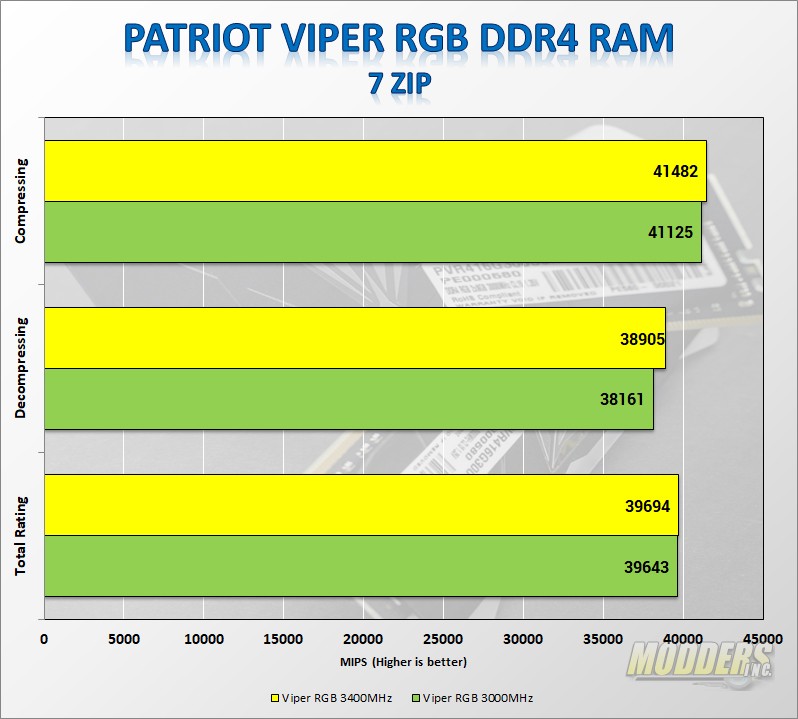 SiSoft Sandra Lite
Sandra Lite is a free version of SiSoft's Sandra testing suite. Sandra Lite is a synthetic benchmark program that has its own set of system memory specific benchmarks. Aggregated scores of the Memory bandwidth performance in Gigabytes per second and Memory Transaction Throughput in total throughput per second are measured (higher is better).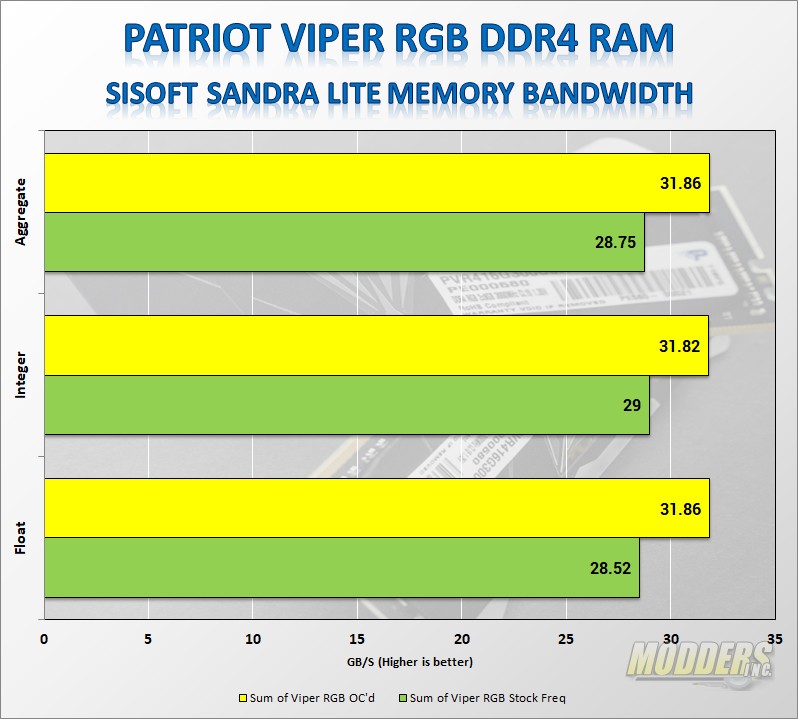 ASUS ROG Realbench
ROG Realbench is an open source program, designed to test your PC as it would run in real-world scenarios. It's a semi-synthetic testing suite that collects four different programs and can perform controlled runs of each related to image editing (GIMP), video encoding (Handbrake H.264), OpenCL (Luxmark) and Heavy Multitasking (Combination of all three at the same time).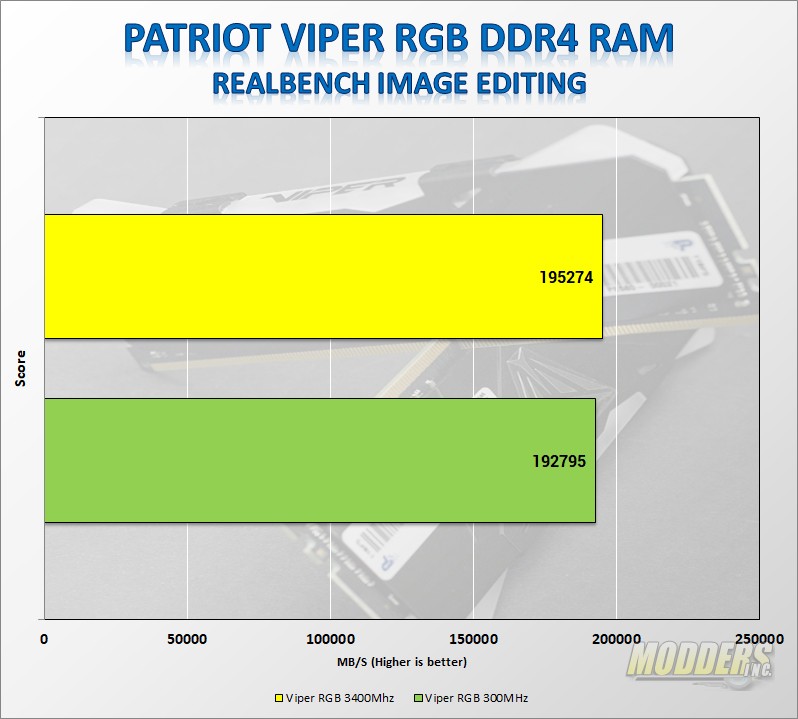 Passmark Performance Test – Memory Mark – Threaded
"Fast, easy to use, PC speed testing and benchmarking. PassMark PerformanceTest ™ allows you to objectively benchmark a PC using a variety of different speed tests and compare the results to other computers." Performance Test 9.0 is an overall benchmark that tests every area of your PC. For this review, we didn't do the entire Performance Test.
3DMARK Time Spy
3DMark is a computer benchmarking tool created and developed by Futuremark used to determine the performance of a computer's 3D graphics rendering and CPU workload processing capabilities. It does this through a series of graphics and physics and or CPU tests.