DDR Memory Reviews
Patriot Viper RGB DDR4 3000MHz Memory Review
Gaming RGB DDR4 You Can Control
« Software, Test System, Benchmarks, and Overclocking
Conclusion
I first got a look at this kit at CES. I think that in a lot of cases RGB gets a bad name. Personally, while I am not a fan of the rainbow style of effects, I do like the opportunity to get to choose my own color scheme whether it is a single color or a combination of colors. By default, the modules do go out of sync with each other without any software running to manage them. The Viper software worked well enough and is easy to use. Gigabyte's RGB Fusion, in my opinion, worked better for my set up as I could set all the RGB lighting on the motherboard and the memory modules to match. Overall, the LED lighting is done well on this kit.  Not only is the kit compatible with Gigabyte's software, but it will also work with Asus', MSI's and ASRock's LED software solutions.
The Viper RGB from Patriot is a great looking kit. The black heat spreaders with the angular designs will fit in a lot of builds. The RGB LEDs are well diffused by the frosted plastic diffusers at the top of the memory modules. It does a great job of eliminating hotspots and gives a smooth flow from one LED to another.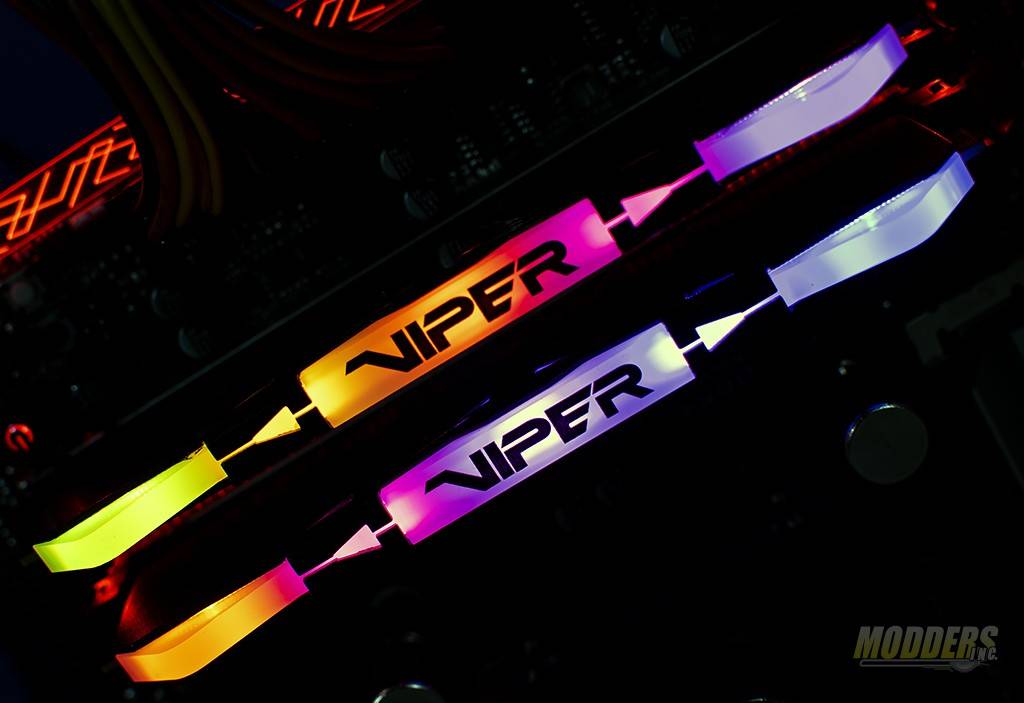 Performance wise and at stock XMP settings, the Viper RGB kit met my expectations. Testing against other DDR4 3000Mhz modules yielded similar results. However, this particular kit didn't overclock as much as I'd hoped. I started at XMP timings and worked my way up from there. The final stable settings were 3400MHz at  17-20-20-40 timings. Pushing further resulted in system instability.  While it's not the best overclock I've ever gotten, it is not the worst either. One of the things to take note is while speed is important, timings play a crucial role. With the relaxed timings, we see a slight increase over stock but not much of one. .  Overall, I'm impressed with the speed and stability of the Viper RGB RAM kit at its stock speeds.  If you're looking to upgrade or swap out kits, give this one a look.