Keyboards
Patriot Viper V765 RGB Mechanical Keyboard Review
« Subjective Testing
Final Thoughts and Conclusion
I really liked using the Viper V765. I've always preferred typing on a keyboard with clicky switches. Usually, when testing a keyboard, it takes me some getting used to with whatever switches are on the keyboard. However, typing with the V765 just felt natural to me. I like the distinct click at the time of actuation. It's just something I've grown accustomed to over many years. I always like seeing a braided cable, especially with cats. It just makes it that much harder for them to chew through the cable. I do like the addition of the magnetic wrist rest. It's made from rubber and its pretty comfortable. However, for me, it's a bit small. I have larger than average hands, so I wish it were a couple inches longer.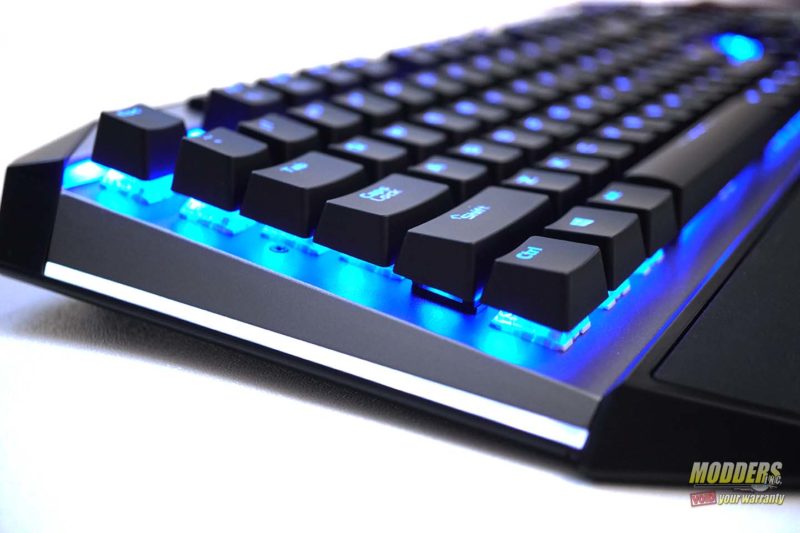 The software was laid out in a way that makes it very easy to understand and to use. The lighting has plenty of options for fans of RGB lighting. I really liked the fact the Viper RGB software was one page with everything right there and easy to understand. However, my favorite feature of the Viper V765 is the ability to set all 103 keys as macros. From a content creators' point of view, this can be priceless.
Many companies sell specific keyboard for photoshop and a separate one for Premiere Pro, Lightroom or Audition, and they're not cheap. It may have taken time, but I set up separate profiles for Premiere Pro, Photoshop and Audition each with their own specific macros and color scheme. I still have two more profiles I can set for with specific games or other programs. The fact that one keyboard can do all that, for me, is just awesome. Especially for the price. I have a photoshop specific keyboard I paid over $150 USD for. However, the Viper V765 comes in at an MSRP of only $99.99. In fact, at the time of this review, the Viper V765 from Patriot can be purchased on Amazing for only $89.99. That's a great deal for a great keyboard.