Storage Devices
Patriot Viper VPR100 NVMe SSD RGB 1TB Review
Too Fast Too Furious
« Software
Final Thoughts
I am genuinely impressed by the performance and stability of Patriot Viper VPR100 NVMe SSD. Based on the benchmarks I ran the module performed as promised by Patriot. Fast Read and Write speeds really felts like there was little or no time to perform basic operations. While loading module with larger files I saw a little slowdown but nothing that would cause an alarm or question performance. Gaming from this drive has improved my experience as well. The load times were short and noticeably fast. When the drive as 75% full write performance did take a hit but only for about 10%.
RGB portion of VPR100 depends on if you need it or not. If you want RGB to show off your mod then this is a good module to use to really show your creativity. Note that Patriot states if you use RGB Sync you might experience drop a 30% drop in performance. I have tested the module with RGB on and off and did not experience any different behavior in my benchmarks.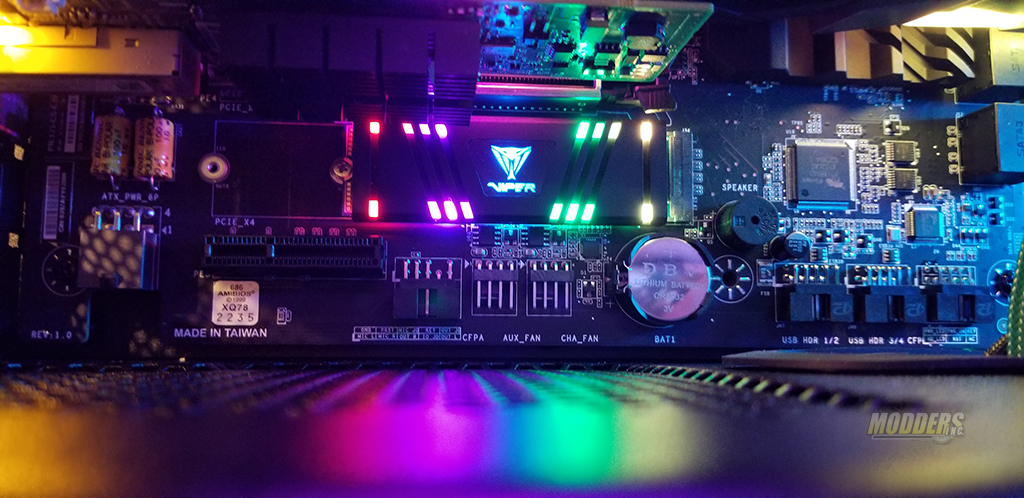 Right now VPR100 retails for about $175 and I feel that this price is a little steep for the current market. Storage is going down in price and there are many alternatives out there for the same type of modules. However, do keep in mind the RGB SYNC portion of VPR100 and a rock-solid performance even with nearly full SSD. If you are looking for well designed RGB NVMe module check Viper VPR100, you won't be disappointed.