A Closer Look »
The way we look at PC cases is forever changed thanks to the modders and the modding community. When people started to mod their beige PC cases, manufacturers took notice and changed. They changed what their cases looked like, they changed the materials used in the manufacturing process and most importantly, they changed the options available. In today's market, there is not a "true" standard for what a PC case should look like. The only standard that is used (for the most part) is the size of the motherboard. It is true, there are still full and mid tower cases and there are still micro tower cases but it is the evolution of the PC case that is so exciting. Using small form factor (SFF) components no longer means that you have to sacrifice performance in order to get a smaller foot print. SFF components have changed and so have the cases. Phanteks recently released the Evolv PC chassis as part of the Enthoo line. This micro-tower boasts a ton of features, has the ability to add large radiators and has a sexy exterior to boot. But, does form meet function in the Evolv? Is it easy to assemble? What is the fit and finish on this case? Phanteks has a reputation for building top-notch products. Let's take a look at the Enthoo Evolv.
[sc:sponsor sponsor="Phanteks" product_link="http://www.phanteks.com/enthoo-evolv.html" product_name="Enthoo Evolv" product_price="$129 USD (Black)/$139USD (White)" ]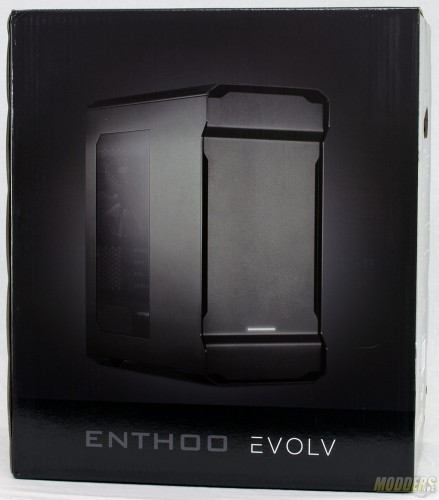 The Enthoo Evolv box gives a nice teaser on the front. A clear image of the case housed inside along with the words Enthoo Evolv are the only things that adorn the front.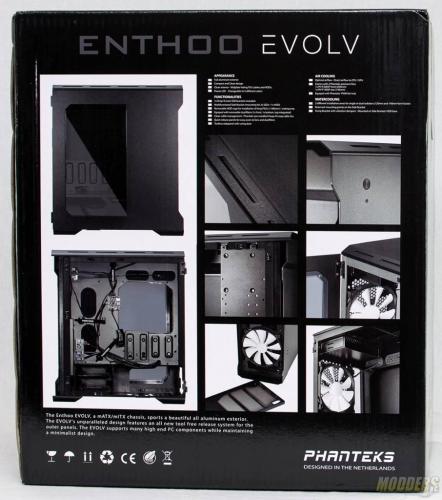 The back of the box for the Enthoo Evolv is a different story. Clear images are present and detail the highlights of this case.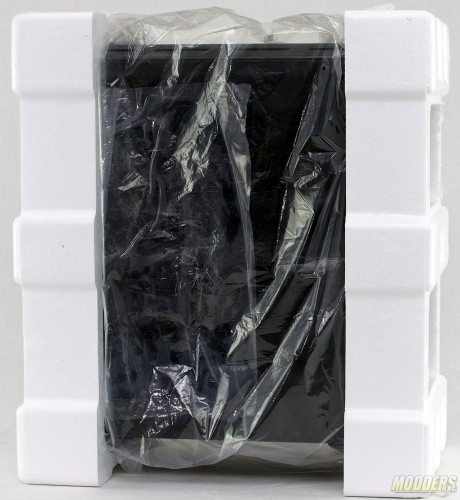 Wrapped in plastic and rigid foam is the Enthoo Evolv PC chassis. The rigid foam helps protect the case from dents and dings while the plastic helps protect the finish from scuffs and scratches.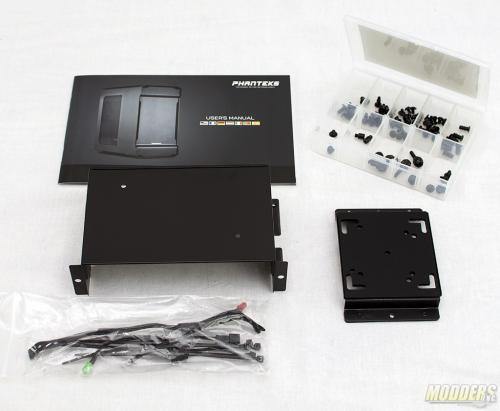 Packed away in the innards of the case is the installation kit. The kit includes a manual, a hard plastic container that separates the screws needed for installation, a optical drive bay, a water pump mount, extra velcro straps and different color power LEDs that can be swapped out.
SATIN BLACK
 GLACIER WHITE
Model NO :
PH-ES314E_BK
PH-ES314E_WT
UPC Code :
886523300281
886523300304

Case Specifications

Dimension

230 mm x 450 mm x 400 mm (W x H x D)

Form Factor

Micro Tower Chassis

Material(s)

Aluminum Exterior, Steel Chassis

Motherboard Support

uATX, mITX

Front I/O

2x USB 3.0, Mic, Headphone

Side Window

Yes

Expansion & Drive Bays

Expansion slots

4

External 5.25″

1 (modular)

Internal 3.5″

3

Internal 2.5″

5 (1 slot for upgrade)

Cooling

120mm fan

140mm fan

200mm fan

Front

2x

2x
1x (included)

Top

2x

2x
–

Rear

1x

1x (included)
–

Liquid Cooling

120mm radiator

140mm radiator

Front

Up to 240

140

Top

Up to 240

Up to 280

Rear

120

140

Clearance

Graphic card

318mm

PSU

216mm (remove Midplate cover for PSU longer than 180mm)

CPU cooler

192mm

Cable management

24mm (216mm below midplate)

Radiator (Top)

68mm to Motherboard (offset)

Packaging Information

PH-ES614L

Package Dimension

308mm x 540mm x 463mm (WxHxD)

Net Weight

9 Kg

Gross Weight

10 Kg

Warranty

Length

5 Years Limited