Closer Look at the Zalman Z11 NEO »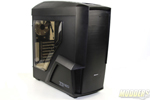 Finding a right case can take a while. This is why we turn to reviews and facts about a product before actually buying anything. Here at Modders Inc we try to help consumers to make a right call when before buying something they might regret. We do a great deal of review on cases as most of our modding is being done on cases themselves. So we can tell you if the case is suitable for average consumer, hardcore overclocker or just gamer. Today, I am going to be taking a look at Z11 NEO by Zalman. Zalman brand has been out for a very long time and just like every other computer component manufacturer out there they offer a variety of products.
The Z11 NEO is an ATX mid tower chassis that supports standard ATX and Micro ATX motherboards. In addition to some of the signature features, Z11 NEO has the ability to host a radiator on the top of the case which is very handy if you are planning to use this case with liquid cooling set up. All this and more could be seen trough the left side panel. Let's dive in to the review and see what else Z11 NEO has to offer.
Review Sample Provided by: Zalman
Product Name: Z11 NEO
Price at time of review: $94.38 USD
Product was given in exchange for work done to produce this review.
Packaging of Z11 NEO is pretty standard. The box this case came in is made from cardboard. Some general graphics of the case could be seen on the box. I also found a list of features and specifications on the box that helped me to understand what I am dealing with. The styrofoam held the case in place while in transport and the clear bag kept the case free from scratches.
As I took the case out of the box I found a small zip-locked bag with some goodies and instructional manual. The bag contained assorted screws along with cable ties and CPU 12 volt Extension cable. The motherboard and power supply screws were included in this pouch.
Specifications
Case Type
ATX Mid Tower Case
Dimensions ( W x H x D)
205 x 465 x 515mm
Motherboards
Standard ATX / Micro ATX
Power Supply Unit
Standard ATX / ATX 12V
PCI / AGP Card Compatiblility
Full size 270~400mm
Expansion Slots
7 slot
Color
Black
Drive Bays
5.25″
External Bay x 1
3.5″
Internal Bay x 6
2.5"
External Bay x 2
Cooling
Components
(Fans)
Front
2 x 120mm Fan Vent (1 LED Fan Included)
Rear
1 x 120mm Fan Vent (1 Fan Included)
Top
2 x 120/140mm Fan Vent (1 LED Fan Included)
Bottom
1 x 120/140mm Fan Vent (Fan Optional)
Side
2 x80mm Fan Vent (2 Fan Included)
I/O Ports
Ports
1 x Microphone, 1 x Headphones, 2 x USB 3.0, 2 x USB 2.0