« Hardware Installation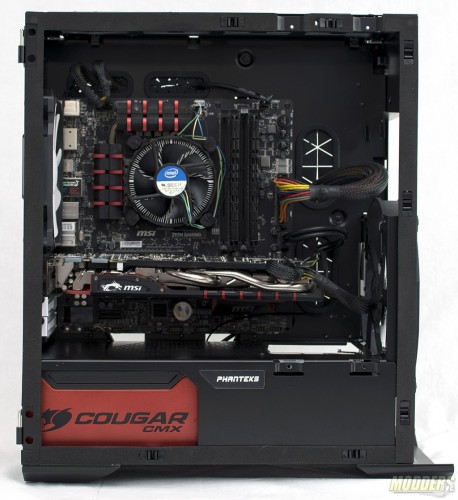 Someone once said "Dynamite comes in small packages" and while the Enthoo Evolv isn't the smallest case on the market I believe the SFF builders can rejoice. There is enough room in this case to mount drives, reservoirs and water pumps in a few different locations and still have room to spare for high end PC components. The multiple radiator mounts are a must for decent water cooling. I can only imagine having two loops in this case.
The exterior of the Enthoo Evolv is smooth and classy.  The lines are sleek and clean. The only external breaks in the lines are the connections on the left side of the case for the USB and audio. For those that still use optical drives, Phanteks hasn't left you out in the cold. There is not a place to mount the drive up front. The optical drive mounts to the top rear of the case. The only issue that I can see with this location is the fact that it may interfere with a large CPU cooler or radiator that is installed in the top location. Looking at the exterior and having someone ask "What's that?" and having them not believe that it is a PC I'd say that Phanteks met their goal with a minimalist design.
For being a smaller case, the interior of the Enthoo Evolv is rather large. Parts and pieces of the case can be removed to fit larger items in. Granted you are not going to be running a quad GPU set up in the Evolv, but a dual GPU setup is quite possible. The case has enough open area after hardware is installed so it allows good airflow to the components. In addition, there are quite a few options for watercooling.
Overall the Enthoo Evolv was an absolute pleasure to work with. There were absolutely no sharp edges, if there were I'd find them. All the screws for the case are separated in a rigid resealable plastic container. The extra Velcro strips come in handy for the wiring. Phanteks has done an absolutely fantastic job with this case. The fit and finish are reminiscent of high end show cars. The gaps between the panels are all even and the panels fit together perfectly. The Evolv is the latest in the Enthoo line and it is a case that proudly wears the Enthoo branding. If you are a Small Form Factor builder I think you will fall in love with the Phanteks Enthoo Evolv.
[sc:must_have_award ]