CPU Cooler
Phanteks First AIO Cooling Solution Glacier One 240 MP
Old concept with a new solution
« Introduction and Specifications
|
Installation and Clearance Issues »
The radiator of Glacier One 240 MP had a standard measurement of 272 mm x 120 mm x 27 mm (LxWxH). The radiator itself is made from aluminum as well as its fins. Phanteks went with black paint here as the whole radiator is completely black in color.
There are no service ports to be used to drain/change the cooling liquid inside of the unit. If any time you have a problem with Glacier One 240 MP you can reach out to Phanteks as their warranty covers this AIO for up to 6 years.
Two tubes are connected to the radiator. (In/Out). The tube distance between the radiator and the CPU cooling block is roughly 400mm. The two tubes are connected to the CPU cooling block by two plastic elbow fittings connectors. The fittings move freely and provide the ability to adjust the position of the radiator in the case. The CPU block itself contains a water pump designed by Asetek that features a Pure Copper plate with a pre-applied thermal compound.
The support bracket on the CPU block is made of steel and is designed to keep the CPU block in place on top of the CPU. The top of the water pump is made from ABS plastic and has two very strong magnets on top to provide attachment for the water-pump cover.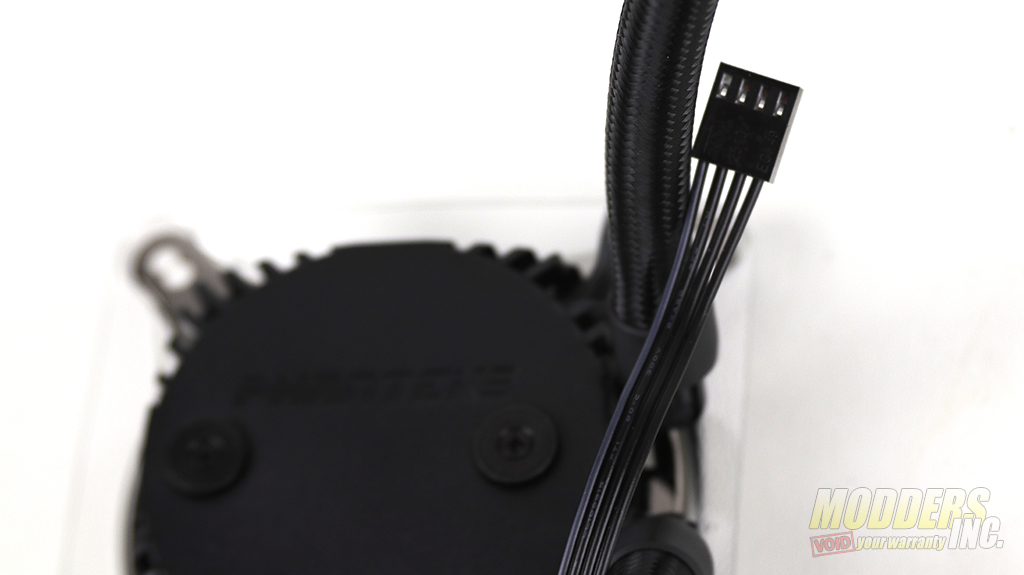 Glacier One 240 MP pump is powered by a four-pin cable that is designed to work with your motherboard PWM controller.
The pump cover in Glacier One 240 MP is based on the D-RGB / Infinity Mirror effect. If you have a Digital Controller Hub or a motherboard that supports D-RGB you can take advantage of this faceplate. In my case, I do not have a Digital Controller Hub and my motherboard does not support D-RGB so unfortunately I cannot show you the Infinity Mirror effect you can have.
Glacier One 240 MP radiator is being cooled by two 120 mm fans (PH-F120MP V2).  These fans are capable to be controlled via PWN and have a maximum rotational speed of about 2200 + 10%.  The maximum airflow of these fans is 3.41 mm-H20.  The noise level of PH-F120MP V2 is anywhere between 18 to 34.2 dB(A).