Keyboards
Poseidon Z Plus Review: The Simple (Smart) Keyboard
« The Innards of the Poseidon
|
Final Thoughts »
Tt eSports Plus+ App
The provided app for the Thermaltake Poseidon Z plus is one that benchmarks a user's input during gaming sessions. In the app store it is labeled as "Tt eSports Plus+". For the sake of brevity I will call this the "Tt app" moving forward. The Tt app is a quick download from the app store and seems responsive.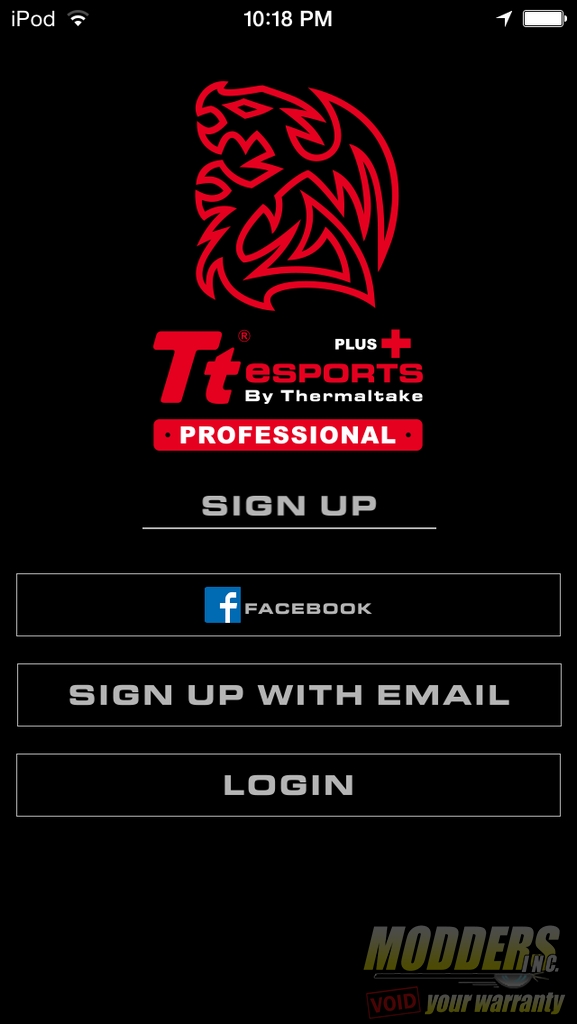 Any app or website that allows me to register and log in with social medial is a plus. During pairing I noticed a glitch that exists on the iPod touch. I have checked the app store for the latest updates and this glitch seems to still exist at the time of this review. When the Poseidon Z plus is paired through the settings menu for iOS or automatically, the Tt app does not recognize the Poseidon Z plus as a compatible bluetooth device. The Z plus must first be disconnected in the settings menu and paired from within the app before it can be recognized. This is the case at the time of the review and will most likely be patched later on.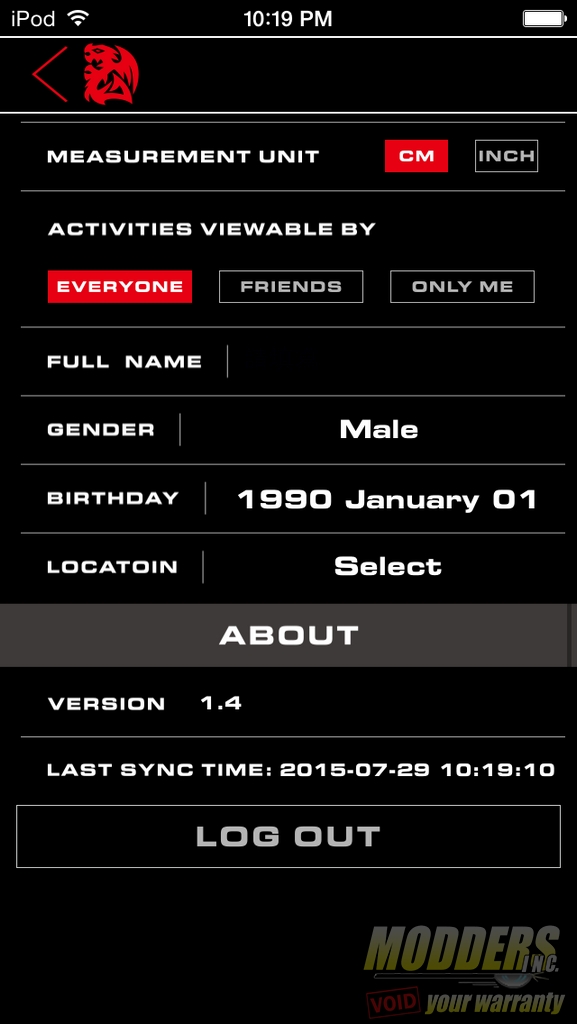 In the settings portion, a user can change biographical data, visibility of benchmarks, and ability to logout. The friends section will be empty and I haven't tested out the messaging feature since I don't have any friends who happen to have this app.
Under the "Start" view I was delighted to see that Thermaltake supports Bluetooth enabled gaming mice to be benchmarked on the Tt eSports app. I do not have a compatible mouse to test this feature with, but it is a nice feature for anyone who owns multiple Thermaltake Tt eSports peripherals. The pairing when done properly happened very quickly.
The Tt app presents the user with many options categories of games. The categories are as follows:
RPG
RTS
ACT
A-RPG
FPS
SPG
AVG
SLG
Other
What is meant to do is categorize the keystroke benchmark by game genre so a user may track performance across different game genres. This is useful if a user wanted to know the difference in APM and most common key strokes are between an RTS vs a FPS game.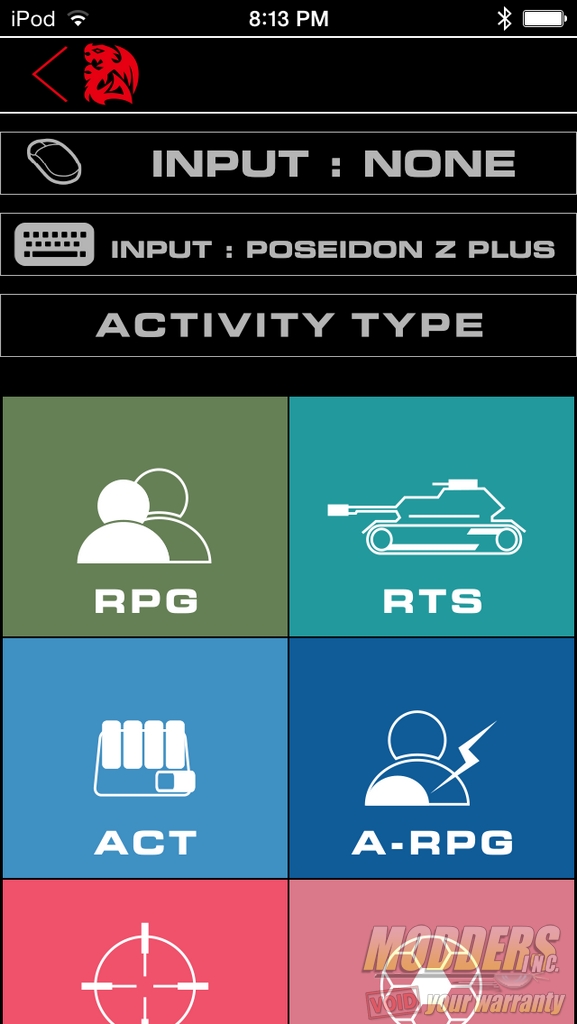 Each of these categories are laid out in an identical manner with an added bonus of the custom category for games that do not fit into any popular genre. Each game category is identical and differ only in color scheme.
For each category, the Tt app benchmarks clicks per minute, total clicks, maximum actions per minute, and click nitro. On Thermaltake's website, click nitro appears to be some sort of community currency that can be used on events. I suspect this means sweepstakes maybe prizes. Underneath this, there is a field that shows the top 10 most common keys pressed along with the frequency of presses. This view will only show 5 keys at a time and can be scrolled.
After each activity is done you'll be awarded Nitro points, be given the ability to share your accomplishment, and of course this is stored under the "Activities" view on your main menu. This will keep track of all your benchmarks by activity category.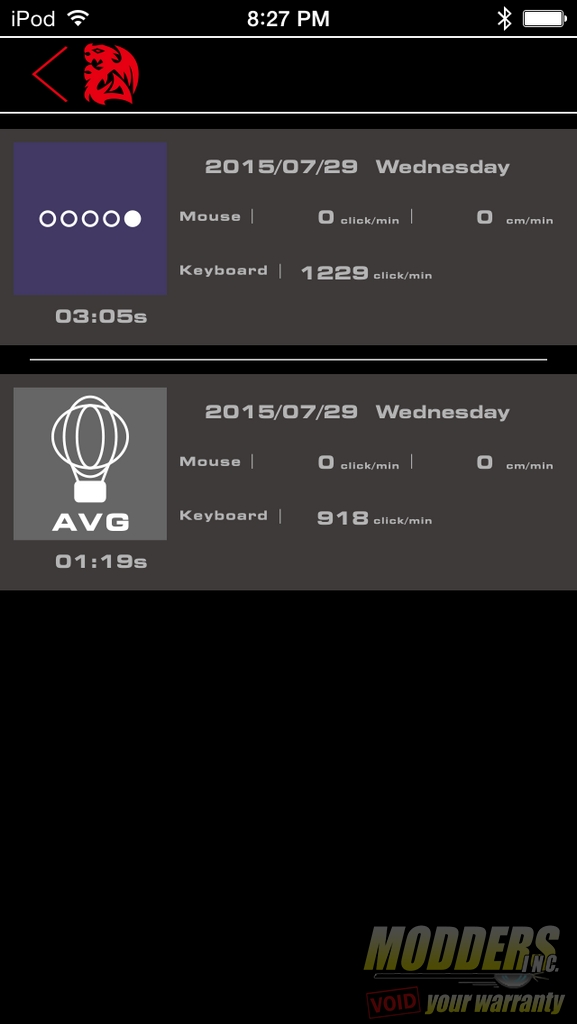 Overall, the Tt app is a nice tool. It seems be written in a native language which is good for performance and would explain why there is no android equivalent out at the moment. Thermaltake has made the right moves in expanding their social presence with this app so long as their gaming peripherals are able to attract enough users.