Network Hardware
QNAP QSW-1208-8C-US 12-Port Unmanaged 10GbE Switch
Affordable 10G and multi-gig networking
« System Setup and Testing
Conclusion and Final Thoughts
I've been waiting for 10-gigabit networking equipment to come down to the "non-enterprise price level". For me personally, I guess that would be the prosumer level as far as price. But still, I didn't really want to pay over $1000.00 for a switch. I don't know too many people that would pay the price for a piece of network gear in their house. We are starting to see the first 10-gigabit networking accessories becoming affordable. There are a few switches on the market that include a couple of 10-gigabit ports for under $200.00. Which is great for most consumers. What if I need more that two 10G ports? The options you're left with are a bit limited and can cost upwards of $800.00.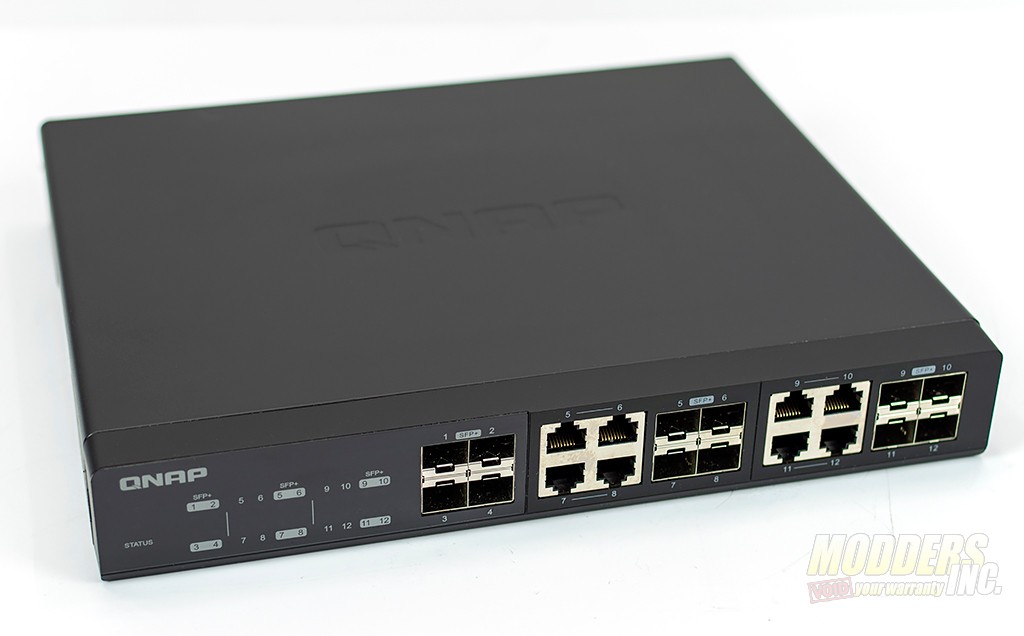 The QSW-1208-8C-US is a great option to fill the gap for users needing/wanting more than two 10G ports and don't want to spend a bunch of money. There are two versions of the QSW-1208C. The 8-port version currently retails for $469.99 and the 12-port version is $100.00 more at $569.99. This is not a terrible price when you consider the actual per-port cost. The QSW-1208 also gives you the options to use your existing wiring and RJ45 ethernet, you can choose to use fiber cables with SFPs, or your choice of DAC (Direct Attached Copper) cables. SFP+ modules, fiber cables, and DAC cables are dropping in price as well. Options are good.
The QSW-1208-8C is multi-gig capable as well. Gigabit ethernet has served us well since the '90s it is time to move one. Wireless is a great example of why we need multi-gig. Wireless network bandwidth is starting to outpace wired networks. However, at some point, the wireless access point still needs to connect to the wired network. 802.11ac Wave 2 access points are not quite at 10G levels and without multi-gig, the connection automatically negotiates down to 1G. Multi-gig solves this by adding 2.5G and 5G speeds over existing CAT 5e or CAT 6 cables. Wireless is only going to get faster and with 802.11ac Wave two access points in the market, they are going to need something more than a single gigabit link.
The QSW-1208-8C is an unmanged, plug and play switch. Plug it in and go. It is as simple as that. If you're a content creator with large network storage, you'll be pretty pleased with the simplicity of the QSW-1208-8C. For me, I'm extremely pleased with the QSW-1208-8C. I don't have to fuss with a configuration on my network, although that can be both a blessing and a curse when something isn't working properly and I want to gather logs from my switches. Overall, I'm very pleased with this switch. The price sits in that sweet spot for me and opens more speed options on my network.
You can pick up the QSW-1208-8C at Amazon.