Closer Look at the QNAP TS-328 »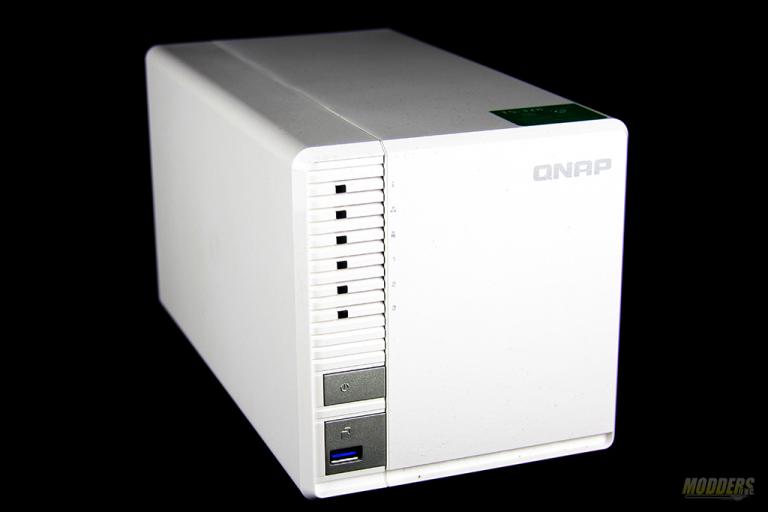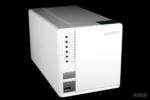 Home storage is pretty easy to find nowadays. What are your needs from your home storage device? Many of us look for reliability and performance at a reasonable price. When someone mentions reliability in storage I personally think of RAID technology which many NAS manufacturers use today. RAID is a Redundant Array of Independent Disks which combines multiple of disks into one volume for data redundancy. This data distribution method was created in 1970s. RAID comes in many levels and RAID 5 is widely used. RAID 5 requires three disks to stripe data across and in the event of a drive failure your data is still safe. The QNAP TS-328 provides exactly that. TS-328 is a three bay, budget-friendly NAS that comes with all of the goodness of QNAP's QTS(Operating System) and its applications.
Review Sample Provided by: QNAP
Product Name: TS-328
Price at time of review: $ 249.00 USD MSRP
Product was given in exchange for work done to produce this review.
Packaging
Most of the devices by QNAP come in recyclable boxes and TS-328 is no exception. There isn't much of technical data mentioned on the shipping box however, QNAP did mention that this is the Most affordable RAID 5 NAS on the market. Our sample version comes with 2GB of DDR4 RAM and there is no possible way to upgrade it in TS-328.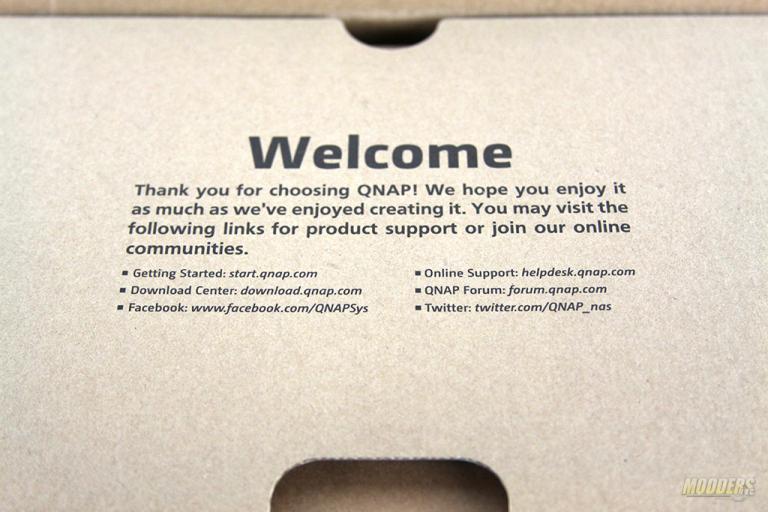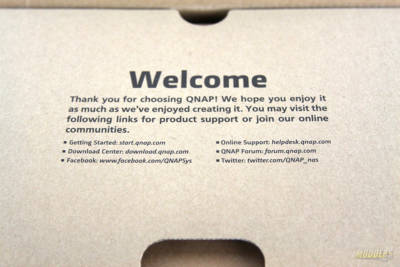 QNAP always tries to be as friendly and appreciative as possible towards its customers. There are multiple resources available to get you up and running in no time. Most of the helpful resources are listed on the internal flap of the shipping box.
The internal packaging of the QNAP TS-328 is very neat. TS-328 itself is placed in the center of the box with sounding accessories on either sides. Accessories include a single Ethernet Cable, Power brick, additional rubber mounts for the hard drive tray, Quick Installation Guide and SSD tray information.
Hardware Specifications
CPU
Realtek Quad-core ARM CortexA53 (64-bit), RTD 1296, 1.4GHz
Encryption Acceleration
System Memory
2GB DDR4 RAM (not expandable)
Flash Memory
4GB eMMC
Drive Bay
Hot-swappable 3 x 3.5″/2.5″ SATA 6Gb/s HDD/SSDs (bundled one 2.5″ tray base for installing 2.5″ HDD/SSD; additional purchase can be made from QNAP shop)
Gigabit Ethernet Port
2 x RJ45 Gigabit LAN port
USB Port
2 x USB 3.0 (1 x Front); 1 x USB 2.0 (Rear)
Audio
speaker, 3.5mm line out jack
LED Indicators
Status/Power, LAN, USB, HDD
Buttons
Power, USB copy, Reset
Security Slot
Kensington security slot
System Warning
Buzzer
Dimensions (H x W x D)
142 x 150 x 260.1 mm
5.59 x 5.9 x 10.24 inch
Weight
Net weight: 1.64 kg (3.62 lbs)
Gross Weight: 2.69 kg (5.93 lbs)
Operating Temperature & Relative Humidity
0 ~ 40˚C (32˚F ~ 104˚F)
5~95% RH non-condensing, wet bulb: 27˚C (80.6˚F)
Power Consumption (W)
HDD standby: 7.24W
In operation: 18.35W
Power Supply Unit
External Adapter 65W, 100 – 240 V
Fan
1 x 9 cm smart Fan (12V DC)
Sound Level
16.5 dBA
Package Contents
NAS, QIG, 1 x RJ45 ethernet cables, AC adapter
Software Specifications
Operating System
QTS 4.3.4 (embedded Linux)
Power Management

Wake on LAN
Internal hard drive standby mode
Scheduled power on/off
Automatic power on after power recovery

Supported Client Operating Systems

Apple Mac OS 10.7 or later
Linux and UNIX
Microsoft Windows 7, 8, and 10
Microsoft Windows Server 2003, 2008 R2, 2012, 2012 R2 and 2016

Storage Management

Storage space utilization monitoring
Flexible volumes and LUNs with thin provisioning and space reclaiming
Disk volume types

RAID 0, 1, 5, JBOD, single

Supported Browsers

Apple Safari 7 or later
Google Chrome
Microsoft Internet Explorer 10 or later
Mozilla Firefox

File System

Internal Hard Drive: EXT4
External Hard Drive: EXT3, EXT4, NTFS, FAT32, HFS+

Networking

TCP/IP (IPv4 & IPv6: Dual Stack)*
Service binding based on network interfaces
Squid Proxy server
Proxy client

Qsync

File syncing across multiple devices with SSL secure connection
Selective synchronization for specific folders or subfolders
Team folders as file center for better collaboration
Note: The maximum number of sync tasks is 32 for x86 devices and 5 for ARM devices.
File sharing through email links

Access Right Management

Batch users creation
Import/Export users
User quota management
Local user access control for CIFS, AFP, FTP, and WebDAV

Web Administration

Smart toolbar and dashboard for system status display
Dynamic DNS (DDNS)
SNMP versions 2 and 3
Resource monitor

Security

Network access protection with auto-blocking: SSH, Telnet, HTTP(S), FTP, CIFS/SMB, AFP
CIFS host access control for shared folders
FIPS 140-2 validated AES 256-bit volume-based and shared folder data encryption*
AES 256-bit external drive encryption

Domain Authentication Integration

Microsoft Active Directory (AD) & Domain Controller support
LDAP server, LDAP client
Domain users login via CIFS/SMB, AFP, FTP, and File Station

Resource Monitor

Monitor NAS system resources including CPU, memory and network.
Monitor NAS storage resources including volumes, RAID, and disk activity.
Monitor the resource usage of NAS applications.

Multilingual Support
Chinese (Traditional & Simplified), Czech, Danish, Dutch, English, Finnish, French, German, Greek, Hungarian, Italian, Japanese, Korean, Norwegian, Polish, Portuguese (Brazil), Romanian, Russian, Spanish, Swedish, Thai, Turkish
myQNAPcloud Service

Private cloud storage and sharing
Free hostname registration (DDNS)
Supports myQNAPcloud SSL certificates (DDNS)
Auto router configuration (via UPnP)

Helpdesk

Report issues to the QNAP support team, with automatically-collected system information.
Allows QNAP support engineers to remotely connect to the NAS to fix issues (with user permission).

File Server

File sharing across Windows, Mac, and Linux/UNIX
Windows ACL
Advanced folder permissions for CIFS/SMB, AFP, FTP
Shared folder aggregation (CIFS/SMB) monitoring & management

FTP Server

FTP over SSL/TLS (Explicit)
FXP support
Passive ftp port range control

Hybrid Backup Sync

Cloud storage backup to Amazon S3, Amazon Glacier, Microsoft Azure, Google Cloud Storage, Openstack Swift, WebDAV, and HKBN
Cloud storage syncing with Microsoft OneDrive, Google Drive, Dropbox, Amazon Drive, Yandex Disk, Box, hubiC, BackBlaze B2, Amazon S3, and HiDrive
RTRR server & client with bandwidth control
Rsync server with download bandwidth control

Qcontactz

One-way scheduled sync of contacts from multiple Google accounts
Import contacts from file: CSV or vCard 3.0
Export contacts into a file: CSV and vCard 3.0
Find duplicate contacts and merge them

Notes Station 3

Multi-user text editing using the collaborative editor
Table creation using the spreadsheet editor
Online quick preview of multimedia attachments
Smart snapshot for version control

Surveillance Station

Supports over 3,000 IP cameras
Includes 2 free camera licenses, up to 24 camera channels via additional license purchase
Instant playback to check recent events
Online editing to edit cameras during live view

AirPlay & Chromecast
Streams videos, photos and music from NAS to Apple TV or Chromecast via File Station, Music Station, Photo Station, Video Station or mobile app (Qfile, Qmusic, Qphoto or Qvideo).
Note: Media Streaming add-on app from the App Center is required
Photo Station

Photo organization by thumbnail, list, timeline, or folder
Virtual and smart albums
Validity control for album sharing
Photo tagging with text, colors, and ratings

File Station

Supports mounting cloud drives (such as Google Drive, Dropbox, Microsoft OneDrive, Microsoft OneDrive for Business, HiDrive, Amazon Cloud Drive, Yandex Disk and Box).
Supports mounting remote shared folders through FTP, WebDAV or Microsoft networking (SMB/CIFS)
Supports opening documents via Office Online, Google Docs or Chrome Extension (Edit Office files in Google Docs, Sheets, and Slides)
Supports ISO Mounting (Up to 256 ISO Files)

Transcode Management

Video transcoding (240p, 360p, 480p, 720p and 1080p resolution)
Automatic video transcoding for watched folders
Hardware-accelerated transcoding
Embed subtitles into videos for background transcoding

Qfiling

Auto filing
Recipe function
Archiving through iSCSI, USB, DVD and remote NAS
Advanced settings

Qsirch

Full-text search
Data distribution using a bar chart
Previews for photos, music, videos, PDFs, Gmail, and others
Advanced search operators and search scope

QVPN Service (Integrated VPN Server, VPN Client and L2TP/IPSec VPN Services)

VPN Server: Secure remote access with PPTP、L2TP/IPSec & OpenVPN VPN services
VPN Server: Up to 100 clients.
VPN Server: Supports domain users as VPN users.
VPN Client: Supports PPTP, L2TP/IPSec & OpenVPN VPN protocols.

Download Station

PC-less downloads (BitTorrent, FlashGet, FTP/FTPS, HTTP/HTTPS, QQDL, and Thunder)
Note:

The application supports a maximum of 500 tasks.
The maximum number of concurrent downloads is:
Other ARM-based NAS devices: 30 (10 BT/PT, 10 HTTP, 10 FTP)

Storage Plug & Connect

Creating and mapping shared folders by QNAP Windows Qfinder Pro
Creation of and connection to iSCSI target/LUN

iTunes Server
Audio and video sharing for Windows & Mac iTunes
Container Station

Supports LXC and Docker
Supports CPU/Memory management
Download applications from the built-in Docker Hub Registry
Supports one-click installation, container export/import & console mode

DLNA Server

Supports DLNA/UPnP TVs and players such as PlayStation 4 and Xbox One
Supported audio formats: AIFF, APE, DSD (DSF, DFF), FLAC, M4A, M4A Apple Lossless (ALAC), MP3, OggVorbis, WAV (PCM, LPCM), WMA, WMA PRO, WMA VBR*
Support CUE indexing file for APE, FLAC audio format.
*DRM-protected content is not supported.

iSCSI (IP SAN)

iSCSI target with multi-LUNs per target (Up to 256 targets/LUNs combined)
Supports LUN mapping & masking
Online LUN capacity expansion
Support for SPC-3 persistent reservation

Video Station

Show photos by thumbnails, list, timeline, or folder view
Supports virtual/smart collections
Tag videos with text, color, and ratings
Share video links to social websites or through email

Print Server

SMax number of printers: 3
Supports Internet Printing Protocol
Print job display and management
IP-based and domain name-based privilege control

App Center
Official and community software add-ons such as Signage Station and Notes Station
This and additional technical information on TS-328 could be found on QNAP.com