« Anvil Storage Utilities Results
Conclusion & Final Thoughts
The performance results speak for themselves. The QNAP TS-451 clearly leads the benchmark results and sometimes up to 50% faster than the Thecus N5550. However, don't discount the fact that we are testing two different processors and there are bound to be performance differences between them. There are a couple of reasons that we tested against two different processors. Number one, there are a lot of NAS units out on the market that use Atom processors and some that use Celeron or even Core2Duo processors. I wanted to show the difference in performance between the two and since this is our 1st NAS with something other than an Atom I felt it was important to show the performance differences.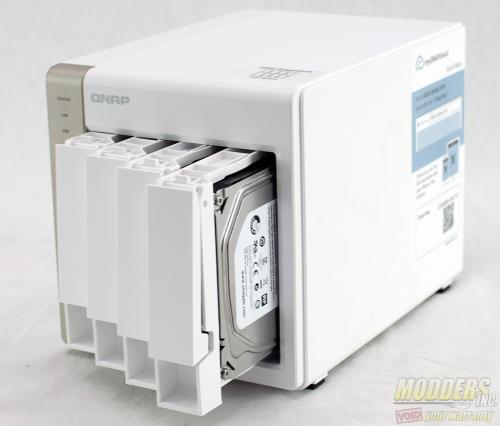 The QNAP TS-451 is one of the fastest NASes that I have tested to date. After setting up the unit for benchmarking, I placed the TS-451 on the network and moved the shared files to it and over the last couple of weeks there have been no complaints. Currently in my household there are 6 people all with at least one PC.
Not only does the QNAP TS-451 host files, but it also keeps track of things on my network such as syslogs from my switches and router/firewall. I did get around to setting up the iTunes media server and now anyone with an Apple device can stream music from the library. Our  digital copies of the movies are stored on this device as well and it acts as a media streamer. Recently I've had 3 different movie streams going at a time and no one reported back any stuttering or quality issues.
During network transfer tests, every NAS that I have tested shows upwards of 30% (or more)CPU utilization. Depending on the RAID type is should be expected as the CPU has to do the parity calculations. However, I didn't expect the difference between the Atom and Celeron processors to as large. It should go without saying that the non-Atom based NAS has a large advantage in some cases. However, I don't want to turn everyone away from the Atom based NAS. They have their place and are inexpensive.
QNAP"s QTS interface is extremely easy to navigate and easy to use. From the initial setup all the way down to the advanced features QTS 4.1 feels very well polished. Health information is always accessible so you can see how your NAS is holding up. This is one of the more polished interfaces that I have used.
At this point in time, for the home or small office consumer, we are financially limited to a gigabit ethernet network. Ten gigabit ethernet is on the market but it is extremely costly to implement. A simple 8-port switch costs upwards of $800.00 and RJ-45 network cards cost around $500.00. But with time, 10 gigabit networks will find their way down to the consumer level. One gigabit network bandwidth is maxed out at around 125-130 Mb/s mathematically and if you take into account network overhead in the range of 10-15% 110-115 Mb/s is a real number that you can expect to see on your network.  Network tests show the TS-451 is able to saturate a single 1 gigabit link and the results are right in line with what one should get transferring data over the network.
It is the additional features and capabilities of the TS-451 that set it apart in my opinion. The option to add the device to a Windows Domain and add and remove domain accounts directly to the shares, the ability to set up a syslog server, and the ability to act as a a media PC which connects directly to the TV are all features that should be included in this level of NAS and brings added value to the device. Currently the QNAP TS-451 retails for about $499.99 without drives. However, if you take into account the speed and added features the price is well worth it.
If you are looking for a powerful, small, and elegant NAS the QNAP TS-451 should be on your list. With all the features and capabilities this little box can provide, I don't think you will be disappointed.
[sc:must_have_award ]