QuakeCon
QuakeCon 2019: DOOM and Case Mods
A.K.A. TimCon
Image Gallery »
Planning to attend QuakeCon for some people is done months or even a year in advance. There is a lot to think about for this annual trek to the largest LAN in the USA. Hotel rooms, travel, who of your friends will be going and who of your friends you have to push along because they are dragging their feet about going. For us, Modders Inc, we start thinking about how did the show go for us, what worked, what did not work, and what could we do better for next year right after the event. We are normally in contact with sponsors and manufacturers around the time of CES in January. We have to make sure that they are aware of what's coming up so they can edit budgets and such. Without them, our job at QuakeCon would almost be impossible.  Each and every one of these awesome companies send out prizing that we can giveaway to the case mod contest winners and to giveaway in raffles and our late night Random Act of Kindness. You might be deep into a game and out of the corner of your eye you see a 6'8″ man with a brand new Case, AIO or whatever in hand saying "please take this gift on behalf of… and enjoy the rest of QuakeCon".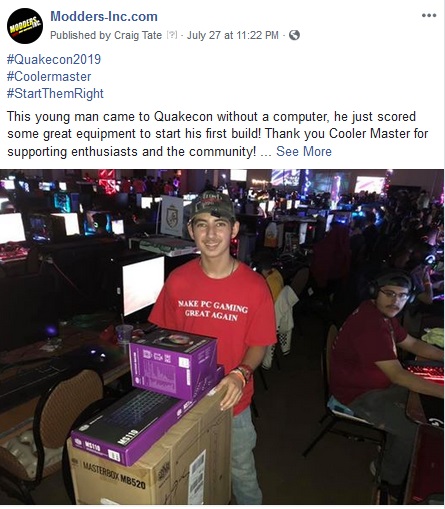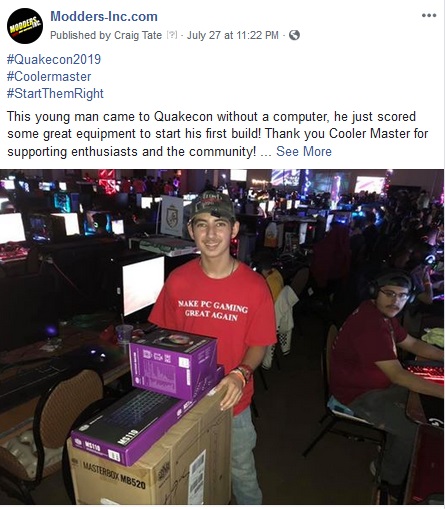 I must take this time to say a huge THANK YOU to those that support us to make sure that you, as an attendee, have the best time ever!
| | |
| --- | --- |
| Sponsors | Sponsorship Level |
| | |
| | |
| | |
| | |
| | |
| | |
| | |
| | |
| | |
| | |
| | |
| | |
| | |
On a sad note, our friend and biggest supporter for the past 8 years, Tim Willits, had decided to end his 24 years with id software. As we spoke to him about it on Thursday, we found out that he was still an employee and the HR department wanted him to come to the office on Friday to sign his exit papers. Tim politely said "If you want me to sign them you will have to come to QuakeCon because as that is where I will be" and they did so. On Saturday, Tim was no longer an id/Bethesda employee but you would have never of known it as he was still in his ever-present and supportive mode like all past QuakeCon. The one thing that rocked us all was when he said "This will be my last QuakeCon…" our eyes opened wide and jaws dropped "… as an employee. I will be back next year in the BYOC and finally be able to enjoy the other side, if I can get a BYOC seat". Tim, I don't think you will have a problem getting a set.