CPU Cooler
Be Quiet Dark Rock TF Review: Setting the Silent Cooling Standard
« Introduction and Specifications
|
Installation Procedure and Clearance Issues »
Closer Look at the Be Quiet! Dark Rock TF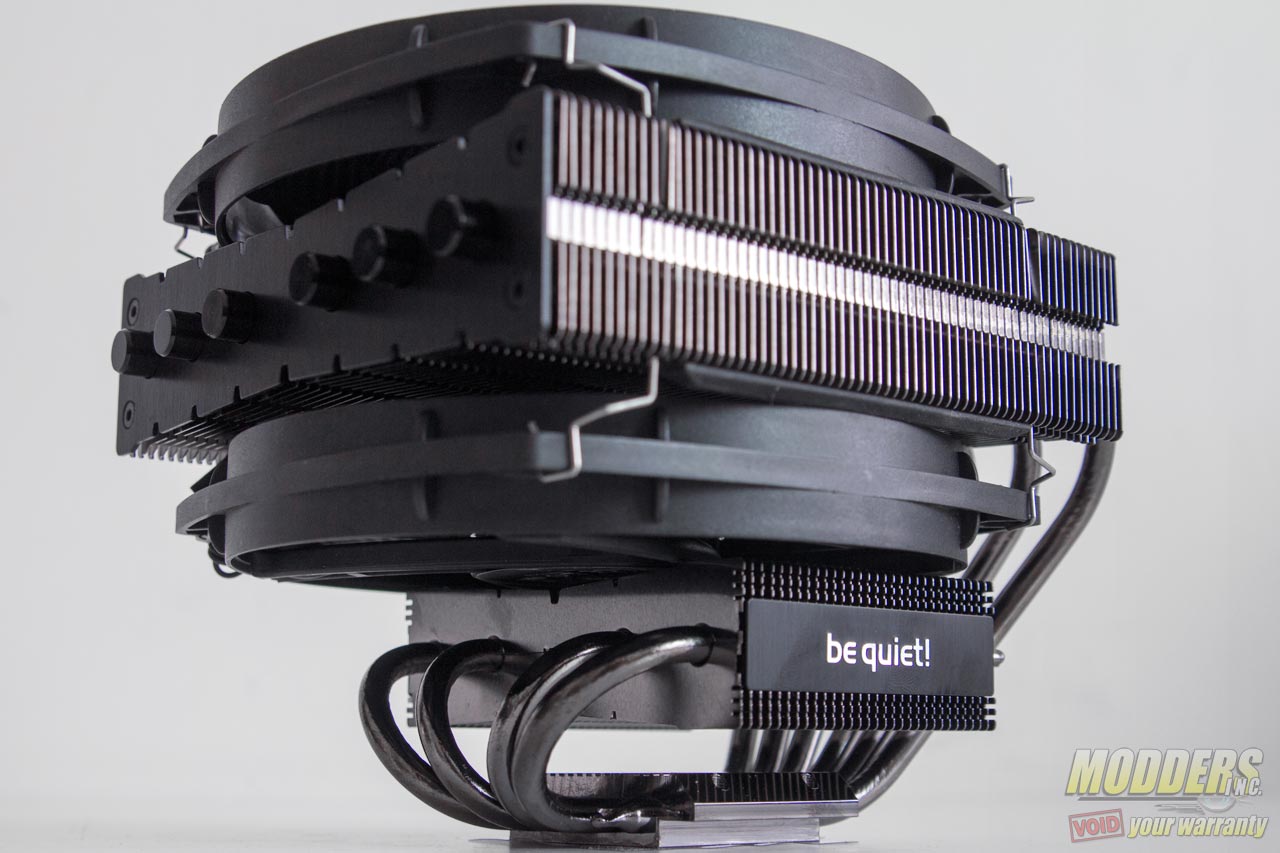 The Dark Rock TF features a unique take on the traditional C-type design with its large size and secondary fin array. It actually looks like a "G-type" cooler because of this. The large size also allows for a pair of 135mm fans to be mounted. As with all of Be Quiet's Dark Rock series coolers, the Dark Rock TF is gorgeously finished with a dark nickel plating and has a black brushed aluminum end-cap at the tip. Total height with both fans installed measures 130.8 mm tall on a 162.58 x 140 mm body.
The heatpipe arrangement is an interesting one with six long 6mm heatpipes extending tall and curving toward a wide aluminum fin array. Four of the middle heatpipes that go through the base extend upward again on the other side and curve into a smaller fin array. A strip of rubber is hard fixed at the edges for fan vibration dampening.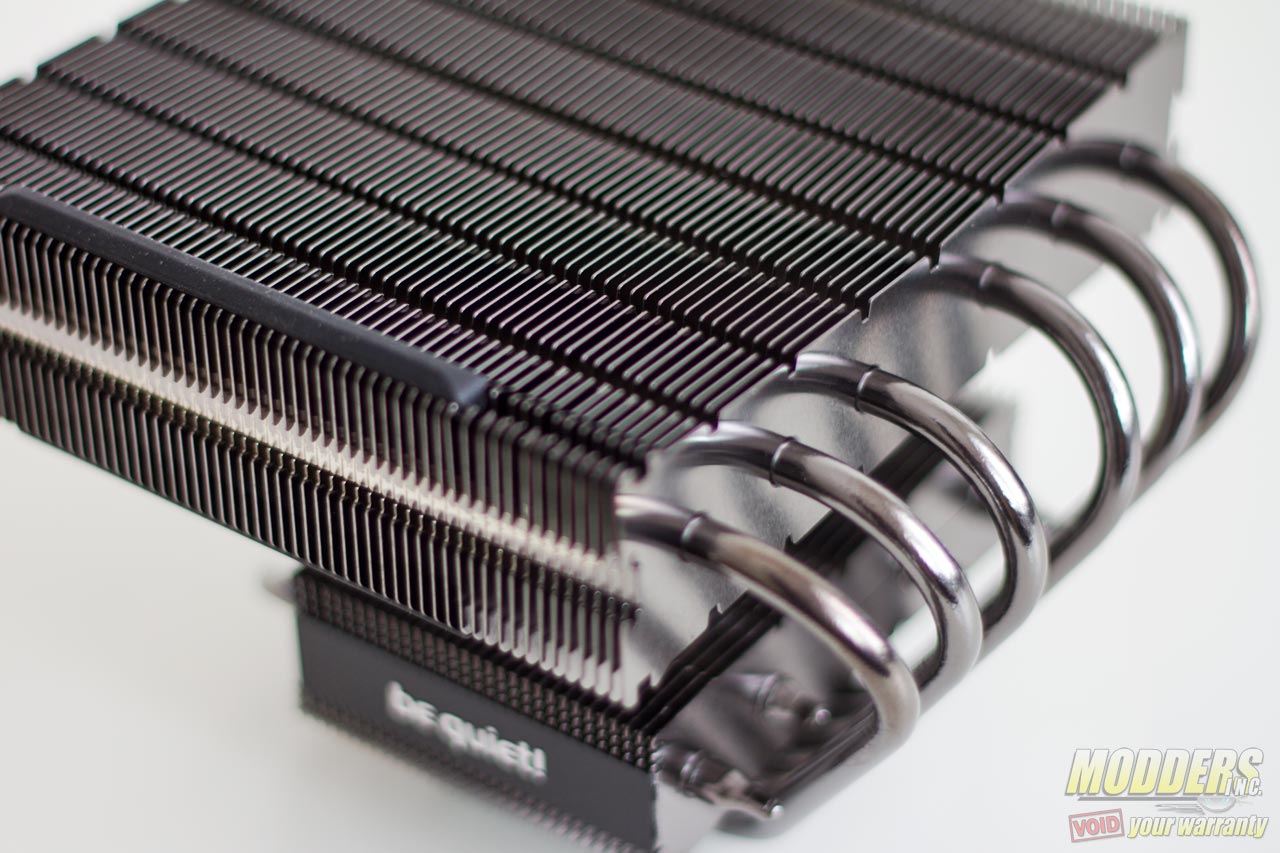 The main top array has 64 aluminum fins (not including the end cap) while the secondary smaller aluminum array is actually comprised of two sets of 31 fins stacked on top of each other with four heatpipes in the middle. Both arrays also curve toward the middle with valleys every 1.5cm and a much more prominent dip at the center for the airflow deadzone.
The contact surface is nickel plated as well with very fine rounded machining marks. The surface is flat and is fairly reflective.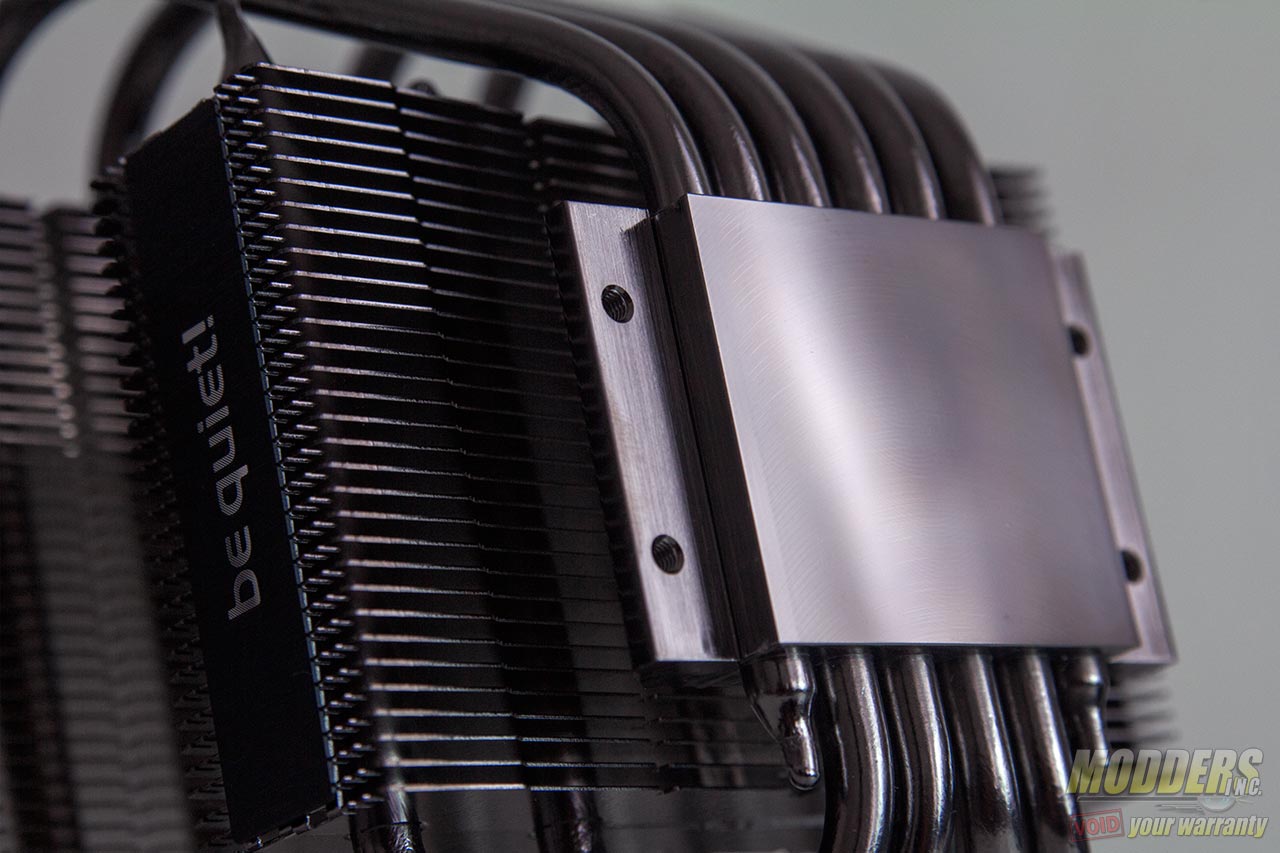 The bundled fans measure 135mm and are only 22mm thick compared to the standard 25mm fan. The fan mounting holes are for a 120mm fan although the fan mounting position is at the center similar to the Dark Rock Pro 3 fans so using the fan clips on a regular replacement fan will not fit. The fan blades have a shallow angle of attack with a wider tip than base and the usual highly ridged surface present in all BeQuiet fans.
The fan cable is nicely sleeved and has a black 4-pin connector, Readings from ASUS Fan Xpert II reveal the real-world controllable PWM range: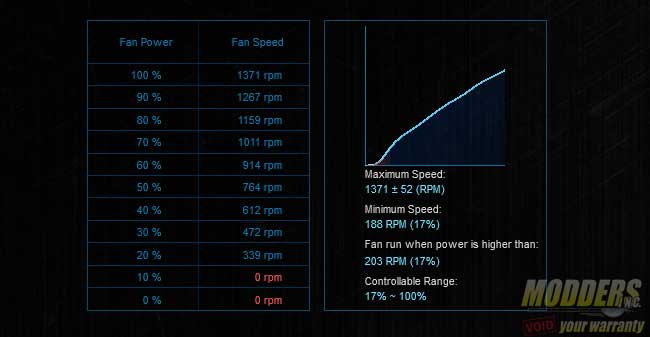 Bundled Fan Specifications:
| | |
| --- | --- |
| Dimensions | 135 x 135 x 22 mm |
| Connector | 4-pin PWM |
| Bearing | Fluid Dynamic Bearing |
| Blade Geometry/Frame Technology | 6-pole Fan motor |
| Input Current (A) / Power (W) | 0.20 / 2.4 |
| Cable Length (mm) | 220 |
| Speed @ 100% PWM (rpm) | 1400 |
| Air flow @ 12V (cfm / m3/h) | 67.8 / 113.8 |
| Air pressure @ 12V (mm H2O) | 1.85 |
| Overall noise level (dB(A)) @ 50/75/100% (rpm) | 11.9 / 19.3 / 26.7 |