CPU Cooler
Be Quiet Dark Rock TF Review: Setting the Silent Cooling Standard
« Installation Procedure and Clearance Issues
|
Final Thoughts »
Test System and Benchmark Results of the Dark Rock TF

Ambient temperature monitored at case intake and temperature Delta was used.
All case and heat sink fans were benchmarked with fan control settings disabled and running at 100% unless otherwise specified.
Intel integrated video is utilized to eliminate additional ambient heat source from discrete graphics cards.
Temperatures are averaged (last minute) from individual core temperature results monitored by AIDA64 after 15 minutes.
Stock settings have all power saving features enabled in the motherboard with Vcore set static to 1.1V and set to "Balanced" in the OS.
All tests were taken at least three times to get the final result.
Note that performance results on this setup are not directly comparable with any benchmarks from previous reviews as the UEFI BIOS on the motherboard has been updated and now has a much tighter control on the Vcore voltage.
Since it is an ASUS motherboard, it engages all cores when it turbos so temperature will be higher compared to other Z87 motherboards that do not by default.
An American Recording Technologies SPL-8810 was used for noise level measurement in dBA, 20CM away from the center fan intake.
Benchmarks: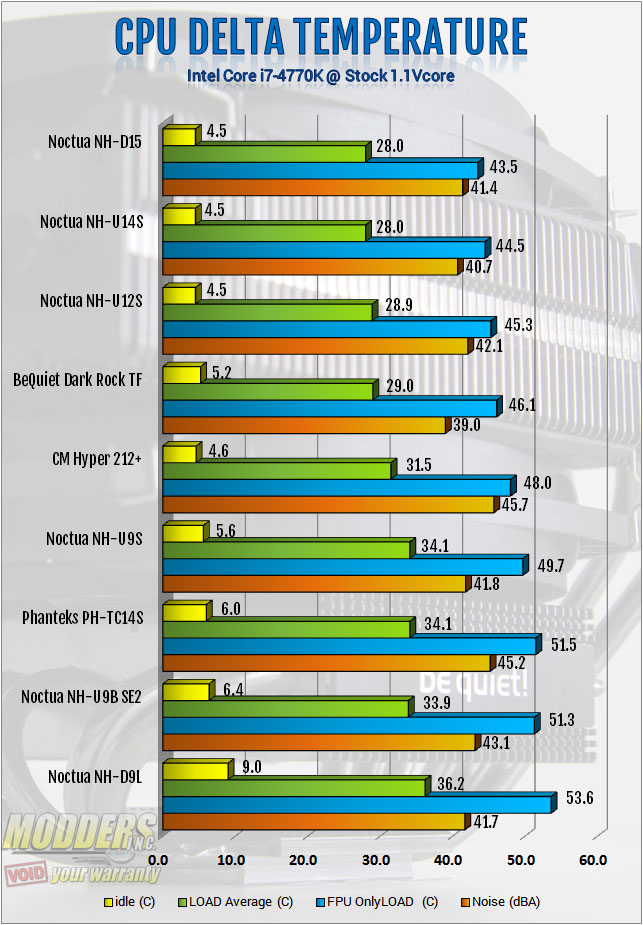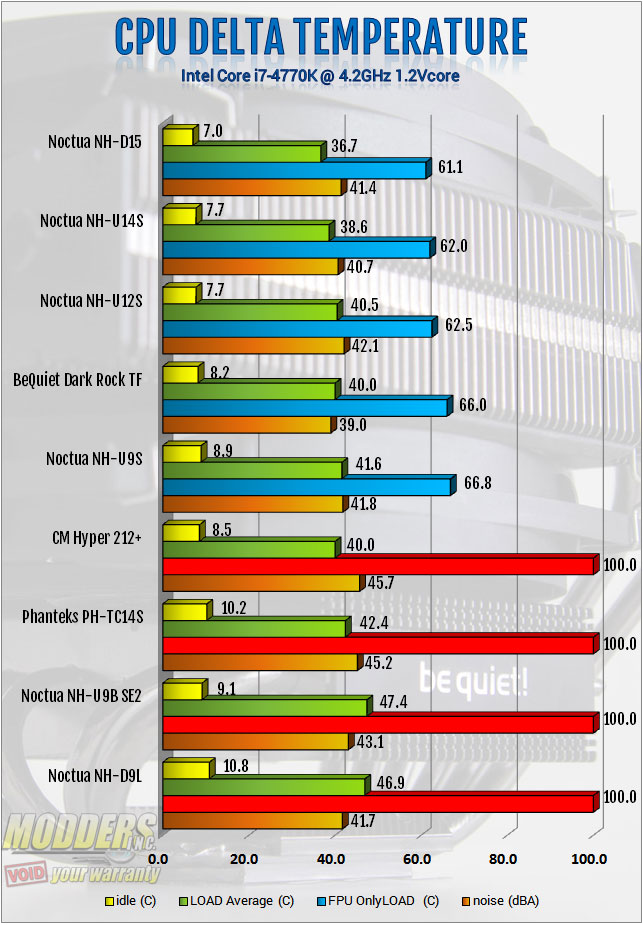 Sound Profile (Fan RPM vs Noise Level):
| | |
| --- | --- |
| Fan Speed | 2x 135mm BeQuiet SilentWings fans |
| RPM | dBA |
| 1400 | 39 |
| 1300 | 37.7 |
| 1200 | 36.5 |
| 1100 | 35.9 |
| 1000 | 35.4 |
| 900 | 35 |
| 800 | 34.8 |
| 700 | 34.8 |
The sound profile is very interesting as it is one of the lowest I've ever seen in a CPU cooler. The ambient noise in the room was 34.8 dBA measured with a commercial SPL meter so that means by 800RPM, it could not distinguish between ambient room and the Be Quiet SilentWings fans installed on the Dark Rock TF. Of course when measured in an industrial setting and with much more expensive equipment, it can be detected but what this means for average users is that they will not even know if the fan is on or not until it goes to 900RPM and even then when it is inside an enclosure it will be objectively silent. Simply impressive.
The dual fan solution makes the Dark Rock TF quite taller than most C-type coolers at 130.8mm however this is still a lot shorter than typical 120mm CPU coolers such as the CM Hyper 212+/EVO which stand 159mm tall. If the top fan on the Dark Rock TF is removed, the height can be lowered to 107.5mm which makes it shorter than even the Noctua NH-D9L which is 110mm tall. So how would the Dark Rock TF perform if only a single fan was used (middle fan only)? The tables below show the performance compared to dual-fans with the fan positioned downward (pulling heat from the larger fin array and pushing into the secondary fins) and with the fan positioned to blow upward (toward the larger fin array and pulling from the secondary smaller fins). Also added are the performance numbers for 800 RPM: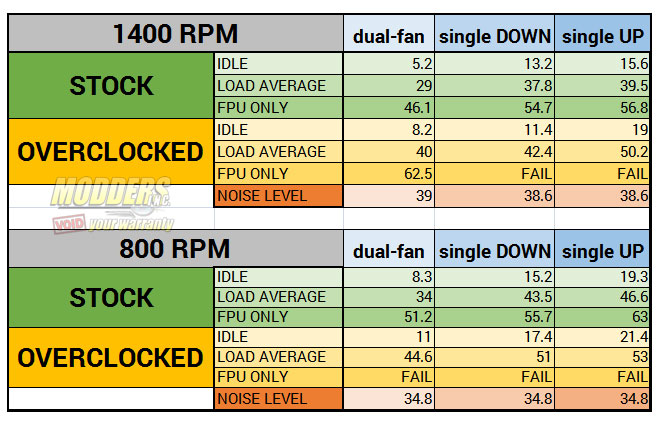 Even though the upward blowing fan pushes air away from the larger fin array, it performed less than with the default middle fan blowing downward. Things get a lot toasty when the fan speeds are set to a low 800RPM but a more practical way to look at this is that the Dark Rock TF does not need to go that low to be quiet as even running it at 1100 RPM will be almost inaudible inside a regular case and with a suitably noise-dampened case, even running it in PWM mode will net very good thermal results.