CPU Cooler
Cooler Master MasterAir MA610P Review
No water needed
A Closer Look at The MasterAir MA610P »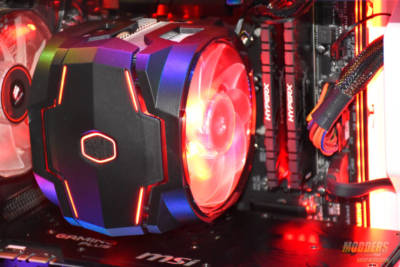 If you'd ask an enthusiast to part out their dream build, most, if not all would include some kind of liquid cooling. However, in the real world, many people are discouraged from water cooling due to its high cost. Also, the thought of mixing liquids and electronics can also put people off. That's not to say that they don't want high end cooling performance. For these, and other reasons, air cooled PCs are still very popular and go far beyond stock coolers.
The Hyper 212 EVO is not only one of Cooler Master's most popular air coolers, but one of the most popular air coolers overall. But what about the enthusiasts who want extreme overclocking, but who just aren't comfortable with water cooling. Well, Cooler Master has you covered with their all new MasterAir MA610P, the successor to the V8 GTS and more recently,  the MasterAir Maker 8. Both of which are great coolers. So when we were asked to check out the MA610P, I was very excited to see what this cooler had to offer over its predecessor. So we put the MA610P through the motions. Now, let's see how it did.
Packaging
The packaging for the MasterAir MA610P is slightly different from previous coolers, such as the Hyper 212 EVO. Gone is the black and white design of older packaging. Instead, Cooler Master has gone with a black and blue color scheme, and I think it works well.
The front of the box has the Cooler Master "Make It Yours" logo printed on the top, left hand corner. To the right, they display the various type of RGB software this cooler is certified to work with. In the center, and taking up most of the front, is a depiction of the actual cooler. Across the bottom is the MASTERAIR MA610P product branding.  The rear of the packaging has a list of key features, in several languages. Across the bottom is a diagram that shows every dimension of the cooler.
The left side of the box has the specifications of the MASTERAIR MA610P in a convenient chart.  Across the top of the right side of the box is the Cooler Master "Make It Yours" logo and the MASTERAIR MA610P branding.  Below that is a short paragraph on the origin of this cooler. Lastly, they have a top down view of the cooler.
All the hardware comes packed in a small white box with the warranty paper work and installation guide packed with it.  The hardware in the box include the universal back plate with screws and clips, both Intel and AMD mounting brackets, a fan splitter and a Molex connected RGB controller. The Cooler itself comes packed in soft foam which provides great protection during shipping.The MasterAir MA610P comes with mounting hardware for all modern Intel sockets going back as far as LGA 775, and all AMD sockets from FM1 to AM4.
Specifications
Model
MAP-T6PN-218PC-R1
CPU Socket
Intel® LGA 2066 / 2011-v3 / 2011 / 1366 / 1156 / 1155 / 1151 / 1150 / 775 socket

AMD® AM4* / AM3+ / AM3 / AM2+ / FM2+ / FM2 / FM1 socket

Dimensions (LxWxH)
130.9 x 112.8 x 166.5 mm
Heat Sink Dimensions (LxWxH)
116 x 60 x 158 mm
Heat Sink Material
6 Heat Pipes / CDC 2.0 / Aluminum Fins
Heat Sink Weight
616 g
Heat Pipe Dimensions
Ø6 mm
Fan Dimensions
120 x 120 x 25 mm x 2pcs
Fan Speed
600 – 1,800 RPM ± 10%
Fan Air Flow
53.38 CFM ± 10%
Fan Air Pressure
1.65 mm mmH2O
Fan Life Expectancy
160,000 hrs
Noise Level
35 dBA (MAX)
Connector
4-Pin
Rated Voltage
12 VDC
Rated Current
0.30 A
Safety Current
0.37 A
Power Consumption
3.6 W
Warranty
2 Years