« Hardware Installation and Clearance Compatibility
Final Thoughts
Just like how the laws of classical Newtonian physics begins to break down and no longer hold true as it approaches the topic of sub-atomic particles, compact enclosures have a different set of rules independent of typical ATX tower cases. Smaller system builds used to mean that room for upgrading is minimal and cooling options were even less so, but this is beginning to change with many users asking for a compact solution that fits in between. Although this middle ground between the two has been ventured, it is a wide gap to cross, leaving room for plenty of interpretation on what components should be supported and what traditionally compact features are worth keeping. Manufacturer Raijintek has already explored what is possible with an ITX build with their Metis case, and keeping that simple but elegant approach to the micro-ATX Styx case, Raijintek has another winner in their hands.
Raijintek's build quality typically favours value over everything else but the Styx, just like the Metis, is significantly more impressive with its aluminum build compared to their other cases. Even the matte white version reviewed here, which is the only color option that does not feature the brushed aluminum look, still looks and feels objectively better than even most compact cases in its price range. The only plastic parts were the fan, the acrylic side window and the top mesh filter; And even that is enveloped in a hefty 0.5mm steel mesh, so there is no chance of snapping it. To keep the price competitive of course, the rest of the internals were made of steel but it is hardly a deal breaker for the price, currently only $82.99 at NewEgg.com.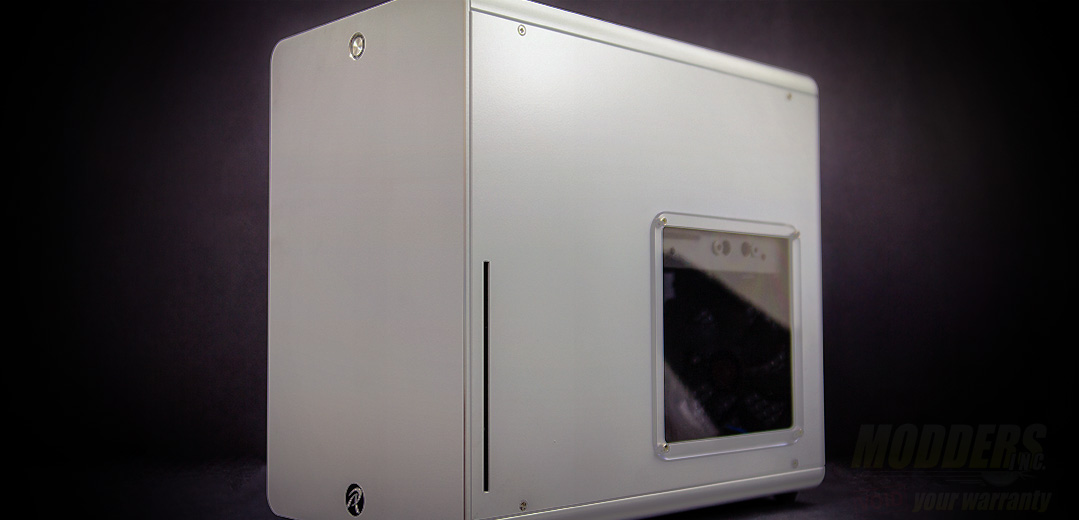 As with all compact cases however, it is not without its faults. The cable management support in particular is its more obvious weakness. Not just because there is only 15mm clearance behind the motherboard tray (could easily trade 10mm less CPU height clearance for this), but because routing the 8-pin EPS12V cable on an upside down micro-ATX layout is extra difficult if there is not enough room to pass it through. Although there is a routing hole there, the motherboard blocks half of it once mounted, rendering cable pass-through close to impossible even with slim cables. A little more millimetres of room would have improved installation significantly, even at the cost of less radiator clearance at the top. The bottom part of the motherboard does not really have anything that protrudes such as a VRM heatsink so the radiator+fan installed can actually encroach a bit on that area without an issue (as long as all the headers that need to be plugged in are connected beforehand). A larger backplate cut-out in lieu of the other 2.5″ drive mount would be much more preferable as well. On large ATX cases where it is easy to swap motherboards in and out, backplate cutouts are not that necessary but on compact cases such as the Styx, it saves a lot of time having the ability to install the CPU cooler conveniently without taking out the motherboard. As it is, the backplate cutout provided is only suitable for mini-ITX motherboards, but not too serviceable for micro-ATX use.
The Raijintek Styx' strength lies in its simplicity and despite some shortcomings, it is a wonderfully constructed case at an impressive price. Due to its rivet-less design, the Raijintek Co. Ltd. Styx is also a modders dream and is easily customizable. Even graphics cards longer than the official 280mm clearance is supported (although highly conditional). Even the largest CPU air coolers up to 180mm tall and 240mm radiator water-coolers can fit comfortably. For those who prefer one without a window, the "classic" version is also available with solid panels. On top of the color variety, the Raijintek Styx has proven to be one of the best micro-ATX cases currently out there.