« Page 2
|
Page 4 »
Installation of the Raijintek THEMIS Evo

Except for Intel LGA2011 motherboards, installation requires users to use the universal backplate provided which is insulated for AMD motherboards on one side while compatible with Intel mainboards on the other. The default backplate and mounting hardware on AMD motherboards need to be removed first before proceeding.  Once everything is ready, align the appropriate mounting hole to the mainboard mounting hole then pass the four knurled threads through the rear and secure with threaded spacer nuts on the top surface side of the motherboard. The threads hold the backplate in place so installation can be done even when the motherboard is already mounted inside a case.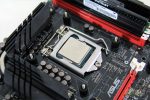 Decide how the THEMIS Evo will be oriented and then place the pair of mounting bars on top of the spacer nut assembly. Thumb screws are used to hold these mounting bars in place.  Make sure not to completely tighten these thumbscrews before making sure that the crossbar is aligned properly with the mounting holes for the M3 screws.  Once orientation and alignment looks good, apply some thermal compound on the CPU IHS surface or on the heatsink surface then secure the cross bar with M3 screws.
Unlike other heatsinks, Raijintek does not use metal fan clips to mount fans on the THEMIS Evo but uses anti-vibration fan mounts instead. A groove along the sides of the THEMIS Evo allows users to slide in the fan mounts which are placed at the top and bottom of the heatsink body.  After the rubber mounts are secured on the heatsink, pull the long nipple end through the fan mounting hole until it locks in place then plug in the fan connector to a motherboard header.
Compatibility and Clearance Issues
The test motherboard in the photo below, like most new Intel motherboards provide an additional 5mm gap between the CPU area and the first DIMM slot to alleviate heatsink memory clearance problems but due to the size of the THEMIS Evo, the first DIMM slot is always obscured no matter what orientation. This limits full four DIMM installation to only low profile or standard height RAM modules.  On standard front intake orientation, even the second DIMM slot is obscured by the fan and adjusting fan height is not possible due to the rubber fan mount design. Maximum recommended RAM height is approximately 40mm.
Thankfully, expansion slot clearance is very good, even at the top-most expansion slot or on micro-ATX/Quad-SLI motherboards.