« Intro
|
Page 3 »
A Closer Look at the Raijintek THEMIS Evo

The tower-style Raijintek THEMIS Evo measures 122x82mm and stands 165mm tall. It is not a "slim" type tower design but follows the bulkier older U-types with a straight-aligned heatpipe distribution. The middle edge of the solder-less aluminum fin stack design has a concave dual wave cut-out providing some space between the fan hub and the heatsink body.  The entire THEMIS Evo body is nickel finished resulting in a high-quality and clean appearance.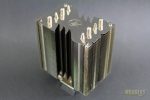 The copper heatpipes are rough-machined at the CPU contact surface with all four heatpipes making direct contact with the thermal interface material and CPU IHS. There is a small gap between each heatpipe filled in by the aluminum base.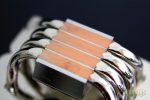 The fan bundled with the Themis EVO is identical to the non-EVO version measuring a standard 120x120x25mm and runs up to 1800 RPM. The 120 fan a red frame with seven wide white blades with a slightly curved tip and a leading edge that is also gently curving forward. It is a sleeve bearing fan with a 7V starting voltage and is rated for 78.82 CFM/3.22 mmH20 at full 12V speed. The connector cable is sleeved and since it is a PWM fan, has 4-pin connectors.
ASUS Fan Xpert 2 Results showing controllable range: